This season of "Beyond the White Coat" will offer even more content with new mini episodes featuring interviews with experts from the AAMC. These mini episodes, collectively called "Ask an Expert," include questions crowdsourced from across social media and the AAMC Virtual Communities for AAMC staff about their field of expertise. If you'd like to hear your question answered in a future episode, follow @AAMCToday on X, formerly known as Twitter, and on Instagram or join the AAMC community at communities.aamc.org, and keep a look out for the ask!
Episode Guest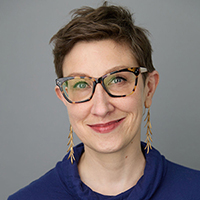 Amy Addams is the director of student affairs alignment and holistic review at the AAMC. In this role, she helps medical schools use holistic review to examine and revise admission processes to create a more equitable path to medicine. She also leads the AAMC's work in improving equity and access for medical students and patients with disabilities.   
On this episode of "Ask an Expert," Addams answers questions about the current role holistic review plays in the admissions process, the future of holistic review following the recent Supreme Court decision to ban race-conscious admissions, and the AAMC's work in increasing diversity in medical school.  
The podcast is also available on Apple Podcasts, Google Podcasts, Spotify, YouTube, or wherever you regularly stream podcasts.