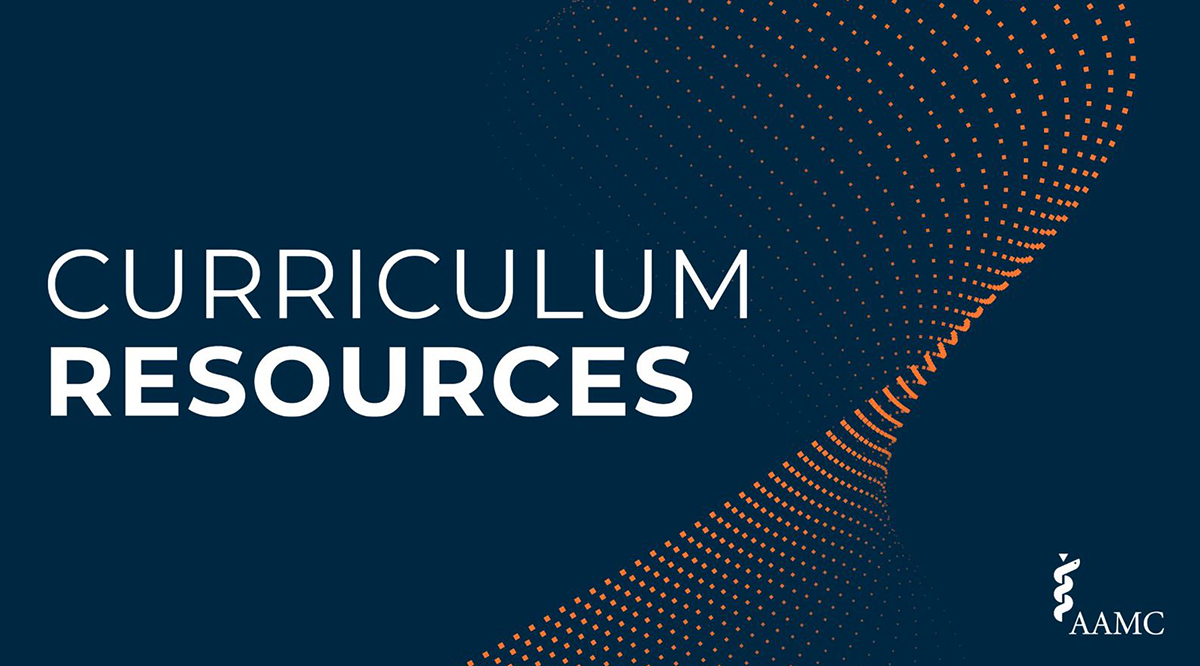 AAMC is committed to advancing medical education curriculum. We engage and connect with our community, use data and reports strategically, and develop shared resources to support our members.  
Meet our Team & Curriculum Committee 
Our committee, comprised of faculty and staff from Association of American Medical Colleges (AAMC) and Association of Osteopathic Colleges of Medicine (AACOM) member institutions, advances shared goals related to resources, best practices in curriculum, and data collection and use. Get in touch with our team to learn more about AAMC curriculum resources.
Stay Connected
Curriculum Virtual Community
Our online community with more than 600 members provides a space for those with curriculum roles at medical schools to connect with colleagues, post and answer discussion board questions, access curated resource libraries, attend events, and more. Other communities to explore on related topics include Assessment and Evaluation, Information Technology, and MedBiquitous ThinkTank.
Access our latest curated Resource Bundles on topics such as artificial intelligence, climate change, community engagement and collaboration, gun safety, and anti-racism/diversity, equity, and inclusion.
Building Better Curriculum webinar series
This regular webinar series highlights schools' approaches and innovations to share best practices. Webinars cover a range of topics related to curriculum, including development, evaluation, mapping, management, curriculum content topics, and more.
Mapping & Management
Guidebook to Building a Curriculum Map
This workbook for medical school curriculum teams helps to build a curriculum map step-by-step. Each chapter includes highlights, examples, and questions for the team.
Curriculum Keywords (Excel)
Schools may tag their curriculum content with a set of keywords in their mapping systems to help locate and report on content. The AAMC Curriculum Keywords (see Appendix II) focuses on high-level terms to make updating keyword tagging as efficient as possible, facilitate tracking across courses and years, support integration, and inform curriculum reports.
Instructional Methods, Assessment Methods, and Resources
Schools may tag instructional methods, assessment methods, and resources within their curriculum mapping systems. Using a set of standardized terms allows for consistency in curriculum mapping for more useful reports. 
MedBiquitous Curriculum Inventory Standard
Although the AAMC is no longer collecting curriculum mapping data via the Curriculum Inventory Portal, the curriculum inventory standards and vocabulary lists are still available for school and vendor use. The standards provide a data structure on the content and format of a curriculum map.
Curriculum Data, Reports, & Scholarship
Curriculum Reports
More than 50 curriculum reports from the Liaison Committee on Medical Education (LCME) Annual Medical School Questionnaire Part II and the AAMC Curriculum Inventory are publicly available. 
Curriculum SCOPE Survey
The AAMC and AACOM Curriculum SCOPE Survey, first administered in 2023, is a national questionnaire administered by the AAMC. It collects medical education program data regarding curriculum structure, content, organization, process, evaluation, and more.
Medical School Transition to Residency (TTR) Courses: Recent Trends and Current Status
This PDF data snapshot showed that the prevalence of required transition to residency (TTR) courses steadily increased among U.S. MD-granting schools over the past six years, with differences among medical schools regarding the balance of general and specialty-specific course focus and the curricular content of these courses.
New, Emerging, and Evolving Demands (NEEDS)
This Data Snapshot compiles data from the AAMC NEEDS Survey regarding the prevalence and integration of diversity, equity, inclusion, and anti-racism in undergraduate medical education.
Scholarship
Scholarship Resources
From guides to webinars, podcasts to publications, a collection of professional development resources are available to participate in scholarship as an author and reviewer. Review active calls for education scholarship for both meetings and journals.
MedEdPORTAL
Access the journal of teaching and learning resources, where curriculum examples can be found and submitted.
Academic Medicine
The peer-reviewed journal serves as an international forum for the exchange of ideas, information, and strategies to address the major challenges facing the academic medicine community as it strives to carry out its missions in the public interest. Access the latest journal collections to support curriculum:
Select Initiatives
Careers in Medicine
Careers in Medicine is a comprehensive career-planning program that provides students with the skills, information, and resources to choose a specialty and residency program that meets their career goals.
Competency-based Medical Education (CBME)
AAMC continues to support the development and implementation of CBME.
Curricular Innovation Awards
See past award winners which highlight the innovative ways AAMC member institutions are working to advance the education of students, residents, and practicing physicians about opioids, substance use disorder, and pain management.
Medical Education Addresses the Opioid Epidemic
The AAMC shares the successful practices and approaches of educators, clinicians, and future physicians at its member institutions as they work to address the opioid epidemic.
Transition to Residency
The AAMC is developing resources and tools to support all involved in a student's transition to residency.
Visiting Student Learning Opportunities™ (VSLO®)
This program enables medical and public health students to pursue short-term learning opportunities in locations away from their home institutions. Program participants include medical and public health students and institutions in the U.S. and around the globe.
Contact Curriculum Resources with questions and to sign up for the Curriculum Resources News and Updates newsletter.
Email