Collaborative Transformation of the Transition to Residency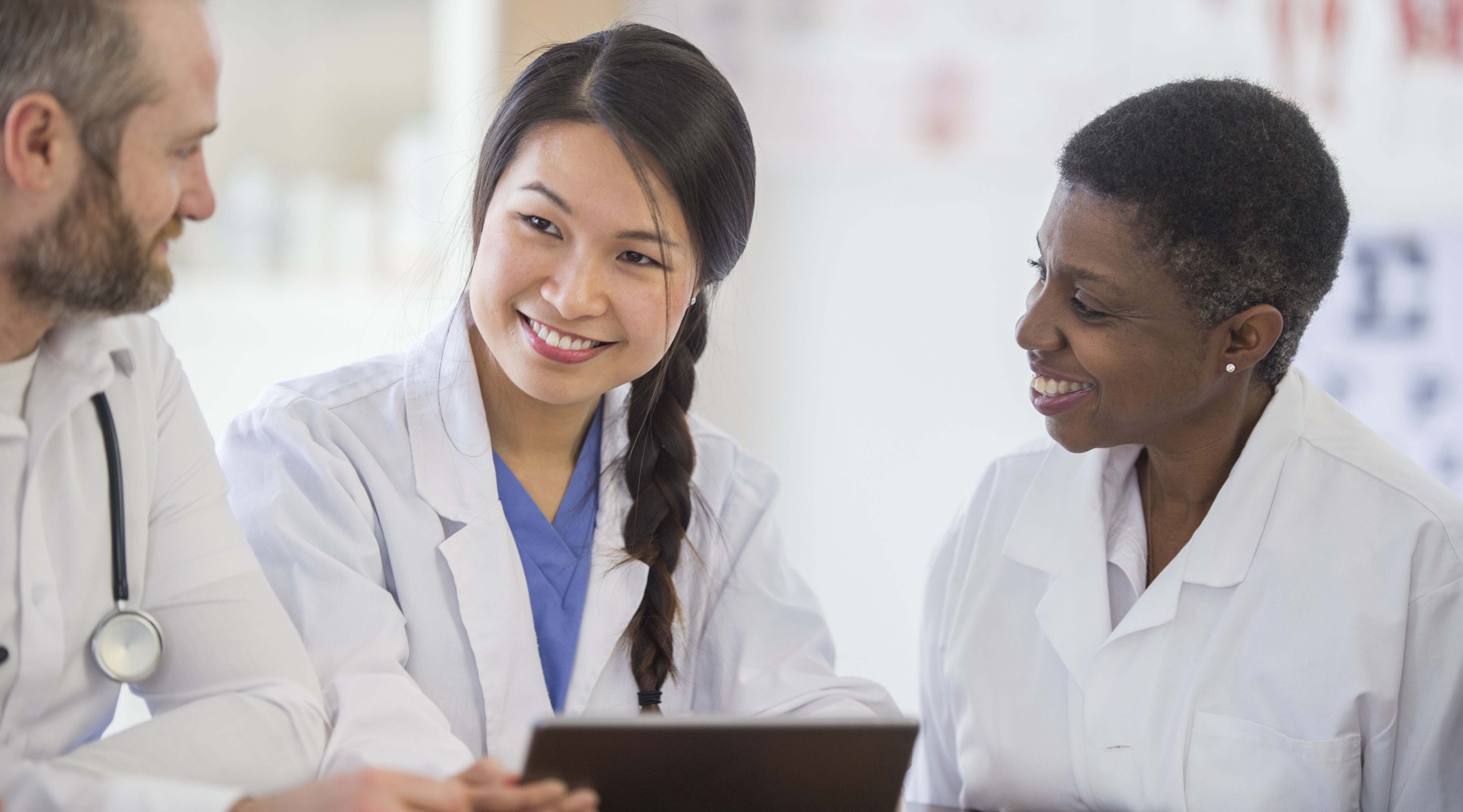 The AAMC is engaged in community-wide collaborations with other committed partners across medical education to improve the entire undergraduate medical education to graduate medical education (UME-GME) transition.
The AAMC is deeply committed to improving the transition to residency — from the beginning of a student's specialty research and selection process through the completion of residency and on to clinical practice. Supporting the well-being, training, professional development, and equitable treatment of all medical students and residents is critical to the health of the United States.
The AAMC's new initiatives and long-standing work with our colleagues across academic medicine address and support many of the concepts and themes outlined in the 2021 Undergraduate Medical Education-Graduate Medical Education Review Committee (UGRC) of the Coalition for Physician Accountability Recommendations for Comprehensive Improvement of the UME-GME Transition report.
This site provides the latest AAMC guidance, regularly updated resources, tools, effective practices, and other materials to support students, medical school advisors, and program directors in the transition to residency.
​
On this Page:
Additional Resources
Supports these UGRC Themes:
Equitable, Mission-Driven Application Review 

Optimization of Application, Interview, and Selection Processes 
Supports these UGRC Themes:
Equitable, Mission-Driven Application Review 

Optimization of Application, Interview, and Selection Processes 
Supports these UGRC Themes:
Optimization of Application, Interview, and Selection Processes 
Supports these UGRC Themes:
Optimization of Application, Interview, and Selection Processes
Supports these UGRC Themes:
Equitable, Mission-Driven Application Review

Optimization of Application, Interview, and Selection Processes
Supports these UGRC Themes:
Trustworthy Advising and Definitive Resources 

Optimization of Application, Interview, and Selection Processes 
Supports these UGRC Themes:
Equitable, Mission-Driven Application Review 

Optimization of Application, Interview, and Selection Processes
Supports these UGRC Themes:
Trustworthy Advising and Definitive Resources 

Equitable, Mission-Driven Application Review 

Optimization of Application, Interview, and Selection Processes 
Supports these UGRC Themes:
Trustworthy Advising and Definitive Resources

Equitable, Mission-Driven Application Review

Optimization of Application, Interview, and Selection Processes
Supports these UGRC Themes:
Equitable, Mission-Driven Application Review 

Optimization of Application, Interview, and Selection Processes 
Supports these UGRC Themes:
Diversity, Equity, and Inclusion 

Outcome Framework and Assessment Processes 

Educational Continuity and Resident Readiness 
Supports these UGRC Themes:
Trustworthy Advising and Definitive Resources 

Equitable, Mission-Driven Application Review 

Optimization of Application, Interview, and Selection Processes 
Supports these UGRC Themes:
Educational Continuity and Resident Readiness
Health and Wellness
Supports these UGRC Themes:
Equitable, Mission-Driven Application Review 

Optimization of Application, Interview, and Selection Processes
Supports these UGRC Themes:
Diversity, Equity, and Inclusion 
Resources for Medical Schools
Supports these UGRC Themes:
Optimization of Application, Interview, and Selection Processes 
Supports these UGRC Themes:
Equitable, Mission-Driven Application Review

Optimization of Application, Interview, and Selection Processes
Supports these UGRC Themes:
Trustworthy Advising and Definitive Resources 

Equitable, Mission-Driven Application Review 

Optimization of Application, Interview, and Selection Processes 
Supports these UGRC Themes:
Trustworthy Advising and Definitive Resources 

Equitable, Mission-Driven Application Review 

Optimization of Application, Interview, and Selection Processes 
Supports these UGRC Themes:
Equitable, Mission-Driven Application Review 

Optimization of Application, Interview, and Selection Processes 
Supports these UGRC Themes:
Equitable, Mission-Driven Application Review 

Optimization of Application, Interview, and Selection Processes 

Educational Continuity and Resident Readiness 
Supports these UGRC Themes:
Equitable, Mission-Driven Application Review 

Optimization of Application, Interview, and Selection Processes
Supports UGRC Themes:
Outcome Framework and Assessment Processes 

Equitable, Mission-Driven Application Review 

Optimization of Application, Interview, and Selection Processes
Supports these UGRC Themes:
Diversity, Equity, and Inclusion 
Supports these UGRC Themes:
Educational Continuity and Resident Readiness
Collaboration and Continuous Quality Improvement
Outcome Framework and Assessment Processes
Resources for Residency Programs
Supports these UGRC Themes:
Optimization of Application, Interview, and Selection Processes
Supports these UGRC Themes:
Optimization of Application, Interview, and Selection Processes 
Supports these UGRC Themes:
Equitable, Mission-Driven Application Review 

Optimization of Application, Interview, and Selection Processes
Supports these UGRC Themes:
Equitable, Mission-Driven Application Review

Optimization of Application, Interview, and Selection Processes
Supports these UGRC Themes:
Equitable, Mission-Driven Application Review

Optimization of Application, Interview, and Selection Processes
Supports these UGRC Themes:
Optimization of Application, Interview, and Selection Processes 

Educational Continuity and Resident Readiness 

Health and Wellness 
Supports these UGRC Themes:
Equitable, Mission-Driven Application Review 

Optimization of Application, Interview, and Selection Processes
Supports these UGRC Themes:
Equitable, Mission-Driven Application Review

Optimization of Application, Interview, and Selection Processes
Supports these UGRC Themes:
Equitable, Mission-Driven Application Review

Optimization of Application, Interview, and Selection Processes
Supports these UGRC Themes:
Equitable, Mission-Driven Application Review

Optimization of Application, Interview, and Selection Processes
Supports these UGRC Themes:
Equitable, Mission-Driven Application Review

Optimization of Application, Interview, and Selection Processes
Supports these UGRC Themes:
Diversity, Equity, and Inclusion 

Equitable, Mission-Driven Application Review 

Optimization of Application, Interview, and Selection Processes
Supports these UGRC Themes:
Optimization of Application, Interview, and Selection Processes 

Educational Continuity and Resident Readiness 
Supports these UGRC Themes:
Equitable, Mission-Driven Application Review

Diversity, Equity, and Inclusion
Supports these UGRC Themes:
Away Rotations 

Educational Continuity and Resident Readiness 
Supports these UGRC Themes:
Educational Continuity and Resident Readiness
Health and Wellness
Supports these UGRC Themes:
Equitable, Mission-Driven Application Review

Optimization of Application, Interview, and Selection Processes
Supports these UGRC Themes:
Equitable, Mission-Driven Application Review 

Optimization of Application, Interview, and Selection Processes 
Supports these UGRC Themes:
Diversity, Equity, and Inclusion