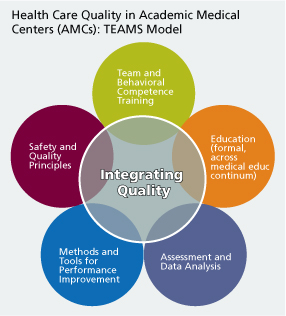 Academic medical centers strive to achieve the dual goals of providing outstanding clinical care today and producing the outstanding clinicians of tomorrow. To achieve these dual goals for integrated quality of clinical care and educational excellence requires five key organizational components. The TEAMS model above depicts the integration of these factors:
A strategic commitment to the core principles of safety and quality.
The Institute of Medicine's landmark report, "Crossing the Quality Chasm," describes a high quality health care system as one that delivers safe, timely, effective, efficient, equitable, and patient-centered care.
Formal quality improvement education across the medical education continuum.
This includes didactic as well as practical training at the undergraduate, graduate and continuing medical education levels. QI must be taught across the continuum in order to reinforce and promote application of these core principles in clinical practice.
Team and behavioral competence training.
Root causes of medical error and patient dissatisfaction are often attributed to deficiencies in behavioral competence. Interdisciplinary team training and behavioral competence training for clinicians (e.g. how to be a good leader, a good follower, a good communicator, and an effective team member) contribute to enhanced quality of clinical care.
Ongoing assessment and data analysis.
National databases and benchmarking tools, such as Hospital Compare, provide metrics for measuring and assessing clinical outcomes data. As a result of increased focus on quality measures and outcomes, several states and hospitals also publish their own quality data and scorecards.
Continuous clinical and organizational performance improvement activities.
Examples of clinical QI activities include the use of tools like checklists and implementation of health information technology, such as computerized physician order entry. Organizational PI tools include Six Sigma strategies, Toyota Lean approaches, and Crew Resource Management training.