Demand for ambulatory subspecialty services has grown at rates that have overwhelmed many academic medical centers' (AMCs) capacity, resulting in impaired access and long wait times for patients. This drives down patient and provider satisfaction, and leads to decreased quality of care.
Based on a model initially developed and piloted at the University of California, San Francisco, the AAMC launched Project CORE: Coordinating Optimal Referral Experiences in 2014 to help AMCs improve the referral experience for both clinicians and patients. Through Project CORE, the AAMC has partnered with more than 50 AMCs, children's hospitals, and healthcare organizations to successfully implement eConsults and enhanced referrals, tools built into the electronic health record. Through this innovative model, CORE AMCs are improving efficiency and effectiveness at the interface between primary care and specialty care, thereby improving quality of care and access in a patient-centered way.
Learn more by downloading our CORE model overview (PDF) and the benefits and services of participation (PDF) in the CORE program. 
Email Project CORE to learn more about our 2023 offerings and to schedule an informational call with our team.
CORE Participants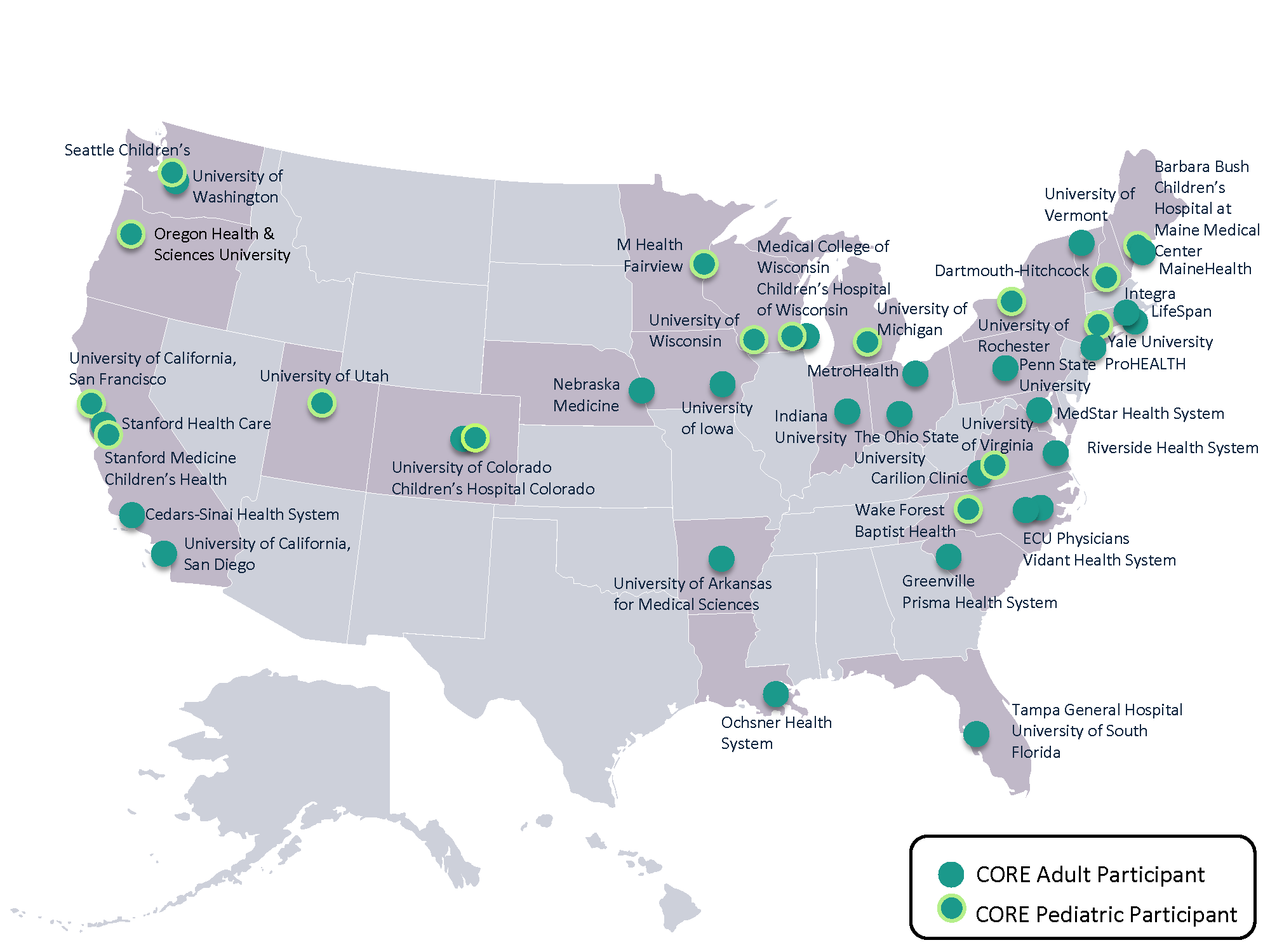 Interested in joining? Email us.
Learn more by watching our introductory video
The CORE community is achieving positive results and continues to grow. To date, Project CORE participants:
Implemented eConsults and enhanced referrals in nearly all medical and surgical specialties, as well as in pediatric specialties and a growing number of ancillary specialties
Completed an estimated 170,000+ eConsults across the CORE Network and more than 2,000 estimated additional eConsults being placed every month
Achieved improvements in timely access to specialty input and decreased specialty utilization and costs
Achieved high levels of patient, primary care provider, and specialist satisfaction with eConsults
Achieved high rates of primary care provider use of the model, with more than 80% of primary care providers using eConsults on an ongoing basis at most sites where the model is mature
Furthered scaled the model and focused on sustainability, including engaging with payers and extending to external primary care providers and systems
CORE Program Spotlights
We're proud of the results achieved by academic medical centers (AMCs) within the CORE community. Several AMCs have agreed to share their story and you can find more in the news.
CORE in the News
Recent Research and Publications from the CORE Network
CORE Participants
Adult Programs
Carilion Clinic
Cedars-Sinai Medical Center
Dartmouth-Hitchcock
East Carolina University Physicians
Greenville Health System
Indiana University Health
Integra
LifeSpan
M Health Fairview
MaineHealth
Medical College of Wisconsin
MedStar Health
MetroHealth System
Nebraska Medicine
Ochsner Health
Ohio State University 
Oregon Health & Science University
Penn State Health
ProHEALTH New York/Optum/Long Island/NY
Riverside Health System
University of South Florida Tampa General Physicians
Stanford Healthcare
University of Arkansas for Medical Sciences
University of California, San Diego Medical Center
University of Colorado Health
University of Iowa Hospitals and Clinics
University of Michigan
University of Rochester
University of Utah Health
University of Vermont
University of Virginia Medical Center
University of Washington Medicine
University of Wisconsin (UW) Health 
Vidant Health
Wake Forest Baptist Health
Yale University - Yale Medicine
Pediatric Programs
Barbara Bush Children's Hospital at Maine Medical Center 
Brenner Children's Hospital at Wake Forest Baptist Health
Children's Hospital Colorado
Children's Hospital at Dartmouth-Hitchcock 
Children's Wisconsin
C.S. Mott Children's Hospital at the University of Michigan 
Golisano Children's Hospital at the University of Rochester
OHSU Doernbecher Children's Hospital
Seattle Children's Hospital
Stanford Medicine Children's Health
University of California, San Francisco Benioff Children's Hospital San Francisco
University Pediatric Clinic at the University of Utah
UVA Children's 
UW Health American Family Children's Hospital 
Yale New Haven Children's Hospital