We are committed to providing regular VSLO program updates through the VSLO listserv, email and on this page. Please visit this page regularly and if you have any questions, email the VSLO team at: visitingstudents@aamc.org.
Last Updated: May 18, 2023
Message from The VSLO Team
Dear VSLO Colleagues, 
Thank you to those who attended VSLO Senior Director Robin Carle's session, "The Use of VSLO by DO Students and Colleges of Osteopathic Medicine" at the American Association of Colleges of Osteopathic Medicine (AACOM) Educating Leaders 2023 conference. For those who registered to attend the conference, you can access the presentation recording. We have also added the slides to the VSLO Advisor Resources page.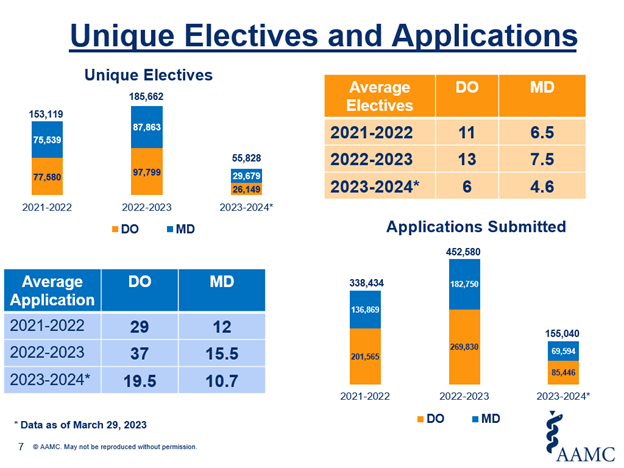 The chart above provides data on the average number of unique elective applications as well as the "additional date" applications submitted, as of March 29. There has been increased application activity earlier this season. We are closely monitoring this change in behavior to see if this reflects an increase in total volume or a shift in the timing of application submissions. We look forward to sharing further information as it becomes available. As a reminder, students pay a $15 processing fee for each unique elective application submitted. There is no charge for additional date applications submitted for a unique elective. 
Thank you,   

The VSLO Team 
VSLO Program Updates
Reminder: Puerto Rican Medical Schools are U.S. LCME Accredited 
As Host institutions are processing applications, we want to remind you that Puerto Rico is a U.S. territory and the following four Puerto Rican medical schools are accredited by the Liaison Committee on Medical Education (LCME): 
Ponce Health Sciences University School of Medicine  

San Juan Bautista School of Medicine  

Universidad Central del Caribe School of Medicine  

University of Puerto Rico School of Medicine  
Students at these LCME-accredited medical schools are eligible to apply for electives offered in any U.S. Network catalogs (open to their medical schools). 
Request to Remind Your Students to Respond to Post-Rotation Survey  
As we shared previously, the VSLO program now fields a monthly post-rotation student survey to better understand students' use of the VSLO software to support their rotation opportunities and experiences. The survey contains questions about their satisfaction with the timing and variety of opportunities as well as questions about the overall costs associated with their rotations and how their rotation experience does/does not connect to their residency application plans. Please encourage your students to complete the survey when they receive it. Their feedback about their experiences is extremely valuable as the VSLO team considers continuous improvements to our service. 
Host Institution Tips for Processing Applications 
As Host institutions review and process incoming applications, the following job aids highlight important actions and timely references:   
AAMC Resources for Medical Educators
USMLE Step 1 Exam and COMLEX-USA LEVEL 1 Pass-Fail Transition Collaborative Research to Begin 
The AAMC, National Board of Medical Examiners, National Resident Matching Program®, AACOM, and National Board of Osteopathic Medical Examiners will collaborate on research evaluating the impact of the USMLE Step 1 and COMLEX-USA LEVEL 1 exams moving to pass-fail both during and after the transition to residency. The research results will provide the community with information about current and planned future practices for students and advisors and identify any training and guidance needs regarding best practices for appropriate use, fairness, and validity in selection. 

Read More: Research and Innovations Supporting the Residency Application Process
AAMC Issues Guidance on Virtual Interviews in Undergraduate and Graduate Medical Education 
The AAMC has developed guidance that recommends medical schools, residency, and fellowship programs use a virtual interview format during their admissions processes. The guidance was developed based on several variables, including the importance of reducing the cost of interviewing as a critical step in improving access and equity, survey findings indicating that applicants prefer virtual interviews, and being consistent with academic medicine's commitment to reducing environmental impact. Every medical school and program has their own unique mission, goals, and context, and may take a different approach to interviewing. Each institution is encouraged to evaluate all interview formats in their unique context to determine the best approach for them.  
Read More: Interviews in Undergraduate Medical Education
Read More: Interviews in Graduate Medical Education
Upcoming Events
The American Medical Association (AMA) and the AAMC will co-host a joint instructional 75-minute webinar, "AAMC/AMA T2R Tools for a Successful Residency Application," for 2024 residency applicants (U.S. MD, DO, and IMGs) on Monday, May 22 from 4-5:15 p.m. ET.  
 
This webinar will feature AAMC and AMA transition to residency tools and resources such as, the Careers in Medicine® (CiM) program, FREIDA™, the Residency Explorer™ research tool, an overview of the new content in the MyERAS® application, and more. These tools will help applicants apply smarter, devise an effective application strategy, and get ready to submit their application in the MyERAS system. The final 15 minutes of the webinar will be a live Q&A session. Registration for this free event is open now.  
The AAMC Organization of Resident Representatives (ORR) is accepting resident nominations for the 2023 Community Service Recognition Award. The purpose of the award is to foster a service ethic among resident physicians by recognizing those who have made contributions above and beyond the rigors of residency training to improve the local communities surrounding their training institution. The award includes funded registration to attend Learn Serve Lead 2023: The AAMC Annual Meeting, a recognition award ceremony, and a contribution to a community non-profit. The nomination deadline is June 1 at 11:59 p.m. PT. 
During this webinar on Tues., June 6, we will discuss the challenges uniquely faced by specialty advisors when career advising with third- and fourth- year medical students. The webinar will include a presentation of new CiM specialty advising resources and materials followed by live Q&A discussion with career advisors with expertise in specialty advising. 
Nominations are now open for the CiM Excellence in Medical Student Career Advising Awards, which recognize the importance of those who support students in making well-informed and strategic career decisions. 
There are three awards: a program award, a faculty advisor award, and a staff award. To learn about the awards criteria, the submission process, and past award winners, visit the CiM website.