We are delighted to announce the 2022 Brownie Award recipient from the AAMC Western Group on Educational Affairs, Dr. Sam Brondfield.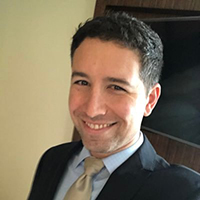 Sam C Brondfield, MD, MAEd
Assistant Clinical Professor in the Department of Medicine, Division of Hematology/Oncology
He has a clinical focus on the care of hospitalized patients with solid tumors as part of the Hospital-Based Oncology group and attends on the solid oncology consult service and the internal medicine teaching service at Moffitt-Long Hospital, working with nurse practitioners, fellows, residents, and students. Dr. Brondfield's research focuses on medical education and cognitive load in clinical trainees, as well as the teaching and learning process as trainees perform consults. He is broadly interested in figuring out the best ways for medical students, residents, and fellows to learn oncology.
We will like to thank Dr. Sam Brondfield on his amazing contributions to medical education that reflect his passion and dedication to learners and medicine.
Congratulations!