Find a complete list of AAMCNews stories from 2020.
AAMCNews Coverage of the COVID-19 Pandemic: March-December 2020 by topic:
---

COVID-19 Coverage
Health Care
Thanksgiving on the front lines: Doctors working the holiday share stories of grief, stress, and hope
Some physicians are grateful for their support systems but anxious about the weeks to come as coronavirus hospitalizations surge nationwide.
COVID-19 cases are surging. Is it possible to gather safely for the holidays?
Doctors and scientists say you can reduce the risk of transmission at holiday gatherings, but it will take commitment to precautions.
Kids, school, and COVID-19: What we know — and what we don't
An emerging body of evidence suggests that young children do not spread the coronavirus easily. Does that mean it's safe to bring them back to class?
Confused about how to travel safely this holiday season? Doctors share their plans and tips
The CDC advises extreme caution when traveling for the holidays. These insights from experts in medicine, infectious disease, and air quality can help to limit the risks.

Hurricanes, wildfires, and an ongoing pandemic: How academic medical centers are coping with competing crises
Academic medical centers in the Northwest and Gulf Coast of the United States use lessons learned from COVID-19 response to manage natural disasters, but they worry about the long-term impact.
Teaching hospitals help businesses and schools safely reopen — and stay open
New COVID-19 consulting services tap staff expertise to develop plans, visit sites, and educate employees to prevent viral spread.
Interest in hospital-at-home programs explodes during COVID-19
To free up beds and protect vulnerable patients, many hospitals are sending patients home with IVs, EKG devices, and other mainstays of acute care. How does "hospital at home" work, and what's next for this model of care?
Rumors, confusion, and conspiracies: Can doctors defeat COVID-19 misinformation?
Physicians and researchers take the front lines in the "infodemic" war, using blogs, social media, and conversations to steer people to safe practices.
Hospitals partner with nursing homes to prevent and fight outbreaks
Academic medical centers leverage their expertise and resources to help the most vulnerable patients as part of their mission to serve their communities.
Post-COVID-19 clinics help survivors recover
Months after contracting the novel coronavirus, many patients suffer from problems that include difficulty breathing, heart issues, and memory loss. Now some hospitals have created specialized clinics to help patients deal with the aftermath.
COVID-19 disrupted health care for other serious conditions. Now, physicians worry about the long-term consequences
As patients avoided hospitals and doctors' offices, conditions like cancer and heart disease went untreated. Health care providers now stress the importance of non-COVID-19 care as the pandemic stretches on.
Creative staffing, daily PPE counts, constant testing: The new normal for hospitals across the United States
Hospitals develop new strategies to ensure safety, maximize caregiver skills, and manage the flow of patients.
The science and psychology behind masking to prevent the spread of COVID-19
Experts weigh in on the most effective mask-wearing practices, the psychology behind not masking, and how to communicate its importance.
AAMC releases road map to reset nation's approach to COVID-19
The evidence-based plan calls for immediate action to remedy critical shortages and increase testing, as well as longer-term actions to provide health insurance to millions of vulnerable Americans.
Front-line physicians in the Sun Belt face COVID-19 surge better prepared, but already tired and anxious
As COVID-19 hospitalizations soar in states initially spared in the spring, physicians are grateful for knowledge from previous hot spots but still face an uncertain future.
Doctoring at 1,500 feet — during a pandemic
Helicopter teams do dangerous procedures in flight, rescue victims in rough terrain, and land in the middle of roads. That's always intense and even more so during COVID-19. Here's what it's like to train in the high-flying world of air medical transport.
Telemedicine paradoxically deepened our connections with patients
An exponential surge in video visits during COVID-19 provided unexpected benefits for patients and providers, two physicians say, including a strengthening of the doctor-patient relationship.
Hospitals cautiously resume some surgeries
Restarting surgical procedures in the midst of a pandemic has been challenging, with the need to prioritize a backlog of cases while maintaining adequate supplies of PPE and ICU beds. The hardest part? Convincing a wary public to return to the hospital.
Care at a distance
A resident laments the loss of patient-provider connection during the pandemic. What happens to care when you can't touch — or even see each other's faces?
"Every doctor makes a difference": Academic hospitals send teams to New York
As New York continues to grapple with thousands of COVID-19 patients, academic medical centers in less-hard-hit areas are sending physicians to help out — knowing they will gain valuable insight to bring back home.
Retired doctors want to return to work to fight COVID-19. Here's what they need to know
Physicians whose licenses have expired may not be able to jump directly into COVID-19 patient care. There are other jobs they can do. And in the long term, physician reentry programs can help them get ready for the next wave of this crisis.
A nightmare approaches: Hospitals painfully prepare for life and death decisions
As COVID-19 spreads, ethicists at academic medical institutions are updating guidance around the allocation of scarce medical resources in the event they have to ration care.
Where is all the PPE?
As health care workers across the country plead for more protective equipment, manufacturers and distributors are scrambling to meet an unprecedented need. Here's how we got here — and what needs to happen for us to get through this crisis.
When everything changes: On the front lines of COVID-19
Providers dealing with the COVID-19 outbreak grapple with an influx of patients, shifting guidelines, and dwindling supplies of protective gear. They are worried for their safety and that of their families, yet they are inspired to keep serving patients.
Delivering more care remotely will be critical as COVID-19 races through communities
Even before Congress lifted restrictions on reimbursement for telehealth through Medicare, academic medical centers were expanding telemedicine services. Will it be enough?
"This is what we do": Academic medicine mobilizes to prepare for COVID-19
From ramping up training of front-line workers to activating their incident command centers, academic medical centers are preparing for a worst-case scenario — and hoping for a best.
Academic medicine on the front lines of the coronavirus outbreak
As a deadly virus spreads from China to at least 15 other countries, U.S. experts are mobilizing to decode the disease and protect patients. AAMCNews spoke with a leading virologist at Vanderbilt University about breaking developments and what lies ahead.
Medical Education
WATCH: Medical students rally to connect with isolated seniors during the pandemic
Medical students understand the dangers of isolation and loneliness. In Arizona and Maryland, they are spearheading volunteer efforts to connect with isolated seniors.
Applications to medical school are at an all-time high. What does this mean for applicants and schools?
As applications spike during COVID-19, candidates are asking how to make their applications stand out, while admissions officers are taking steps to handle the influx.
So many medical students, so few clerkship sites
Hands-on clinical experience is essential to producing future physicians. But some schools have been struggling to find enough clerkship sites and preceptors. Now, COVID-19 has only worsened their worries. We look at the problem — and possible solutions.
In the face of challenges posed by a pandemic and racism, the White Coat Ceremony underscores the importance of our shared humanity
The AAMC and the Gold Foundation urge medical schools to continue to hold this annual ritual.
Anthony Fauci, MD: Science as a voice of reason
A medical student reflects on why the country so admires Dr. Fauci — and why his role as a purveyor of truth and scientific fact is one that all medical students should take on.
Applying to residency is tough even in normal times. The pandemic isn't helping
This year, COVID-19 has ended in-person interviews, scrambled exam dates, limited ways to get recommendation letters, and more. What has to happen to make the residency application process smooth — and fair?
The pandemic has disrupted medical school admissions. I urge you to apply anyway
Applying to medical school is just the first of many challenging but rewarding steps in the journey to becoming a physician. It's a journey well worth taking, says Joseph Kerschner, MD, dean of the school of medicine at the Medical College of Wisconsin.
Starting residency during a pandemic: What will change? What will stay the same?
The first year of residency is always intense, and that's even truer now. We asked experienced trainees for tips on getting through it. From the simply practical to the profoundly philosophical, here are their deepest experiences and savviest insights.
Excited, scared, ready: Medical students head back to clerkships
As the pandemic spread in March, medical schools across the country pulled students from clinical clerkships almost overnight. Now, some are starting to resume their hands-on training. How will that work, and how does it feel to be heading back?
Medical school graduation 2020: Some pomp under unusual circumstances
Virtual commencement ceremonies this month will help launch 20,000 new medical school graduates into the health care workforce. Here's what schools are doing to make the day a little bit special.
The MCAT® exam: Changes, flexibility for 2020 examinees
Despite some technical difficulties when registration first opened, there are plenty of slots for students who want to take the exam this year.
Unnerved and uncertain but still finding meaning as a medical student during COVID-19
I can't step into a classroom, serve patients, or even leave my home. I'm scared for my family and don't know how much my medical education will be impacted. Here's how I'm uplifted anyway.
Shortened MCAT® exams, extended AMCAS® deadlines: How the pandemic has upended medical school admissions
Medical school applicants have been struggling with many unknowns, from when they can take the MCAT® exam to how they'll gather recommendations. Here's how schools are working to put together an admissions process that's both safe and fair.

Choosing a medical school during COVID-19
As the late-April deadline for deciding where to attend medical school fast approaches, many aspiring doctors must make a choice without having a chance to visit or revisit schools. A first-year Harvard student has some advice.
No classrooms, no clinics: Medical education during a pandemic
Driven by the COVID-19 pandemic, medical educators quickly built online curricula. Webcams captured hospital rounds, 3D images replaced cadavers, and Zoom classes had students raising virtual hands to debate diagnoses. Is this the future of med ed?
"Itching to get back in": Medical students graduate early to join the fight
Hundreds of new MDs are helping alleviate a dire shortage of health care providers in hot spots across the country. While some are deploying into special service roles, others are starting their residencies early.
I'm a fourth-year medical student. I don't want to graduate early
Medical students who are a few weeks from graduation want to help out during these tough times. But deploying to the front lines during the COVID-19 pandemic could have serious implications for our mental health and long-term careers, one student argues.
Bright lights in a dark time: Medical students step up to help out
Blood drives, mask collections, loading dock shifts. Medical students are tackling tasks to meet a wave of needs during the current crisis. Along the way, they're learning invaluable lessons in leadership, teamwork, and resilience.
"A terrifying privilege": Residency during the COVID-19 outbreak
An OB-GYN resident in Ohio describes getting coughed on and splashed with bodily fluids, wading through confusing information, and feeling simultaneously helpless yet essential. Here's what it's like to be an intern during the current crisis.
Health Equity/Public Health
How COVID-19 threatens the careers of women in medicine
Even before the pandemic, women physicians and researchers earned less, did more at home, and were lower on the professional ladder compared to men. Here's how the pandemic could further hurt women's careers.
Why I rolled up my sleeve for the vaccine — and why you should too
The science behind the COVID-19 vaccines is sound, but institutions must address understandable skepticism among communities scarred by histories of medical duplicity.
COVID-19 vaccines: Here's what health care workers need to know
Are the vaccines safe? Can vaccinated people spread the virus? Can hospitals mandate inoculation? Amid hope and anxiety, workers seek these answers and more.
How the telemedicine boom threatens to increase inequities
The recent explosion in telemedicine is great for those with the technology and skills to use it, but what about people with limited English, income, and digital access? An expert describes steps to protect some of the nation's most vulnerable patients.
Lessons from COVID-19 for the next pandemic: Invest in public health, earn public trust
NIH Director Francis Collins, MD, PhD, and CDC Deputy Director Anne Schuchat, MD, say the United States must strengthen its public health systems, rethink its clinical trial process, and get more public buy-in on safe behaviors.
Anthony Fauci, MD, sees a return to "a considerable degree of normality" by Fall 2021
Speaking at the AAMC's annual conference, the acclaimed infectious disease doctor shared news about the vaccines in development but cautioned against abandoning public health measures as the vaccines roll out.

54 million people in America face food insecurity during the pandemic. It could have dire consequences for their health
Physicians, researchers, and food policy experts highlight the need for accessible, healthy food to combat poor health in vulnerable populations.
Saving Black lives during COVID-19: Vaccines matter
Given a history of mistreatment in research and medicine, it's easy to see why Black communities often distrust vaccination. But the pandemic's toll means we have to increase faith in it — and fast.
Prison should not be a COVID-19 death sentence
Two doctors who have visited such hot spots as San Quentin State Prison explain why incarceration makes COVID-19 dangerous. They also share what we can do to protect prisoners and surrounding communities.
I'm a contact tracer in San Francisco. You won't believe the stories I hear
I've called hundreds of people to tell them they've come in contact with someone who has a potentially deadly disease. Here's what that's like.
COVID-19 and the opioid crisis: When a pandemic and an epidemic collide
More than 20 million people in the United States have a substance use disorder. Now, COVID-19 has left many locked down, laid off, and flooded with uncertainty. So far, experts see signs of relapses, rising overdoses, and other worries. What can be done?
DACA physicians serve on COVID-19 front lines
The Supreme Court's June 18 ruling vacated the administration's rescission of the Deferred Action for Childhood Arrivals program, granting temporary reprieve to nearly 200 medical students and residents amidst a pandemic and physician shortages.
Want to help battle COVID-19? Bring in more community health workers
COVID-19 continues to hit low-income, marginalized communities hard. But there's an untapped army that can battle deadly health care inequities and inefficiencies. Community health workers understand what patients need — and how to help them get it.
Why is my community suffering more from COVID-19?
Whether you survive a pandemic should not depend on your race or ethnicity. Here's what one physician of color says needs to happen to ensure that all patients have the chance to live a healthy life.
Rural and at risk for COVID-19
In remote regions where patients are poorer, sicker, and older, the coronavirus pandemic is hitting many communities hard. Here's how medical schools and teaching hospitals are stepping up to help.
Medical students need to learn about health disparities to combat future pandemics
COVID-19 has taken an outsized toll on communities of color. We must continue to educate our students on the health inequities that contributed, even as we incorporate more public health and disaster preparedness into our curricula.
The new coronavirus affects us all. But some groups may suffer more
Certainly, the novel coronavirus is worrisome for everyone. But for marginalized populations who live with poverty, health inequities, and other burdens, the outbreak could be especially brutal. How can we step up to meet their needs?
Research
I'm a medical student tracking the U.S. response to COVID-19 for the WHO. Here's what I've learned
Writing reports on the U.S. response to COVID-19 for the World Health Organization (WHO) has taught me the importance of health policy research.

We can't defeat COVID-19 without vaccinating children. There aren't even any kids' clinical trials yet
Doctors and researchers warn that the United States must start now to develop children's vaccines to protect everyone and ensure schools can open safely next fall.
Your COVID-19 testing questions — answered
As the virus spreads through the highest levels of the United States government, experts share what we know about testing — including why you can test negative and still be infected.
Academic labs are opening back up. Still, research isn't exactly back to normal
Daily health screenings, limits on lab capacity, and gradual resumption of experiments are the new normal as medical schools open labs they closed to keep out COVID-19. Here's what's happening on the biomedical research front.
Research at warp speed: Urgent, personal, frightening
Scientists say searching for COVID-19 treatments and vaccines raises feelings and challenges unlike anything they've experienced before. They reflect on the pressure, innovation, and changes that could promote or hamper future discoveries.
Academic researchers investigate treatments amid urgent need
Scientists at university labs and hospitals are running scores of trials to find drugs and other treatments to save patients stricken by COVID-19. Here are five different approaches, explained.
Collaborations that save lives
Universities are calling on experts across campus, from engineers to materials designers to biomedical researchers, to produce testing reagents, swabs, personal protective equipment, and more. Will these relationships endure beyond the pandemic?

Labs put research on ice
As stay-at-home orders shuttered university labs, directors faced unprecedented questions: What research was allowed to continue and what stopped? What science is likely to be lost? Who will pay to resume experiments?
Here's why we can't rush a COVID-19 vaccine
Vaccines have saved humanity from countless scourges, including measles, polio, and smallpox. But the process of producing a safe, effective vaccine is necessarily painstaking, as the risk of harm is real.
Coronavirus testing: How academic medical labs are stepping up to fill a void
As a CDC test failed, academic labs across the country developed their own. Some tests are live, while others await FDA approval.
Physician Wellness
Doctors forgo mental health care during pandemic over concerns about licensing, stigma
The pandemic is threatening the emotional well-being of thousands of providers. But fear of losing job opportunities, their peers' respect, and even their ability to practice medicine keeps many from seeking the care they need.
Great escapes: Doctors and nurses find respite from pandemic fatigue
Front-line workers cope with COVID-19 stress through everything from new fitness routines and traditional faith rituals to playing music and cooking.
Providers in early hot spots rest and prepare for what's next
While workers in the first COVID-19 epicenters try to recover from the onslaught of the last few months, hospitals beef up wellness supports to stave off fatigue and emotional fallout. One key tool: vacation.
Coping with sickness and stress
Clinicians across the country are dealing with stark increases in COVID-19 infections and anxiety. The emotional and physical toll on them is only starting to emerge. 
---
Racism and Health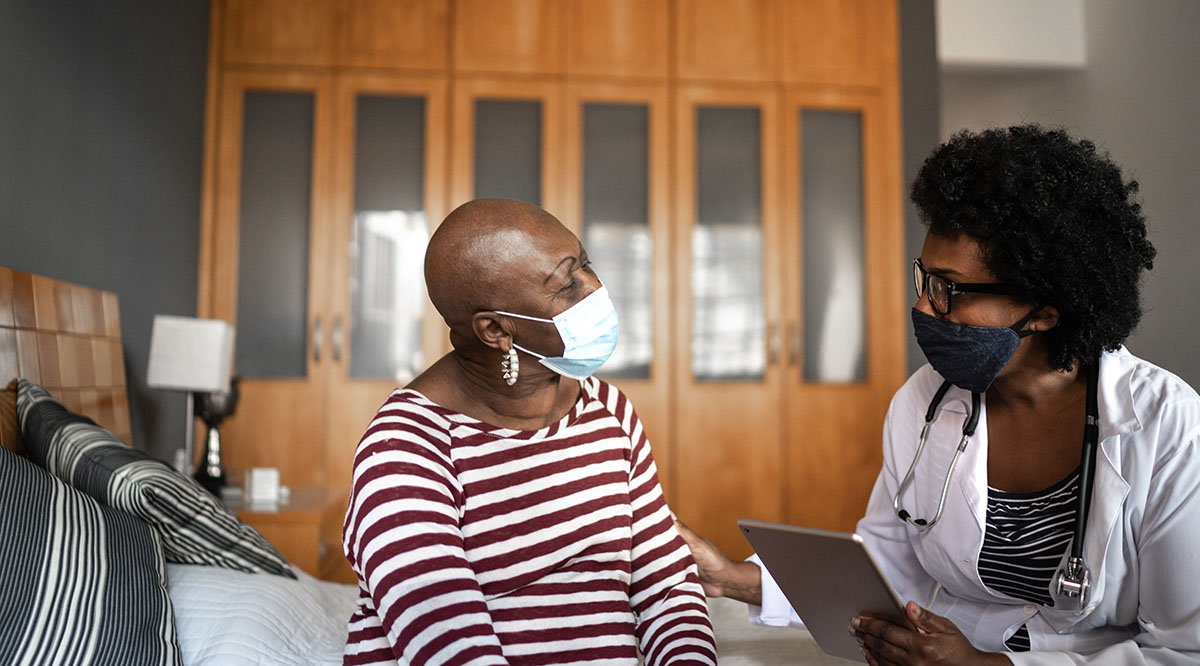 AAMC renames prestigious Abraham Flexner award in light of racist and sexist writings
Abraham Flexner Award for Distinguished Service to Medical Education to become AAMC Award for Excellence in Medical Education.
Curing health care of racism: Nikole Hannah-Jones and Ibram X. Kendi, PhD, call on institutions to foster change
Renowned voices on anti-racism in America share their thoughts on systemic racism in academic
medicine at the AAMC's annual meeting.
AAMC releases framework to address and eliminate racism
Racism impacts all aspects of academic medicine, from inequitable medical school admissions policies to inadequate care of patients of color. A new framework outlines concrete steps the AAMC will take to address structural racism across all fronts.
Confronting race in diagnosis: Medical students call for reexamining how kidney function is estimated
For 21 years, physicians have corrected for race in a formula that estimates kidney function. Students are increasingly questioning why, especially since kidney failure disproportionately impacts Black patients.
Medical schools, it's time to get real about becoming anti-racist
Like many American institutions, medicine has had to confront anti-Black racism during this tumultuous year. A senior medical student shares his ideas for how to enact real and lasting change.
Medical students use momentum of anti-racism movement to advocate for change
Students are demanding medical institutions combat racism. Their institutions are listening.
Medical schools need to do much more to protect students of color from racism
As an interviewee, I endured racist comments. In courses, I saw patients of color omitted from lessons. Here's what medical schools need to do to address these ills — and create a culture that makes Black students feel truly welcome.
Humanity binds us
The subtleties of racism don't kill you in minutes, but they are deadly. What's needed is a communal experience that teaches us we comprise one beautiful human mosaic.
Academic medical leaders and learners reflect on police brutality, racism, and the path forward
Students, physicians, and academic medical centers have a role to play not only in recognizing structural racism, but in addressing health disparities that disproportionately affect communities of color.
Why I gave up my dream of leading diversity efforts in medicine
I loved mentoring students of color, lecturing about implicit bias, and creating courses that promoted health equity. But I couldn't manage it all. Schools need to provide more funding if they want to create truly inclusive and supportive environments.
How we fail black patients in pain
Half of white medical trainees believe such myths as black people have thicker skin or less sensitive nerve endings than white people. An expert looks at how false notions and hidden biases fuel inadequate treatment of minorities' pain.
---
All Other Coverage
More students are entering medical school
AAMC data show that the number of first-year medical students grew in 2020. Women continue to outnumber men among future physicians, and underrepresented groups are making modest gains.
Honing the craft: How medical schools weave arts and humanities into education
A new AAMC report says most medical schools offer arts and humanities, but it urges more integration into curricula and better evaluation of how those experiences make better doctors.
That's enough: Supreme Court appears poised to resolve validity of ACA and 'move on'
Learn Serve Lead panelists say comments by justices show a desire to end existential challenges. Can they cite 'judicial exhaustion'?
Former Surgeon General Vivek Murthy, MD, reflects on the power of our shared humanity
The recipient of the 2020 Vilcek-Gold Award for Humanism in Healthcare shares his insights on how breaking down silos and embracing commonality can build stronger, healthier communities.
AAMC leaders challenge academic medicine: Do more, right now, to help the nation heal
AAMC President and CEO David J. Skorton, MD, and Board Chair Joseph Kerschner, MD, issue calls to action for medical schools and teaching hospitals to confront the harms of the pandemic and social injustice.
Ann Curry: Empathy can save lives
Emmy Award-winning journalist Ann Curry urged attendees at the AAMC's annual meeting to consider how deep listening and meaningful connection serve patients — and physicians.
 
Diane Rehm talks about what it means to have "a good death"
Acclaimed talk show host Diane Rehm has spent decades interviewing presidents, Nobel laureates, and more. At Learn Serve Lead 2020: The Virtual Experience, she shared her latest mission: ensuring that terminal patients get to choose how and when they die.
A bioethicist's personal opioid nightmare
After receiving opioids for a motorcycle injury, Travis Rieder, PhD, was shocked to find that doctors knew little about how to manage those intense medications. The author of "In Pain" shares the details of his journey — and how we can spare others.
AAMC releases strategic plan to respond to rapidly changing health care landscape
The pandemic has exacerbated existing inequities in medical education, health care, and research. The AAMC puts forth 10 action plans to address them.
Introducing the 2020 AAMC award winners
These leaders in academic medicine will be recognized during Learn Serve Lead 2020: The Virtual Experience for their outstanding contributions to medical education, patient care, and the biomedical sciences.
Feeling overwhelmed? Make more time for love and play
Author Brigid Schulte observes how medical professionals fall into the busyness trap, how it hurts them and their work, and how they can put more "live" into their lives.
Celebrating 10 Hispanic pioneers in medicine
These inspiring leaders launched advances in medicine and research that led to Nobel Prizes, life-changing cures, and better care for millions of people. We share their incredible stories.
Medical school enrollments grow, but residency slots haven't kept pace
The AAMC's annual survey shows that student body growth won't alleviate the looming physician shortage unless the shortfalls in residencies and clinical training sites also are addressed.
We need more transgender and gender nonbinary doctors
Just 1% of U.S. physicians self-identify as transgender or gender nonbinary (TGNB), yet the population of TGNB individuals is growing exponentially. They need doctors who understand their unique health concerns.
No, a Step 1 failure won't doom your medical career
New AAMC data show that a majority of U.S. MD applicants who fail the USMLE Step 1 exam on the first attempt still go on to a residency. Here's what all students need to know about applying to residency.
We need more doctors
The pandemic has underscored what many of us have been saying for years: We don't have enough physicians to meet the needs of a growing, aging population now or in the future.
Applying for residency? The Residency Explorer tool can help
The personalized web tool allows students to compare residency programs and gauge their competitiveness and compatibility.
U.S. physician shortage growing
A new AAMC study projects a shortfall of up to 139,000 physicians by 2033. Among the factors: older patients and retiring doctors.
Now more than ever, academic medicine needs to promote talented women
The current pandemic makes clear how much we need to attract, retain, and advance all talented physicians and researchers. The new AAMC State of Women in Academic Medicine report highlights key advances — and the challenges that remain.
 
Calling all voices
New editor-in-chief of Academic Medicine seeks to broaden perspectives in the esteemed journal.
What makes a good doctor — and other findings from the 2019 AAMC Public Opinion Research
Even before the pandemic, the general public had positive perceptions of medical schools and teaching hospitals. Here's what else they think about academic medicine, the doctor shortage, health equity, holistic review, and what they value in a physician.
Match Day goes virtual
As the nation grapples with COVID-19, medical schools take a moment to celebrate more than 30,000 students who matched to their chosen specialty.
The Match®: 10 things to know as the day draws nigh
Even as COVID-19 upends daily life, Match Day goes on — sending medical students on the next step in their careers and strengthening America's health care system. 
This should come as no surprise
As Congress considers laws to protect patients from surprise bills, teaching hospitals provide upfront cost calculations, discounted fees, and physicians in network.
Is it time for term limits in academic medicine?
Reshma Jagsi, MD, DPhil, spoke with AAMCNews about how term limits, particularly at the department chair level, are needed to diversify leadership in academic medicine.
Celebrating 10 women medical pioneers
These inspiring women endured poverty, deep-seated stereotypes, and discrimination, but they went on to build hospitals, win a Nobel Prize, lead a medical school, and dramatically improve the health of millions. Read their incredible stories.
Med school after 40
Older medical students arrive with different motivations, advantages, and challenges than their younger classmates. They reflect on why and how they took on those challenges.
Pumping up support: Making breastfeeding easier for med students
Medical student mothers may wind up pumping breastmilk in bathrooms and closets — or not at all, says one mom. She shares her own shaky experience breastfeeding while training and how medical schools and teaching hospitals can ease the way for others.
Rising violence in the emergency department
Nearly 50% of emergency physicians say they've been assaulted. 70% of emergency nurses report being hit or kicked on the job. So what's the solution?
Bankruptcy court approves request from Hahnemann owners to purchase liability insurance for residents and attending physicians
Hospital owners had asked court to approve $6.2 million payment to ensure physicians' liability insurance coverage will continue now that Hahnemann has closed.
Ending gender harassment in medicine
Women medical students now outnumber men, yet they still face significant levels of gender harassment, contributing to increased rates of burnout and dissatisfaction. How do we improve the learning environment for our future doctors?
I contracted medical student syndrome. You probably will too
As a medical trainee, he was convinced he had melanoma. Beneath his hypochondria lay some very human fears that ultimately made him a more compassionate physician.
Packing ethics into medical students' global health trips
Medical trainees want to help in less-resourced countries. But short-term programs can misread local needs, overburden hosts, and send students into situations they're not prepared to handle. Here's how leaders are ensuring ethical, effective experiences.
Faculty salaries rise 2.3%, and new data spotlight gender gap
The AAMC's annual Faculty Salary Survey shows mean salaries across departments and specialties, academic ranks, and degrees.
Attracting the next generation of physicians to rural medicine
People in rural areas sometimes must travel hours for care even in emergencies. Here's how medical schools and teaching hospitals are stepping up to attract and train future physicians to practice in some of the most remote and desperate regions.
AAMC launches new initiative to address and eliminate gender inequities
AAMC leadership and board of directors call on medical schools and teaching hospitals to identify and address gender inequities in academic medicine.
Applying to medical school can be expensive. AAMC's Fee Assistance Program can help
Aspiring doctors can save up to $2,000 in MCAT®, MCAT prep materials, and medical school application fees. Here are seven facts about the program, including whether you qualify. 
More medical research = better patient care
Congress recently approved a funding increase for the National Institutes of Health and reauthorized the Patient-Centered Outcomes Research Institute. Here's why that's important.
Please, call me Doctor
Physicians' first names don't belong in the classroom or the clinic, argues one educator. A title sets the stage for the kinds of relationships that convey duties and boundaries, foster learning, and, ultimately, help heal patients.
Healing the very youngest healers
Almost 30% of medical students and residents suffer from depression and 10% report having suicidal thoughts. Now, a growing number of medical schools and teaching hospitals are developing programs to identify and help at-risk trainees.
Achieving excellence through equity, diversity, and inclusion
Academic medical centers must embrace equity-mindedness and conscious inclusion if they are to realize the full benefits of a diverse workforce.
No joke: The serious role of improv in medicine
Want to be a better doctor? Try talking into a banana, muttering gibberish, and tossing balls at colleagues. Medical improv transforms goofy theater games into serious skills like empathy, teamwork, and super-quick thinking.
Displaced Hahnemann residents and attending physicians may soon lose liability insurance
The AAMC, AMA, ECFMG, and others are working to ensure physicians' liability insurance coverage will continue now that hospital has closed.
Today's residents, by the numbers
The AAMC's 2019 Report on Residents provides a data-based look at trends in test scores, specialties, and professional practices.
Thanks, a lot
Students and doctors learn to practice gratitude to ward off burnout and rekindle their love of medicine.