During the recruiting process, our talent acquisition team will work to understand your unique capabilities and requirements and guide you through the hiring process.
Meet the AAMC Talent Acquisition Partners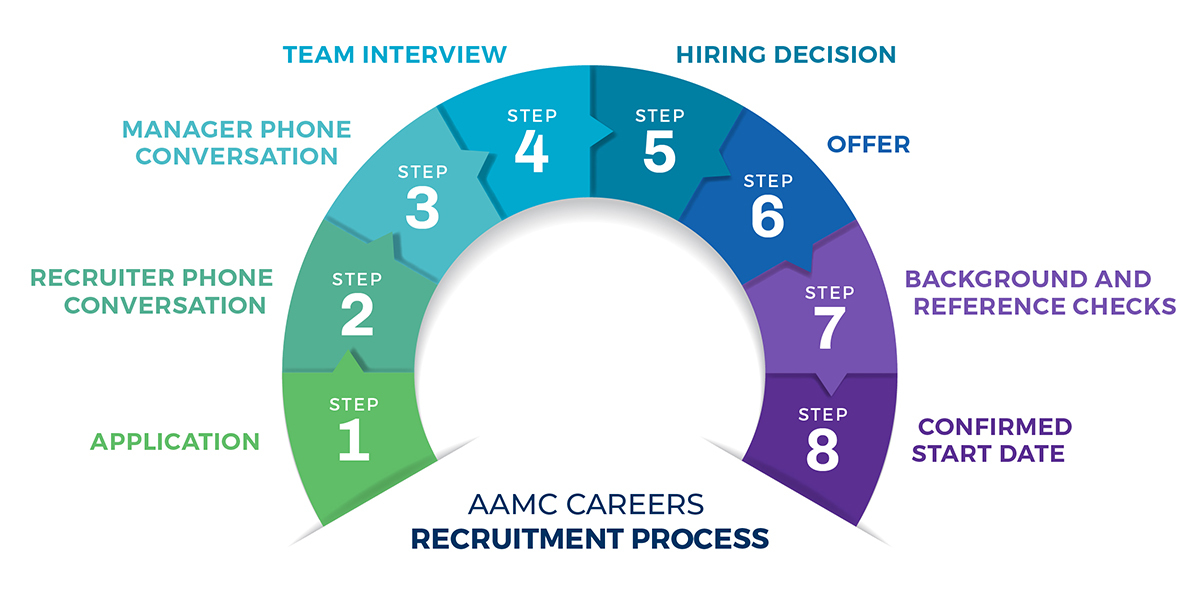 The overview below will give you an idea of what to expect. Questions? Connect with us.
Step 1: Application for a Role That Fits Your Skill Set
Your recruiting journey with the AAMC begins by submitting an application. All of our open positions (including full-time, part-time, intern, fellow, and temporary positions) are listed on the Careers page.
Our candidate portal allows you to upload your resume to create an application that can be used to apply to multiple positions easily. You will create a username and password so you are able to check on the status of your application(s) and see suggested jobs that may be of interest based on your experience.
When filling out an application, it's important to include all information that shows us who you are, including your LinkedIn profile, links to your work, and any documents or attachments that will further demonstrate your qualifications.
Depending on the role, the AAMC may ask for any of the following to assess your skill set and qualifications for a position:
Cover letter.
Writing sample.
Skill-based assessment.
Presentations.
Learn more about preparing for an interview.
Step 2: Recruiter Phone Conversation
If your application and skill set seem like a good match for an available position, one of our recruiters will contact you to schedule a 15- to 30-minute introductory phone call. This call is used to evaluate your qualifications, your interest in the AAMC, your salary expectations, your availability to start, and what you are looking for in your next opportunity. We encourage you to be as transparent as you feel comfortable being with your recruiter, as they will be your partner and advocate throughout the process.
Step 3: Manager Phone Conversation
A manager phone screen gives you the opportunity to interact with your potential supervisor. The manager screen provides a deeper dive into the position, and the manager will focus more on specific skills and describing the team dynamic and day-to-day function. This screen takes place via phone or video chat and is typically scheduled for 30 minutes.
Step 4: Team Interview
Our team or panel interviews will allow you to meet the team members with whom you will work the closest. This interview typically lasts a couple of hours over one day. Interview panels consist of staff with varied backgrounds, experiences, and roles and are meant to help you get to know the team better (and vice versa). The AAMC creates an equitable and inclusive interview experience that sets you up for success. Because many AAMC staff work remotely, these interviews typically take place virtually. If accommodation is needed, our talent acquisition team is here to help.
At the AAMC, we use a behavioral-based interview method that makes the process equitable and allows you to give examples of how you work. We're looking for real, recent examples of your previous work experience. Tell us your story. Your examples should be complete with the event, your action, and the result.
Step 5: Hiring Decision
Many of our colleagues have had a long-term career at the AAMC, and the association has a significant and highly visible role at the center of the academic medicine community. When we hire a candidate, we are looking for long-term colleagues who we can trust, depend on, and connect with. We take hiring decisions very seriously. The talent acquisition team brings all interview participants together to discuss the candidates and collect their feedback. We value each staff member's perspective on candidates, taking all aspects of the interview into consideration.
Step 6: Offer
If you are the candidate selected for the position, your recruiter will reach out to you with a verbal offer that will be followed by a written offer letter. If you were not selected for the role, your recruiter will notify you as soon as possible. The AAMC uses market data, employee pay equity, and years of work experience to make the most competitive offer possible.
Step 7: Background and Reference Checks
Once the offer letter is signed, we conduct background checks to verify criminal, education, and employment history. We also request three references. This process typically takes one to two weeks to complete.
Step 8: Confirmed Start Date
Once your start date is confirmed, we will set you up with everything you need to start working. Our onboarding team takes the necessary steps to walk you through benefits enrollment, timekeeping, and getting acclimated to your new team.
The AAMC is an equal opportunity, affirmative action employer. The AAMC is committed to the policy of an equal employment opportunity in recruitment, hiring, career advancement, and all other personnel practices. The AAMC will not discriminate on the basis of race, color, religion, national origin, age, sex, disability, veteran status, or sexual orientation.