Behind every AAMC accomplishment stands individuals whose experiences and skills have contributed to our success. We care deeply about your humanity. Our empathetic and collaborative culture supports your fulfillment — professionally and personally.
Grow at Work
People are at the heart of the AAMC. We want you to thrive. From day one, we'll strive to help you reach your full potential in your current role, all while preparing you for future opportunities. We know we're at our most successful when our people's growth is supported. We offer:
Employee training on anti-racism, communication, effectiveness, leadership, management, and more.
LinkedIn Learning access.
Customized training and team-building opportunities.
External professional development support.
You'll play the lead role in your growth, and we'll be behind you all the way.
Be Rewarded
We want you to feel rewarded for your knowledge, skills, and contribution to the AAMC's goals. Our compensation packages are competitive based on experience, performance, and job market value.
Forge Your Own Journey
We've got your back as you grow with the AAMC. The journey you take with us is in your hands as we provide you with the resources and opportunities to make it fulfilling!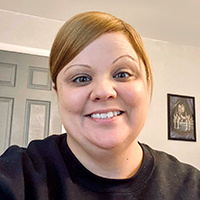 "To me, inclusivity means being accepted and respected no matter what. It means that all members of a team feel capable of success. The AAMC provides the space for employees to make mistakes, learn, and grow. It truly is an environment where you will be challenged, pushed outside of your comfort zone, and grow as an individual."
Joyce Buchanan

Create Connection
We have established internal professional, cultural, and social groups to encourage meaningful connections across the association.

Align Work, Team, and Mission
We make sure the importance of your everyday work is clear by visibly connecting your impact to the association's strategic objectives.

Empower Contributions and Ideas
We empower every team member to contribute ideas and share feedback. It can be liberating — even exhilarating — to work with colleagues who genuinely want to hear what you think. From our senior leaders to our specialists, we share a commitment to collaboration and listening to each other.

Work Anywhere in the United States*
Employees in remote-eligible positions can move seamlessly between office-based and remote work, contributing from wherever you will be most productive.

*Current AAMC policy permits remote-eligible employees to work anywhere in the continental United States, subject to certain conditions.
The AAMC is an equal opportunity, affirmative action employer. The AAMC is committed to the policy of an equal employment opportunity in recruitment, hiring, career advancement, and all other personnel practices. The AAMC will not discriminate on the basis of race, color, religion, national origin, age, sex, disability, veteran status, or sexual orientation.