Joseph C. Kolars, MD, Senior Associate Dean for Education and Global Initiatives, Josiah Macy, Jr., Professor of Health Professions Education, University of Michigan Medical School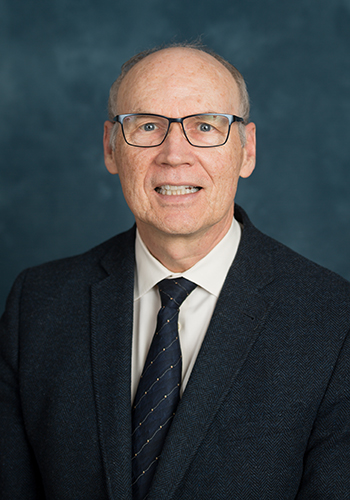 A dynamic medical educator and mentor, Dr. Joseph C. Kolars "has been the catalyst for true transformation in medical education locally, nationally, and internationally for many years," writes Furman S. McDonald, MD, MPH, senior vice president for academic and medical affairs, American Board of Internal Medicine.
Through his leadership roles at the University of Michigan Medical School and the Mayo Clinic, Dr. Kolars has pioneered curricular transformation in medical education and critically advanced competency-based education. As former director of the internal medicine residency program at Mayo, he led the adoption of innovations that advanced the ACGME's Educational Innovations Project, which served as the foundation for the Next Accreditation System. As senior associate dean for education and global initiatives at U-M Medical School, he directed a team that was awarded an Accelerating Change in Medical Education grant by the AMA, which is transforming the U-M Medical School curriculum to prepare physician leaders.
Dr. Kolars' impact extends well beyond America's borders. Recruited by the Bill and Melinda Gates Foundation, Dr. Kolars has led intensive efforts to develop twinning relationships between health science schools in the United States and sub-Saharan Africa, resulting in significant improvements in health education and care. This work informed the creation of, and his counsel continues to be integral to, the Medical Education Partnership Initiative, a program of the NIH and PEPFAR to increase the quantity and quality of medical education across Africa.
Similarly, Dr. Kolars developed and co-led the Joint Institute for Translational and Clinical Research between the U-M Medical School and Peking University Health Science Center in China. This unique, cross-cultural collaboration with innovative educational programming has yielded more than 60 joint publications and millions of dollars in extramural funding. The success of the institute is built on Dr. Kolars' experience living in Shanghai in the late 1990s, where he established the first Western health care system that provided training in China.
Dr. Kolars' efforts have resulted in improved care outcomes in North America, Asia, and Africa, and his associated and prolific scholarship has influenced countless educators worldwide. He has received the Distinguished Medical Educator Award from the Association of Program Directors of Internal Medicine, the Distinguished Educator Award from the American Gastroenterological Association, and an endowed professorship from the Josiah Macy, Jr. Foundation. He has also been honored by institutional leadership, mentees, and his students, who elected him to the Alpha Omega Alpha Honor Society.
Dr. Kolars earned his MD from the University of Minnesota Medical School. He completed his residency in internal medicine at Abbott Northwestern Hospital and fellowships in gastroenterology and hepatology at University of Michigan Medical Center.
Learn more about the Abraham Flexner Award for Distinguished Service to Medical Education