GIP News and Business
 
Collecting Institutional Strategic Plans for the GIP Webpage
The Strategic Planning and Management Subcommittee is working to enhance the resources on the Strategic Planning Resource webpage. We would like to develop a robust library of strategic plans for GIP members and would ask that you send your institutional strategic plan (link or PDF) to AAMC staff by February 26th.
Over the past several months, members of the subcommittee have been taking turns facilitating hot topic discussions on the monthly subcommittee calls on topics to include developing your strategic plan, linking budget and planning, and communicating your plan. Summaries and PowerPoint slides from some of these calls are available on the GIP webpage for your reference. Please contact AAMC staff for more information on this subcommittee.
GBA & GIP Virtual Programming:
How space, workforce and strategic planning leaders can keep an eye on diversity, equity and inclusion in the time of COVID-19
Tuesday, February 23, 2021
4:00 – 5:00 p.m. (ET)
Register Now

In these unprecedented times of COVID-19, what role can leaders in strategic planning, space planning, and workforce development have in fostering diversity, equity, and inclusion (DEI)? As institutional budgets and priorities are shifting, keeping DEI efforts front and center has never been more important. Many institutional leaders have survived the current crises by staying nimble and responsive and are now turning their sights toward getting their institutions back on track in 2021.
With this pivot toward the future, there is a great risk of backsliding on the gains achieved through focused DEI efforts over the past few decades. With institutional priorities unclear, space, financial, and workforce decisions are being made based on the bottom line, which is understandable, but can also open up the institution to recreating and redoubling biases that have taken years to correct. Through the perspectives of three leaders in space planning, strategic planning, and faculty affairs, respectively, this session will create a dialogue around how institutions can avoid losing ground on the DEI progress they've made to date in light of the pandemic's challenges and aftermath.

Learning Objectives:
Understand the business case and value of continuing to invest in diversity, equity, and inclusion efforts.
Integrate DEI into their roles as space, strategic, or HR professionals.
Think creatively about how to foster equity-minded institutions through their operational, administrative and/or finance leadership roles.
Speakers:
Amy S. Gottlieb, MD, FACP
Chief Faculty Development Officer, Baystate Health
Associate Dean for Faculty Affairs & Professor of Medicine and Obstetrics & Gynecology, University of Massachusetts Medical School- Baystate
Paul Spaulding
Senior Space Planner
Space Planning
University of Rochester Medical Center
Katy Stevenson, MPP
Program Administrator, Strategy, Planning and Development
Office of the CEO and Dean
University of Rochester School of Medicine and Dentistry
Questions? Contact Heather Sacks or Shawn Rosen-Holtzman.
Recording now available: Community Conversation Between GIP & GDI
On January 21, 2021, the Group on Diversity and Inclusion (GDI) and the Group on Institutional Planning (GIP) gathered for a community conversation on "Building a Shared Commitment When Creating Anti-Racist Institutions." The groups convened in real-time and discussed challenges and opportunities that arise when creating an anti-racist institution. The goal of this forum was to share approaches and best practices. In addition, we hoped to enhance institutional collaborations by encouraging participants to invite their colleagues in planning and diversity, equity, and inclusion offices. The recording is available via this link.
Get involved in the AAMC's strategic plan
Members of AAMC affinity groups are invited to participate in a series of virtual work sessions on the 10 action plans of the AAMC's new strategic plan. Live interactive sessions will be held every Thursday through February 11 (see schedule and registration information below), or feedback can be provided anytime here. If you have questions, please email strategicplanning@aamc.org.
Thursday, February 11, 2021
Action Plan #7, Improve Access to Health Care for All
2-3 pm ET
Register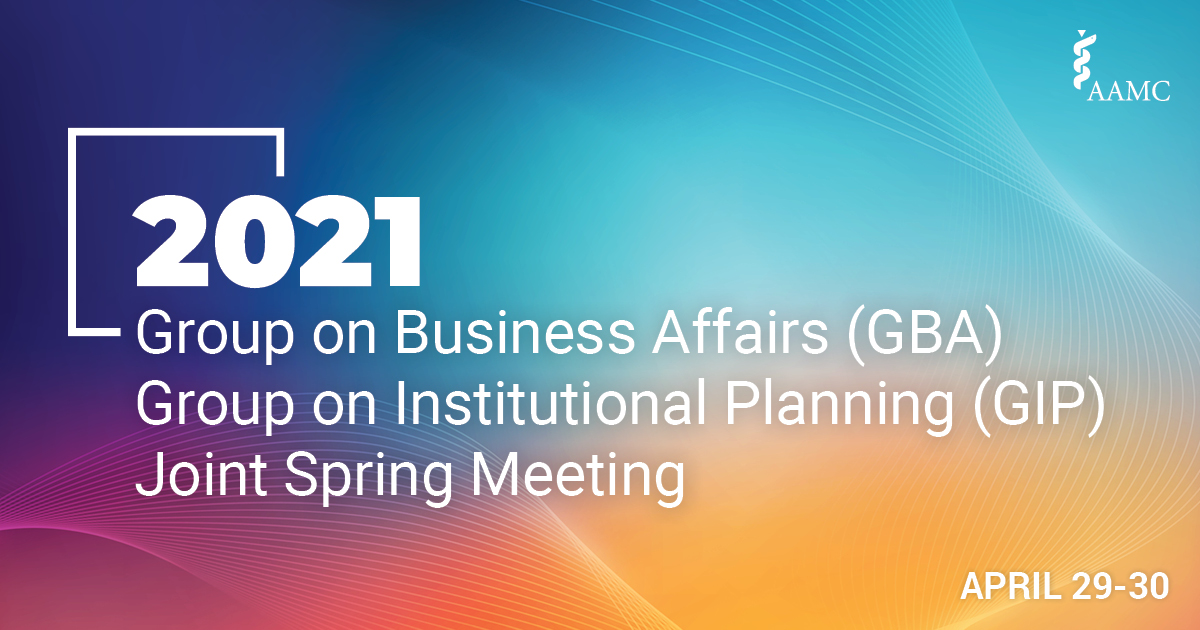 Save the Date: GBA/GIP 2021 Joint Spring Meeting
April 29-30, 2021
1:00pm - 5:00pm (ET) on each day
(Please note that this conference will be entirely virtual.)
National Science Foundation invites comments on strategic plan
The National Science Foundation is inviting comments on its strategic plan as it launches its recurring four-year effort to update the document. Comments from interested individuals and organizations are due by Feb. 10.
Read More
AAMC News

AAMCNews: The coronavirus variants are spreading rapidly. Here's what scientists know about them — and why you need a better mask
New, more contagious coronavirus variants from Britain, South Africa, and Brazil are raising alarms. Academic experts share why better masking and faster vaccination offer the best chance to avoid another deadly surge.
Read More
Update on AAMC equity, diversity, and inclusion: 2021 and beyond
The AAMC has renamed its Diversity Policy and Programs cluster, and it will now be called the Equity, Diversity, and Inclusion cluster. This name more closely aligns with the work the AAMC has led over the last three years in the areas of anti-racism and racial justice, gender equity, equity advancement, and inclusion excellence. The change is also as example of the AAMC's commitment to the Framework for Addressing and Eliminating Racism at the AAMC, in Academic Medicine, and Beyond, and is in alignment with the new AAMC strategic plan. Moving forward, the cluster will be organized under three work units/portfolios: Equity and Social Accountability; Workforce Diversity; and Organizational Inclusion and Development.
FSMB, NBME announce work to relaunch USMLE Step 2 CS has discontinued
The Federation of State Medical Boards (FSMB) and National Board of Medical Examiners (NBME), co-sponsors of the United States Medical Licensing Exam (USMLE), have announced the discontinuation of work to relaunch a modified Step 2 Clinical Skills examination (Step 2 CS).
Read More
AAMC names NEXT Award winners to address COVID-19 and systemic racism in local communities
The AAMC has named five institutions as the 2020-21 recipients of its Nurturing Experiences for Tomorrow's Community Leaders (NEXT) Award, which is supported by a cooperative agreement with the Centers for Disease Control and Prevention and provides funding for institutions to develop or enhance a learning opportunity that seeks to improve community health and eliminate health disparities. The winning institutions were awarded $10,000 each to address COVID-19 inequities and systemic racism locally through collaborative community partnerships. The recipients are the George Washington University School of Medicine and Health Sciences, the University of Miami Leonard M. Miller School of Medicine, University of New Mexico Health Sciences Center, the University of Texas Rio Grande Valley School of Medicine, and Wayne State University School of Medicine.
Read More
MedBiquitous earns ANSI accreditation
MedBiquitous, an AAMC program focused on health professions education technology and data standards, has earned accreditation by the American National Standards Institute (ANSI), the leading organization charged with assessing the quality and processes of standards development. All future and revised MedBiquitous standards will now be eligible for ANSI approval.
Read More
AAMC statement on President-elect Biden's COVID-19 relief proposal
The AAMC issued a statement on President-elect Biden's American Rescue Plan. "This proposal outlines a bold legislative strategy that includes crucial funding for a robust vaccination program, therapeutics, testing, and contact tracing. The plan also preserves and expands access to coverage for millions of Americans, addresses health disparities, and provides critical relief for state and local governments," said AAMC President and CEO David J. Skorton, MD.
Read More
AAMC statement on President-elect Biden's White House science team
AAMC President and CEO David J. Skorton, MD, issued a statement on the announcement of the Biden administration's science team. "The AAMC commends President-elect Biden for elevating science to a national priority by elevating the Presidential Science Advisor to a Cabinet level position and selecting immensely qualified and experienced leaders to guide the administration's science policy decisions. From fighting the COVID-19 pandemic to addressing health disparities to developing medical treatments and diagnostics, an evidence-based approach to policy must direct the way forward on the nation's health challenges."
Read More
AAMC statements on President Biden's executive actions on immigration and advancing equity
The AAMC issued two statements regarding executive actions and proposed legislation from the Biden administration's first day in office. David J. Skorton, MD, AAMC president and CEO, commented on executive actions and forthcoming legislation that address several immigration policies, as well as the president's executive actions on advancing equity, preventing discrimination, and supporting underserved communities.
Read More
Read More
Herbert W. Nickens Awards
The AAMC is soliciting nominations for its annual Herbert W. Nickens Awards. These awards honor individuals who advance the educational, societal, and health care needs of racial and ethnic minorities in the United States.
Nomination Deadline: April 2, 2021
Questions? NickensAwards@aamc.org
Read more: www.aamc.org/initiatives/awards
Learning Opportunities
 
Leadership plenary addresses from Learn Serve Lead 2020: The Virtual Experience published
In case you missed it, the addresses that were delivered during Learn Serve Lead 2020: The Virtual experience by AAMC Board Chair Joseph E. Kerschner, MD, and AAMC President and CEO David J. Skorton, MD, have been published. These visionary leaders shared frank, honest perspectives on the persistent obstacles that affect academic medicine's learners, leaders, and patients.
Read More
The Legacy of Rebecca Lee Crumpler: What is Possible?
In 1864, a 33-year-old woman named Rebecca Davis Lee (Crumpler) became the first Black American woman to earn a degree in medicine, awarded by the New England Female Medical College, a pioneering institution that became Boston University's School of Medicine (BUSM) in 1873. She would have turned 190 on February 8.
 To commemorate and celebrate her legacy, BUSM is hosting free, virtual special events during the week of February 8 featuring prominent, trailblazing Black women leaders from throughout academic medicine, including—
Judith Absalon, MD, MPH, Pfizer Vaccine Research & Development
Nicole Alexander-Scott, MD, MPH, Rhode Island Department of Public Health
Deborah Deas, MD, MPH, University of California-Riverside
Loretta Jackson-Williams, MD, PhD, University of Mississippi School of Medicine
Alicia Monroe, MD, Baylor College of Medicine
Deborah Prothrow-Stith, MD, Charles R. Drew University College of Medicine and Science
Joan Reede, MD, MS, MPH, MBA, Harvard
CME credit is being offered for the sessions on February 8 and 9. For more information and to register, click here.
Register now for new season of AAMC Building Better Curriculum Learning Series
This free virtual collaborative learning series is designed to raise awareness of how the transforming health care system shapes health professions education. During the sessions – offered monthly starting February 11 at 12:00 p.m. ET – George Thibault, MD, will discuss the major trends in health professions education. To learn more or to register to join on February 11 and beyond, email CurricularInnovation@aamc.org
IPEC, APA to host webinar on promoting health and well-being among learners
The Interprofessional Education Collaborative (IPEC), of which the AAMC is a founding member, and the American Psychological Association (APA) will host a webinar on Feb. 23 from 2-3 p.m. ET to address the mental health and wellness needs of interprofessional learners. Participants will hear innovative strategies to integrate wellness academic programming into interprofessional education curricula.
Read More
Publications & Resources
 
AAMC December 2020 Regulatory Round-Up
Review our December 2020 key policy and regulatory activities. Each summary includes a contact for more information.
Recommendations on medical student away rotations for remainder of 2020-21 and 2021-22 academic year
On Jan. 25, the Coalition for Physician Accountability released updated recommendations on away rotations for medical schools and non-U.S. medical school applicants for the 2021-22 academic year. The AAMC is a member of the Coalition, a cross-organizational group of national medical education organizations, and the AAMC is a member. The recommendations are an update to guidance published on May 11, 2020, Medical Students in the Class of 2021: Moving Across Institutions for Post Graduate Training.
Read More  
America's medical residents, by the numbers
The AAMC's 2020 Report on Residents breaks down the demographic and racial makeup of the nation's doctors in training. It also provides a glimpse into their future career plans.
Read More
AAMC publishes updated education debt resource for medical students
The AAMC has published an updated edition of Education Debt Manager for Matriculating and Graduating Medical School Students. The comprehensive financial guide is designed to help medical school students navigate the complexities of financing medical school through the responsible borrowing and repayment of student loan debt.
Read More
Cybersecurity Challenges and the Academic Health Center: An Interactive Tabletop Simulation for Executives
Many AHC executives may not have sufficient knowledge of the potential impact of cyberattacks on institutional missions including clinical care, research, and education. Improved cybersecurity awareness and education are areas of opportunity for many AHCs.
Lauren A. Maggio, PhD, Christian Dameff, MD, Steven L. Kanter, MD, Beau Woods, and Jeffrey Tully, MD
Read More
Making Doctors Effective Managers and Leaders: A Matter of Health and Well-Being
The COVID-19 pandemic has revealed the need for physicians who have leadership and management skills. Training all physicians in these skills will improve patient care, the well-being of the health care workforce, and health nationwide.
Lisa S. Rotenstein, MD, MBA, Robert S. Huckman, PhD, and Christine K. Cassel, MD
Read More
Wellness-Centered Leadership: Equipping Health Care Leaders to Cultivate Physician Well-Being and Professional Fulfillment
Here, the authors propose a new integrative model of Wellness-Centered Leadership, which distills core skills and qualities from the foremost leadership philosophies along with evidence on the relationship between leadership and physician well-being into a single framework.
Tait Shanafelt, MD, Mickey Trockel, MD, PhD, Ashleigh Rodriguez, MSN, MMM, APRN, and Dave Logan, PhD
Read More
Recognizing Cross-Institutional Fiscal and Administrative Barriers and Facilitators to Conducting Community-Engaged Clinical and Translational Research
Findings highlight the importance of equitable processes, triangulated communication, transparency, and recognizing and respecting different financial management cultures within community-engaged research.
Lori Carter-Edwards, PhD, MPH, Mary E. Grewe, MPH, Alecia M. Fair, DrPH, Carolyn Jenkins, DrPH, MSN, RN, RD, Natasha J. Ray, MS, Alicia Bilheimer, MPH, Gaurav Dave, MD, DrPH, Marcella Nunez-Smith, MD, MHS, Alan Richmond, MSW, and Consuelo H. Wilkins, MD, MSCI
Read More
Dismantling Structural Racism: Time to Abandon Medical School Rankings
Medical schools should abandon the U.S. News & World Report rankings system not only because the methodology is poor, but also because these rankings incentivize schools to perpetuate structural racism.
Michelle Ko, MD, PhD, and Ruth S. Shim, MD, MPH
Read More
To Improve Medical Education, We Must First Confront Our Field's History
To move forward, medical educators must reckon with the fact that many aspects of our training promote racism and perpetuate the disproportionate share of poor health outcomes endured by the Black community.
Paul D. Schumann and Naomi T. Nkinsi
Read More
Recommended Reading and Listening
 
USA Today op-ed explores integration of arts and humanities in medicine and science
In a new opinion piece published in USA Today, AAMC President and CEO David J. Skorton, MD, and AAMC Senior Director of Strategic Initiatives and Partnerships Lisa Howley, PhD, examine the importance of integrating arts and humanities in science and medical education. A recent AAMC report further examines the fundamental role of arts and humanities in medical education and recommends ways to better integrate these disciplines throughout curricula and course work.
Read More
AAMCNews: Our moment to heal health care
COVID-19 has changed academic medicine forever. One medical school leader writes that it's up to us to make it better than before.
Read More
AAMCNews: Feeding future doctors: Universities work to alleviate food insecurity among medical students
While data on food insecurity among medical students is sparse, researchers believe the impact is profound. The pandemic isn't helping.
Read More
AAMCNews: Doctors forge ahead to allay fears about COVID-19 vaccines
Amid hesitancy among racial and ethnic groups about vaccine safety, medical schools and university hospitals turn to community partners, trusted minority leaders, and media platforms to explain the science behind the shots.
Read More
We Might Never Feel Prepared for Difficult Conversations
Dr. Leonor Corsino reflects on an unexpected conversation about inclusion with her students and offers her thoughts on how educators can better support their diverse group of learners.
Listen Here
New episode of "Beyond the White Coat" podcast explores racism under the microscope
We've known for a long time that systemic racism influences the social determinants of health — affecting, quite literally, who in this country survives and who suffers. People who live in poorer neighborhoods often receive lower quality and less care from health care providers, and long-standing discrimination against all marginalized communities has created dramatic health inequities. In the season finale episode of the "Beyond the White Coat" podcast, AAMC President and CEO David J. Skorton, MD, looks back at some of the conversations we've had about these difficult and persistent issues.
Listen Now
Watch Now: 2020 AAMC year in review video
The AAMC has produced a short video that captures the exceptional efforts of the academic medicine community in response to the many challenges of 2020. From caring for patients to advancing science and telehealth in the age of the coronavirus pandemic to taking a stand for social justice, this was a year like no other. We look forward to working with our constituents at the nation's medical schools, teaching hospitals and health systems, and academic societies to build on these efforts in our work together in 2021. Thank you for all you do to create a healthier future for people everywhere.
Play Video