GIP News and Business
Welcome from the Chair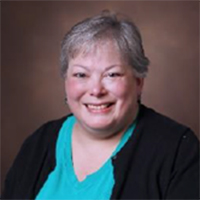 Greetings, GIP Members:
As the new chair of the GIP Steering Committee, I am delighted to be saying hello to you all. I'm so sorry that I was unable to attend the 2022 Joint GBA-GIP Spring Meeting in person - one of the highlights of my year.
I did hear very good things about the conference, both the content and the enthusiasm of the members! I'm also sad to say that this means we say goodbye to Katy Stevenson, the past, past chair of AAMC-GIP. Katy has been great, staying on for an extra year and continuing to pipe so much energy into our group. Please take a much deserved rest but don't go too far into the sidelines. Thanks for all you have done, Katy, for several years. Also, please join me in thanking our immediate past chair, Brian Smith, for his constant leadership over this past year. I'm glad he'll be around to counsel me. And Pam Edwards, as Chair Elect, will be a new and welcome member of the leadership team.
Spring is bringing rejuvenation to our group in many ways: new members joining GIP across the country, renewed interest from older, reengaged members, and also some leaving us due to either retirement or job changes.
As always, we want to hear from you. What are your ideas and goals for 2022-23? Are you on a subcommittee? If not, you can still join. Check out the GIP website for updates. This is a great way to get involved and have your voice heard nationally. You can also feel free to reach out to me directly by email or phone below.
Pam, Brian and I plan for 2022-23 to be another exciting year for the GIP, and you'll be hearing from us regularly.
Thanks,
Niki Smith, MMHC
National Chair, Group on Institutional Planning, AAMC
Director, Space Management
Vanderbilt University Medical Center
niki.smith@vumc.org
(615) 936-1944
GIP Strategic Planning and Management Subcommittee: Hot Topic Discussions
The GIP Strategic Planning and Management Subcommittee members continue to take turns facilitating hot topic discussions on the monthly subcommittee calls. On the February call, Erin Shirey, MPA, from Oakland University William Beaumont School of Medicine facilitated a conversation around accountability when creating and implementing a strategic plan. Erin outlined her institution's process for creating an updated strategic plan by reinventing the process through buy-in from leadership throughout the school and emphasizing transparent communication. By identifying goals most important to the institution, establishing teams within the goals, and increasing reporting frequency, the structure of accountability will ultimately be strengthened. The conversation was robust with subcommittee members asking questions around funding, metrics and tracking, and variations of strategic plan reports. The presentation is available for review.
On the March call, Thomas Svolos, MD from Creighton University School of Medicine, facilitated a conversation on strategic planning and continuous quality improvement as part of the larger LCME accreditation process. The LCME wants medical schools to continually assess their standards for accreditation and schools need professional staff with data analytics experience to work on the strategic planning process. For continuous quality improvement, it is important to review operational processes within the school to ensure the right policies are in place and are leading to positive outcomes. Dr. Svolos shared their strategic plan executive summary, which includes outcome metrics as well as tracking on budget and resources. He also shared their CQI dashboard containing findings from prior years and action plans and recommendations for future years.

For more information on the subcommittee, please visit the GIP webpage or contact Shawn Rosen-Holtzman.
AAMC News
April Policy and Regulatory Roundup
The Policy and Regulatory Roundup features a brief overview of our latest work from the previous month and includes staff contact information if you have questions or comments.
AAMCNews: The new PREviewTM exam for medical school applicants goes beyond academics
Medicine entails much more than understanding anatomy and diagnosing diseases. It's also about resilience, teamwork, and other crucial professional skills. Now, a new AAMC test lets aspiring doctors show they have these critical competencies.
Read More
AAMC statement on Norman "Ned" Sharpless stepping down as director of National Cancer Institute
AAMC President and CEO David J. Skorton, MD, and Chief Scientific Officer Ross McKinney, Jr., MD, issued a statement in response to the announcement that Norman "Ned" Sharpless, MD, will step down from his role as director of the National Cancer Institute (NCI), part of the National Institutes of Health, at the end of the month. "The AAMC commends Dr. Sharpless for his nearly five years of service as director of the National Cancer Institute. He has provided exceptional leadership at the NCI, working diligently with researchers, patient advocates, academic institutions, and policymakers to advance scientific discovery in prevention, diagnosis, and treatment of cancer."
Read More
AAMC Center for Health Justice names members of new Multisector Partner Group
The AAMC Center for Health Justice has named 10 individuals to join its Multisector Partner Group that will inform and guide the center's programmatic and partnership-building activities. The members represent sectors including arts, education, community health, housing, food and water, and law. These 10 members have been selected to provide their expertise, leadership, and perspectives and to contribute to the center's strategic planning and decision-making processes over the next three years.
Read More
AAMCNews: What is gender-affirming care? Your questions answered
As states move to restrict certain treatments for transgender youth, experts explain the many types of care, the need for them, and their impact.
Read More
AAMCNews: Prenatal screenings can lead to false positives, heightened anxiety
Academic experts emphasize a need for patient counseling, as well as greater education around screening versus diagnostic testing for genetic disorders.
Read More
AAMC names Stephen J. Lopez, PhD, MBA, as chief information officer
The AAMC has named Stephen J. Lopez, PhD, MBA, as chief information officer (CIO) after an extensive national search. As CIO, Lopez leads the AAMC's Information Technology (IT) team and guides immediate and long-term strategic approaches to support the association and its member institutions. In this role, he enhances and implements IT governance processes to ensure timely, cost-effective delivery of high-quality applications and infrastructure.
Read More
AAMCNews: Caring for adults with intellectual and developmental disabilities
As children with autism, Down syndrome, and similar disabilities reach adulthood, they face unique challenges navigating the health care system. Medical schools are just beginning to train physicians in how to treat them.
Read More
AAMC updates gender data collection categories, prefix options
The AAMC strives to use inclusive language that reflects and speaks to the needs of the people it serves. To align with this objective, the AAMC is taking an iterative approach to updating its data collection forms. Beginning April 21, data collection forms will include the following identification selection options for gender identity (previously listed as sex): man, woman, other, and decline to answer. The inclusion of other provides an option for those who wish to select a non-binary gender category, and the AAMC will continue to receive feedback and consider additional categories in the future. Additionally, new prefixes will be added to OneAAMC, including Mx., which provides a gender inclusive option. This update will be implemented in the OneAAMC system and in all AAMC data collection on April 21, and in all AAMC applications beginning with the 2023 season openings. As part of its overall commitment to equity, diversity, and inclusion, the AAMC will work to continually improve, and update gender language based on community input on this change.
AAMCNews: Why do so many Americans distrust science?
Medical science faces a credibility crisis that threatens its ability to protect people's health. Scientists need to grasp the forces sowing suspicion about their work.
Read More
Puerto Rico's medical schools are U.S. LCME-accredited
As a reminder, the four medical schools in Puerto Rico are fully accredited by the Liaison Committee on Medical Education (LCME). Residents of Puerto Rico are U.S. citizens who carry U.S. passports, and graduates from these medical schools are graduates of a U.S. medical school, not international graduates. The following four Puerto Rican medical schools are accredited by LCME: Ponce Health Sciences University School of Medicine; San Juan Bautista School of Medicine; Universidad Central del Caribe School of Medicine; and University of Puerto Rico School of Medicine.
Read More
AAMC reaffirms statement on the patient-physician relationship and reproductive health care
AAMC President and CEO David J. Skorton, MD, issued a statement to reaffirm the AAMC's commitment to the physician-patient relationship and access to safe and effective reproductive health care regarding the pending case, Dobbs v. Jackson Women's Health Organization, before the U.S. Supreme Court. "The AAMC reaffirms its commitment to the critical relationship between patient and physician as the basis of safe, effective, and evidence-based health care. As we indicated in our September 2021 statement, policies that interfere in that relationship by limiting access to legal abortion care put the patient at risk and will exacerbate existing health inequities.
Read More
AAMC joins amicus brief opposing Alabama criminalization of gender-affirming care
On May 4, the AAMC joined the American Academy of Pediatrics, the American Medical Association, the American Psychiatric Association, and others in an amicus brief supporting a challenge to an Alabama law imposing criminal sanctions for health care professionals who provide (or facilitate through referral) gender-affirming care to adolescents. The brief reviews the rigorous and evidence-based gender-affirming medical treatment guidelines which are supported by all mainstream pediatric organizations, representing thousands of physicians across multiple disciplines, and explains how the law will irreparably harm adolescents with gender dysphoria by denying care to those who need it. On March 10, the AAMC joined the same groups in an amicus brief supporting a similar challenge to the Texas governor and attorney general. These efforts reaffirm the AAMC's commitment to ensuring access to high-quality care that treats all people, including transgender individuals, equally and with respect.
Read More
Learning Opportunities
2022 AAMC Integrating Quality Forum transitions to virtual, focus on addressing social risk needs of patients
The 2022 AAMC Integrating Quality Forum has transitioned to a virtual experience and will take place as one full day of learning, collaboration, and inspiration on Friday, June 3. Attendees are invited to hear fresh ideas from institutional and community leaders and leave with new knowledge and skills to implement in their organization and advance their work. This event will focus on improving patient outcomes by addressing social needs through screenings, and will feature interactive presentations, group discussions, and a rare opportunity to engage with experts. The virtual event will be of particular interest to colleagues and staff whose roles relate to patient social care, from the individual to the health system to community levels – especially those working in health equity, value-based care, population health, community health, social work, and patient engagement.
Register Now
Publications & Resources
New AAMC data snapshot explores mental and behavioral health care and telehealth
In 2020, the use of telehealth grew rapidly and made up a significant amount of the care delivery mode for mental and behavioral health conditions. Analyzing Clinical Practice Solutions Center all-payer 2020 data, this snapshot demonstrates that audio and video visits are a critical way to support improved access to mental and behavioral health care and the importance of making them available across all patient population groups.
Read More
Toolkit of resources updated to support the transition to residency
The AAMC, the American Association of Colleges of Osteopathic Medicine, the Accreditation Council for Graduate Medical Education, and the Educational Commission for Foreign Medical Graduates | the Foundation for Advancement of International Medical Education and Research have updated their toolkit to assist in the transition of 2022 medical school graduates into their first year of residency.
Read More
Aspen Health Strategy Group report addresses the health care harms of incarceration Era
A new report published by the Aspen Health Strategy Group lays out a strategy to reduce the toll that incarceration takes on the health of individuals, families, and communities. The report, Reducing the Health Harms of Incarceration, is the result of a yearlong study involving 18 nationally recognized leaders and experts across sectors — with input from the general public — that calls for prompt action to improve the health status of people in prisons and jails. AAMC President and CEO David J. Skorton, MD, is a member of the group.
Read More
VA releases clinical care access recommendations with potential impacts to affiliates
On March 14, the Department of Veterans Affairs (VA) released its Assets and Infrastructure Review (AIR) Report. The report centers on improving access to and quality of care for veterans by ensuring the VA's clinical infrastructure reflects the needs of veterans, including utilizing existing partnerships with academic affiliates, and was mandated by the VA MISSION Act of 2018. Constituents at the AAMC's member institutions are encouraged to review the recommendations for their local Veterans Integrated Service Networks (VISN) to assess any potential impacts to the care delivered to veterans and/or the existing academic or research affiliations with local VA facilities. Please reach out to Matthew Shick (mshick@aamc.org) or Christa Wagner (chwagner@aamc.org) with any questions or feedback on the recommendations.
Read More
Prioritizing Asian Americans, Native Hawaiians, and Pacific Islanders in the U.S. Health Equity Agenda
The authors consider ways that representative data, leadership in medical education, research funding, national policies, and broad partnerships can help address AANHPI health disparities.
Karen E. Kim, MD, Holly J. Humphrey, MD, and Howard K. Koh, MD
Read More
Mental Health Disclosure Questions on Medical Licensure Applications: Implications for Medical Students, Residents, and Physicians
The authors review the language of health history questions, disclosure requirements for applicants, and the potential consequences for applicants of disclosing mental health or substance abuse history on state medical licensure applications.
Nicki W. Taylor, PhD, Cheryl Porter, PhD, Melanis Rivera-Rodriguez, PsyD, I.S. Keino Miller, PhD, and Nathaly Desmarais, PsyD
Read More
Critical Theory, Culture Change, and Achieving Health Equity in Health Care Settings
The authors describe 5 interconnected change strategies that their medical center uses to build a culture of equity.
Jelena Todić, PhD, MSW, Scott C. Cook, PhD, Sivan Spitzer-Shohat, PhD, James S. Williams Jr, MA, Brenda A. Battle, MBA, BSN, Joel Jackson, and Marshall H. Chin, MD, MPH
Read More
Formal Reporting of Identity-Based Harassment at an Academic Medical Center: Incidence, Barriers, and Institutional Responses
Most of the faculty and medical trainees who experienced harassment did not formally report it to anyone in authority. Many of those who did report it faced institutional minimization and retaliation.
Emily A. Vargas, PhD, Lilia M. Cortina, PhD, Isis H. Settles, PhD, Sheila T. Brassel, PhD, Chithra R. Perumalswami, MD, MSc, Timothy R. B. Johnson, MD, AM, and Reshma Jagsi, MD, DPhil
Read More
Recommended Reading & Listening
Orlowski discusses physician shortage on "AMA Moving Medicine" podcast
AAMC Chief Health Care Officer Janis Orlowski, MD, recently joined American Medical Association (AMA) President Gerald Harmon, MD, for a new episode of the "AMA Moving Medicine" podcast. In the 45-minute episode, they discuss the projected physician shortage, how the COVID-19 pandemic is exacerbating it, and possible solutions. They also share their own personal experiences practicing in medicine.
Listen Now
VaccineVoices: Long COVID-19's debilitating impact: Why we need to remain vigilant
Pandemic fatigue is a reality for so many. But the risk of developing long COVID after infection with COVID-19 is still a concern. In a new video, one researcher talks about the impact of long COVID on the body – and why vaccination is so important.
Read More
VaccineVoices: How one large academic health system mobilized for COVID-19 vaccinations and health equity
Arizona's HonorHealth has relied on creative methods to get vaccines to everyone.
Read More
VaccineVoices: The unique challenge of navigating COVID-19 with kidney disease
Poor kidney function can lead to severe COVID-19, which is why some patients and providers have been strong advocates for vaccination.
Read More
Global perspectives explore the critical role of oral health care in collaborative care
The most recent issue of Leadership Perspectives International, published by the Association of Academic Health Centers International, explores advancing oral health care and other post-COVID opportunities and challenges in health care. The publication includes commentaries from academic health leaders in Germany, Mexico, Singapore, and the United Arab Emirates who provide insights on the potential for collaboration between oral health care providers, data scientists, and public health specialists.
Read More
National Academy of Medicine joined by more than 110 organizations to address climate change
More than 110 organizations around the world have committed to addressing climate change and ensuring a sustainable and resilient health sector by becoming Network Organizations of the National Academy of Medicine's Action Collaborative on Decarbonizing the U.S. Health Sector. These organizations have demonstrated their commitment to working together on solutions to mitigate and adapt to climate change while centering and maximizing human health and equity. The AAMC is a member of the Climate Collaborative, and David J. Skorton, MD, AAMC president and CEO, serves on the steering committee.
Read More
AAMC letter to the editor published in The Wall Street Journal
In response to a recent opinion piece in The Wall Street Journal that claimed the medical education system and the health of the nation is being threatened by "radical and divisive ideology," the AAMC submitted a letter to the editor to highlight the role of academic medicine in preparing students with the comprehensive medical and scientific knowledge they need, including an understanding of systemic racism and the social determinants of health, to enable future physicians to provide the best possible care to patients. The letter is co-authored by David J. Skorton, MD, AAMC president and CEO, and Henri R. Ford, MD, MHA, dean and chief academic officer of the University of Miami Miller School of Medicine, and is supported by members of the AAMC Council of Deans Administrative Board. A subscription or log-in may be required.
Read More
Welcome New Members
(April 2022)
James Boyce
Rutgers New Jersey Medical School
Ana Buenaventura
University of California, San Francisco, School of Medicine
Jay Campbell
University of Colorado School of Medicine
Shelby Decosta
University of California, San Francisco, School of Medicine
Linda Moran
University of California, San Francisco, School of Medicine
Kathleen O'Donnell
CUNY School of Medicine
Alyssa Tecklenburg
University of California, San Francisco, School of Medicine