GBA News and Business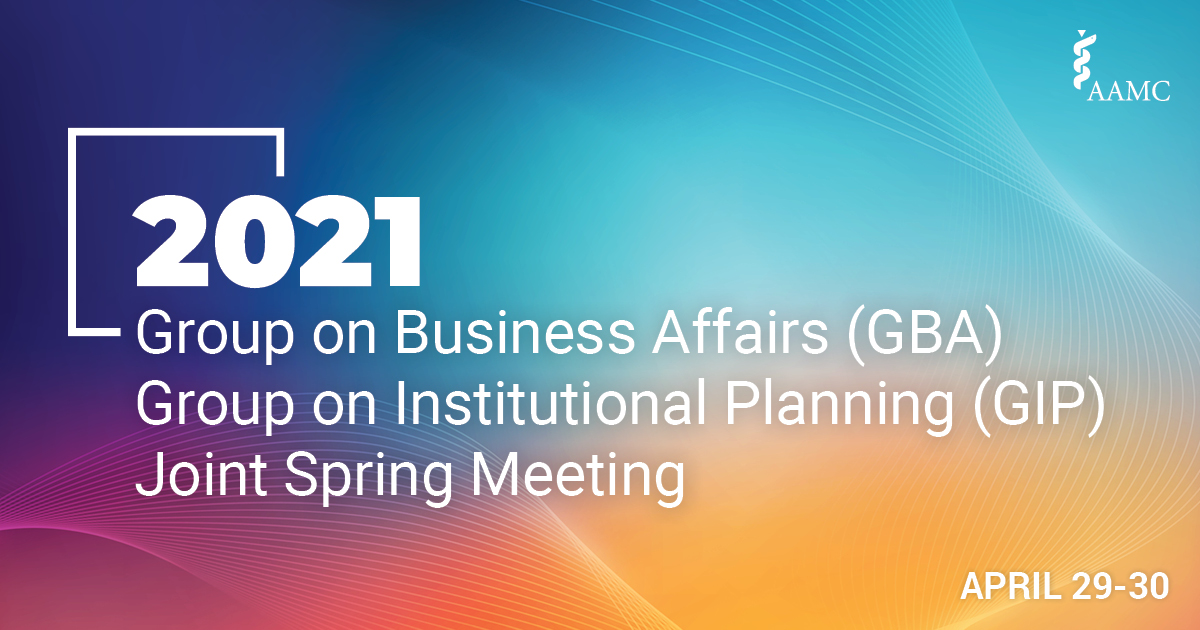 Registration Now Open:  GBA/GIP 2021 Joint Spring Meeting (Virtual)
April 29-30, 2021
1:00–5:00 p.m. ET on each day
Theme: Addressing Monumental Change
Registration Now Open!  
As institutions move forward in a time of change, it is essential to connect with other leaders in finance, administration, strategic planning, and facilities management to create a shared vision of your team's future and understand the broader challenges that lie ahead.
Register today and save! Early-bird registration rate ends March 31, 2021.
GBA Workshop, Part 2
Understanding Allyship and Responding to Microaggressions through Bystander Intervention
Wednesday, March 24, 2021
2:00-3:15 PM ET
Register Now

Please join us for the second part of this workshop on allyship and responding to microaggressions through bystander intervention, sponsored by the GBA Department Administrator Interest Group. Please note that you did not need to participate in the first workshop in order to participate in the second part. Experiences of bias, harassment and microaggressions is an expanding area of focus for faculty, administrators and leaders in the health professions as awareness of the enormous prevalence of these experiences has increased. Research on microaggressions and bias has shown to have significant negative impacts on individual confidence, physical health, and overall well-being. Therefore, more education and training on responding to microaggressions through bystander intervention is sorely needed in academic medicine.
Part 2: Explore bystander intervention methodologies, barriers and implicit biases to overcome as a bystander, as well as strategies to respond to microaggressions. Participants will also learn organizational strategies for implementing and maintaining bystander intervention and allyship programs (within departments, centers, and Institutes) and at the institutional level. Participants will gather both bystander intervention skills as well as generate ideas for how to institutionalize allyship behaviors for maximum impact.
If you were unable to participate in the first workshop but are interested in learning about the topics covered, you may access the recording from Part 1. Please note that you will be required to register and login in order to access the recording. You did not need to participate in the first workshop to join this second workshop.
Speaker:
Diana Lautenberger, MA
Director, Faculty and Staff Studies and Services
Women in Medicine & Science
Association of American Medical Colleges
Questions? Contact gba@aamc.org.
GBA Listserve Archives
The following topics were posted on the GBA Listservs in February 2021:
GBA: Withdrawal Refund Schedule; Seeking Information on Fall Medical School Onsite Classes Plan; Employee fatigue/burn out remedies; Clinical partners and decanal roles.
To access the archives: https://lists.aamc.org/read/?forum=gba
To post a question: gba@lists.aamc.org
HR: EHS Reporting Structure
To access the archives: https://lists.aamc.org/read/?forum=gbahr
To post a question: gbahr@lists.aamc.org
Department Administrator: Benchmarks for Administrative Support
To access the archives: https://lists.aamc.org/read/?forum=gbada
To post a question: gbada@lists.aamc.org
PBO: Concierge Medicine Practice
To access the archives: https://lists.aamc.org/read/?forum=pbo
To post a question: pbo@lists.aamc.org
AAMC News
 
AAMC, AHA, others appeal 340B and site-neutral lawsuits to the U.S. Supreme Court
The AAMC, American Hospital Association (AHA), and other national organizations representing hospitals, have filed petitions asking the U.S. Supreme Court to reverse appeals court decisions in two important cases for patients and providers. Both decisions conflict with Congress' clear intent and defer to the government's inaccurate interpretation of the law. The two cases being appealed to the U.S. Supreme Court include: a lawsuit challenging the nearly 30% cut to 2018 and 2019 to Medicare payments for outpatient drugs at hospitals participating in the 340B Drug Pricing Program; and a lawsuit challenging payment reductions by the U.S. Department of Health and Human Services in the 2019 outpatient payment rule for certain hospital outpatient off-campus provider-based departments.
Read More: Statement from American Hospital Association
AAMC names Amir Mesarwi as chief financial and administrative officer
The AAMC has named Amir Mesarwi, MBA, as its new chief financial and administrative officer, succeeding Bernard Jarvis who retired earlier this month. Mesarwi joined the AAMC in 2010 as the director of financial analysis and budget before being promoted in 2014 to senior director of financial planning and analysis and procurement. In his new role, he oversees all AAMC financial operations, including the accounting, business services, financial systems, procurement, budget, and payroll functions. As the association's financial steward, he ensures that the association has adequate resources to carry out its missions and is responsible for the AAMC's operating and capital budgets, investment portfolio, and real estate and facilities.
Read More
AAMC statement on dismantling racism in academic medicine
AAMC President and CEO David J. Skorton, MD, and AAMC Chief Diversity and Inclusion Officer David A. Acosta, MD, issued a statement in the wake of recent allegations of racism in academic medicine. "Historical and contemporary examples of anti-Black racism continue to impact our Black medical students, residents, researchers, and faculty in academic medicine. The AAMC remains committed to addressing and dismantling racism within our association, in academic medicine, and in society. For far too long, the burden to end racism has been placed on the shoulders of those most impacted. As leaders of academic medical institutions, we must critically examine our policies, procedures, and systems, identify all manifestations of systemic racism, and dismantle these practices. Diverse leadership matters, and it is time to amplify opportunities to promote more Black, Indigenous, and people of color (BIPOC) into leadership positions and validate and respect their authority. We must hold ourselves and our institutions accountable to fight for racial justice."
Read More
AAMC, Hospital Groups Ask for Additional COVID-19 Relief
The AAMC joined other hospital and health system groups in a Feb. 25 letter to Senate leadership urging them to include additional COVID-19 relief funds for providers in the reconciliation package currently being considered in Congress. Other signers included the American Hospital Association, the Federation of American Hospitals, and America's Essential Hospitals.
Read More  

Information: Allyson Perleoni, AAMC Government Relations, 202-862-6042.
AAMC Awards 2021: Now's the Time to Recognize Exceptional Colleagues
There is still time to nominate colleagues or an institution for the 2021 AAMC Awards! The next deadline for nominations is April 2, and, in most cases, there is no limit on how many you may submit. If you know someone whose work is significantly advancing academic medicine in the areas of education, research, clinical care, or community engagement, nominate them today!
The AAMC continually strives to attract a diverse pool of nominees for its awards. In this context, we are mindful of all aspects of human differences such as socioeconomic status, race, ethnicity, language, nationality, sex, gender identity, sexual orientation, religion, geography, disability, and age.
2021 AAMC AWARDS
Submit nominations electronically by clicking the award category links below. Each award page provides additional information about selection criteria, guidelines for entry and previous recipients.
Spencer Foreman Award for Outstanding Community Engagement
Alpha Omega Alpha Robert J. Glaser Distinguished Teacher Awards  
Herbert W. Nickens Award
Arnold P. Gold Foundation Humanism in Medicine Award
Publications & Resources
 
AAMCNews: Nation's physician workforce evolves: more women, a bit older, and toward different specialties
Women doctors remain concentrated in family and child specialties, while sports medicine is among the specialties that are growing, says a new data report from the AAMC. Published every two years, the 2020 Physician Specialty Data Report provides detailed statistics about active physicians, residents, and fellows practicing in the 47 largest specialties — those with more than 2,500 active physicians — in the United States.
Read More
New data on medical school faculty salaries now available
The updated AAMC Faculty Salary Report is now available. This annual report provides detailed compensation information for faculty in 94 departments and specialties, based on a 2020 survey of more than 120,000 medical school faculty. The report provides salary information across departments and specialties, academic ranks, and degrees.
Read More
Department Chair Ages
If you are interested in information on the ages of department chairs, there are several FAMOUS reports that you might find helpful. For example, go to FAMOUS>Reports>Chair Reports>Average Age by Department and Chair to find data about department chairs at your medical school. You may use the Appointment Snapshot Date field to generate the report to reflect your department chairs as of whatever date you specify. For national data on department chair ages, go to FAMOUS>Reports>National Reports>Faculty Roster Benchmark Reports. Under Template Reports, you will find information on the number of department chairs in particular age breakouts. Under Custom Reports, you will find information on average ages (including average age by sex). For more information: https://www.aamc.org/data-reports/faculty-institutions/faculty-roster
Recommended Reading

Gender Bias: Another Rising Curve to Flatten?
The authors review the literature on the ways in which unconscious bias, gendered expectations, and overt hostility have minimized the contributions of women during COVID-19, and they argue for investigating the frequency of behaviors that limit the recognition and exercise of women's leadership.
Resa E. Lewiss, MD, and Reshma Jagsi, MD, DPhil
Read More
National Survey of Wellness Programs in U.S. and Canadian Medical Schools
Wellness programs are widely established at U.S. and Canadian medical schools and most focus on preventative and reactive programming, rather than structural programming. Rigorous evaluation of programs' effects on student well-being is needed.
Alison Schutt, Katherine C. Chretien, MD, James N. Woodruff, MD, Valerie G. Press, MD, MPH, Monica Vela, MD, and Wei Wei Lee, MD, MPH
Read More
Welcome New Members
(February 2021)

Lucinda Allen    
University of Colorado School of Medicine    
Beverly Baesler    
University of Kentucky College of Medicine
Whitman Brown    
Georgetown University School of Medicine    
Kevin Caudill    
University of Kentucky College of Medicine
Darin Cecil    
University of Kentucky College of Medicine
Shawn Coffey    
University of Kentucky College of Medicine
Lisa Disponett    
University of Kentucky College of Medicine
Kelley Findley    
University of Kentucky College of Medicine
Margaret Gustafson    
University of Kentucky College of Medicine
Leslie Karenbauer    
University of Kentucky College of Medicine
Tonya Knox    
University of Kentucky College of Medicine
Zelneva Madison    
University of Kentucky College of Medicine
Elisha Maxson    
University of Kentucky College of Medicine
Kelly McHone    
University of Kentucky College of Medicine
Tammy Minor    
University of Kentucky College of Medicine
Elvira Muhovic    
University of Kentucky College of Medicine
Russell Mulert    
University of Kentucky College of Medicine
JoLynn Noe    
University of Kentucky College of Medicine
Jennifer Rogers    
University of Kentucky College of Medicine
Matthew Turner    
University of Kentucky College of Medicine