GBA News and Business
GBA & GIP Virtual Programming:
How space, workforce and strategic planning leaders can keep an eye on diversity, equity and inclusion in the time of COVID-19
Tuesday, February 23, 2021
4:00 – 5:00 p.m. (ET)
Register now
In these unprecedented times of COVID-19, what role can leaders in strategic planning, space planning, and workforce development have in fostering diversity, equity, and inclusion (DEI)? As institutional budgets and priorities are shifting, keeping DEI efforts front and center has never been more important. Many institutional leaders have survived the current crises by staying nimble and responsive and are now turning their sights toward getting their institutions back on track in 2021.
With this pivot toward the future, there is a great risk of backsliding on the gains achieved through focused DEI efforts over the past few decades. With institutional priorities unclear, space, financial, and workforce decisions are being made based on the bottom line, which is understandable, but can also open up the institution to recreating and redoubling biases that have taken years to correct. Through the perspectives of three leaders in space planning, strategic planning, and faculty affairs, respectively, this session will create a dialogue around how institutions can avoid losing ground on the DEI progress they've made to date in light of the pandemic's challenges and aftermath.
Learning Objectives:
Understand the business case and value of continuing to invest in diversity, equity, and inclusion efforts.
Integrate DEI into their roles as space, strategic, or HR professionals.
Think creatively about how to foster equity-minded institutions through their operational, administrative and/or finance leadership roles.
Speakers:

Amy S. Gottlieb, MD, FACP
Chief Faculty Development Officer, Baystate Health
Associate Dean for Faculty Affairs & Professor of Medicine and Obstetrics & Gynecology, University of Massachusetts Medical School- Baystate
Paul Spaulding
Senior Space Planner
Space Planning
University of Rochester Medical Center
Katy Stevenson, MPP
Program Administrator, Strategy, Planning and Development
Office of the CEO and Dean
University of Rochester School of Medicine and Dentistry
Questions? Contact Heather Sacks or Shawn Rosen-Holtzman.  
Save the Date: GBA/GIP 2021 Joint Spring Meeting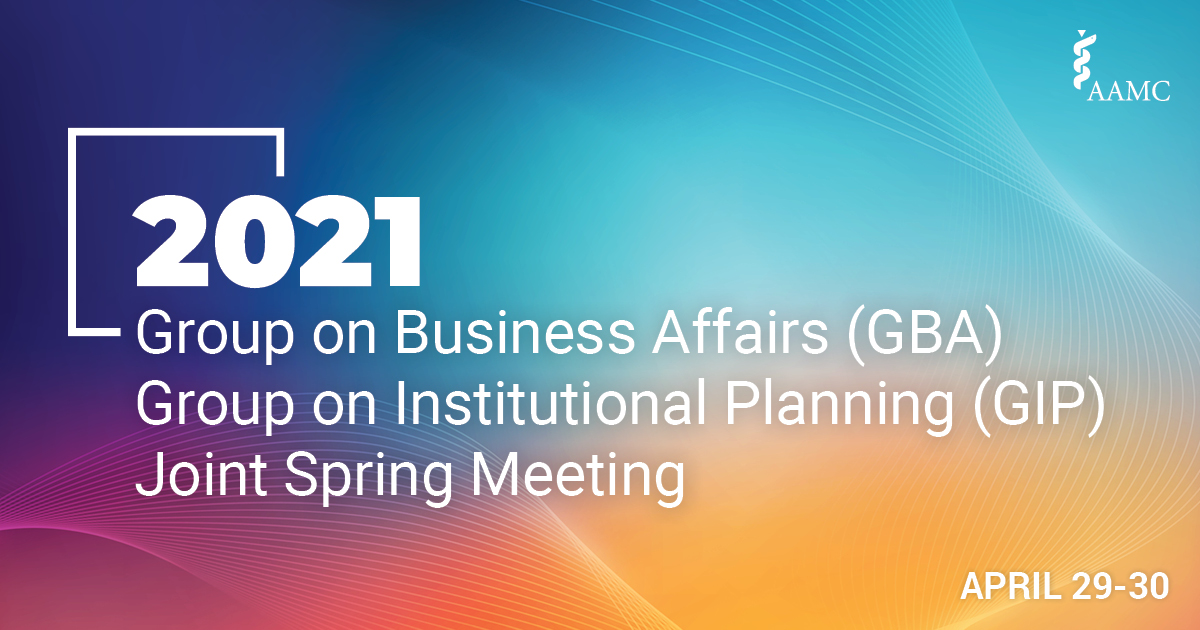 April 29-30, 2021
1:00pm - 5:00pm (ET) on each day
(Please note that this conference will be entirely virtual.)
GBA Webinar - Real-World Uses of the AAMC Faculty Salary Survey
On Thursday, January 14, 2021, the GBA sponsored a webinar on real-world uses of the AAMC Faculty Salary Survey.  You may access the recording here:  https://vimeo.com/500918933
The AAMC Faculty Salary Survey (FSS) collects data on the total compensation of full-time medical school faculty broken out by rank, degree, department/specialty, school ownership, and region. In addition, the most recent iterations of the survey collect work RVU and clinical fund data for the second year in a row and race/ethnicity data for the first time this year. This 75-minute webinar will feature an overview of the FSS by AAMC staff on how to access the data, how to use the data, and other operational considerations. Following this overview, two institutions – the University of Minnesota Medical School and Wake Forest Baptist Medical School – will offer real-world examples of how they utilize the FSS data, including the creation of special reports that meet the specific needs of their institutions and their institutional leadership.
Updates on the 340B Program Webinar
Monday, March 1, 2021
12-1:00 PM ET
Register Now

Congress created the 340B Drug Pricing Program in 1992 to protect safety-net hospitals from escalating drug prices by allowing them to purchase outpatient drugs at a discount from manufacturers. The program provides communities with access to life-saving services at no cost to taxpayers because the financial support comes from manufacturer discounts. Hospitals often use the savings they receive to provide services to low-income and uninsured patients.

This webinar will provide a brief and broad overview of the program. Then, AAMC colleagues will offer their perspectives on several areas, including an update on where things stand at the federal level; recent lawsuits; contract pharmacy issues; and other current topics of interest.
Speakers:
Ivy Baer, JD, MPH
Senior Director, Regulatory and Policy
AAMC
Leonard Marquez
Senior Director, Government Relations & Legislative Advocacy
AAMC
Mary Mullaney
Director, Hospital Payment Policies
AAMC

Questions? Contact gba@aamc.org
GBA Listserve Archives
The following topics were posted on the GBA Listservs in January 2021:
GBA: Payments to Clinical Trials Study Participants
To access the archives: https://lists.aamc.org/read/?forum=gba
To post a question: gba@lists.aamc.org

HR: CEO Faculty Practice Plan Job Description; Telecommuting Polices; Contracted Child Care Services; HR Best Practices
To access the archives: https://lists.aamc.org/read/?forum=gbahr
To post a question: gbahr@lists.aamc.org  

Department Administrator: Benchmarks for Administrative Support
To access the archives: https://lists.aamc.org/read/?forum=gbada
To post a question: gbada@lists.aamc.org  

PBO: Videoconference Recruiting; Support for Residency Salaries
To access the archives: https://lists.aamc.org/read/?forum=pbo
To post a question: pbo@lists.aamc.org  
AAMC News
Get involved in the AAMC's strategic plan
Members of AAMC councils, groups, and organizations are invited to participate in a series of virtual work sessions on the 10 action plans of the AAMC's new strategic plan. Live interactive sessions will be held every Thursday through February 11 (see schedule and registration information below), or feedback can be provided anytime here. If you have questions, please email strategicplanning@aamc.org.
Thursday, February 11, 2021
Action Plan #7, Improve Access to Health Care for All
2-3 pm ET
Register Now
Update on AAMC equity, diversity, and inclusion: 2021 and beyond
The AAMC has renamed its Diversity Policy and Programs cluster, and it will now be called the Equity, Diversity, and Inclusion cluster. This name more closely aligns with the work the AAMC has led over the last three years in the areas of anti-racism and racial justice, gender equity, equity advancement, and inclusion excellence. The change is also as example of the AAMC's commitment to the Framework for Addressing and Eliminating Racism at the AAMC, in Academic Medicine, and Beyond, and is in alignment with the new AAMC strategic plan. Moving forward, the cluster will be organized under three work units/portfolios: Equity and Social Accountability; Workforce Diversity; and Organizational Inclusion and Development.
75-year partnership between Veterans Affairs, academic medicine ensures better access to care for veterans
AAMC President and CEO David J. Skorton, MD, issued a statement in recognition of the 75th anniversary of academic affiliations with the Department of Veterans Affairs (VA). "Over the past 75 years, the VA has forged and maintained a unique partnership with the nation's medical schools and teaching hospitals. This relationship—built on the shared missions of education, health care, and medical research—has improved the lives of veterans and ensured they have access to health care." Skorton shared more about his personal experience training and working at the VA in a brief video.
Read More
AAMC names NEXT Award winners to address COVID-19 and systemic racism in local communities
The AAMC has named five institutions as the 2020-21 recipients of its Nurturing Experiences for Tomorrow's Community Leaders (NEXT) Award, which is supported by a cooperative agreement with the Centers for Disease Control and Prevention and provides funding for institutions to develop or enhance a learning opportunity that seeks to improve community health and eliminate health disparities. The winning institutions were awarded $10,000 each to address COVID-19 inequities and systemic racism locally through collaborative community partnerships. The recipients are the George Washington University School of Medicine and Health Sciences, the University of Miami Leonard M. Miller School of Medicine, University of New Mexico Health Sciences Center, the University of Texas Rio Grande Valley School of Medicine, and Wayne State University School of Medicine.
Read More
Herbert W. Nickens Awards
The AAMC is soliciting nominations for its annual Herbert W. Nickens Awards. These awards honor individuals who advance the educational, societal, and health care needs of racial and ethnic minorities in the United States.
Nomination Deadline: April 2, 2021
Questions? NickensAwards@aamc.org
www.aamc.org/initiatives/awards
AAMC statements on President Biden's executive actions on immigration and advancing equity
The AAMC issued two statements regarding executive actions and proposed legislation from the Biden administration's first day in office. David J. Skorton, MD, AAMC president and CEO, commented on executive actions and forthcoming legislation that address several immigration policies, as well as the president's executive actions on advancing equity, preventing discrimination, and supporting underserved communities.
Read More
Read More
AAMC statement on President Biden's COVID-19 relief proposal
The AAMC issued a statement on the Biden administration's American Rescue Plan. "This proposal outlines a bold legislative strategy that includes crucial funding for a robust vaccination program, therapeutics, testing, and contact tracing. The plan also preserves and expands access to coverage for millions of Americans, addresses health disparities, and provides critical relief for state and local governments," said AAMC President and CEO David J. Skorton, MD.
Read More
AAMC statement on Biden administration's White House science team
Last week, AAMC President and CEO David J. Skorton, MD, issued a statement on the announcement of the Biden administration's science team. "The AAMC commends President-elect Biden for elevating science to a national priority by elevating the Presidential Science Advisor to a Cabinet level position and selecting immensely qualified and experienced leaders to guide the administration's science policy decisions. From fighting the COVID-19 pandemic to addressing health disparities to developing medical treatments and diagnostics, an evidence-based approach to policy must direct the way forward on the nation's health challenges."
Read More
Watch Now: 2020 AAMC year in review video
The AAMC has produced a short video that captures the exceptional efforts of the academic medicine community in response to the many challenges of 2020. From caring for patients to advancing science and telehealth in the age of the coronavirus pandemic to taking a stand for social justice, this was a year like no other. We look forward to working with our constituents at the nation's medical schools, teaching hospitals and health systems, and academic societies to build on these efforts in our work together in 2021. Thank you for all you do to create a healthier future for people everywhere.
Play Video
Learning Opportunities

Leadership plenary addresses from Learn Serve Lead 2020: The Virtual Experience published
In case you missed it, the addresses that were delivered during Learn Serve Lead 2020: The Virtual experience by AAMC Board Chair Joseph E. Kerschner, MD, and AAMC President and CEO David J. Skorton, MD, have been published. These visionary leaders shared frank, honest perspectives on the persistent obstacles that affect academic medicine's learners, leaders, and patients.
Read More

Call for Proposals Now Open!
2021 Information Technology in Academic Medicine Conference, Sponsored by the Group on Information Resources (GIR)
June 2-4, 2021
Virtual Meeting
Submit a Proposal
 
Submission Deadline: February 12, 2021, 11:59 pm PST

Registration information for the virtual conference will be available in April.
Publications & Resources

AAMCNews: America's medical residents, by the numbers
The AAMC's 2020 Report on Residents breaks down the demographic and racial makeup of the nation's doctors in training. It also provides a glimpse into their future career plans.
Read More
Updated AAMC Faculty Salary Report Available
The updated AAMC Faculty Salary Report is now available. This annual report provides detailed compensation information for faculty in 94 departments/specialties based on a 2020 survey including more than 120,000 medical school faculty and is used by many as a critical planning resource across the medical education ecosystem.
The academic medicine community is facing unprecedented financial challenges in 2021. This report provides decision-makers with the most current and accurate salary data to support informed, strategic planning while also helping individuals make informed decisions about their careers.
Get Instant Access  
Online and Print Editions
U.S Medical School Faculty Tables
All U.S. Medical School Faculty tables have been refreshed to reflect December 31 snapshots of full-time faculty in FAMOUS (https://services.aamc.org/famous) and on the Faculty Roster public website (https://www.aamc.org/data-reports/faculty-institutions/report/faculty-roster-us-medical-school-faculty). The U.S. Medical School Faculty tables present information about the distribution of full-time faculty by characteristics such as department, rank, degree, tenure status, sex, and race/ethnicity.
In FAMOUS, snapshots are available from 1966 through 2020. You can access these reports under Reports-->Faculty Report. You will see one link for tables that break out data at the national level and one link for tables that break out the same data at your medical school.
On the Faculty Roster website, snapshots are available from 2018 through 2020. The snapshots on the website also include five supplemental tables that display information on department chairs, full-time faculty hires, departures, and promotions, and full-time faculty by race/ethnicity (alone and in combination). In addition, there are several trend reports on the Faculty Roster website showing counts and percentages of full-time faculty, department chairs, and medical school deans over time. New this year are trends in full-time faculty attrition and promotion rates broken out by sex. Note that the supplemental tables and trends are not available in FAMOUS. We hope that you find these benchmarking tools helpful.
AAMC publishes updated education debt resource for medical students
The AAMC has published an updated edition of Education Debt Manager for Matriculating and Graduating Medical School Students. The comprehensive financial guide is designed to help medical school students navigate the complexities of financing medical school through the responsible borrowing and repayment of student loan debt.
Read More
Recommended Reading

USA Today op-ed explores integration of arts and humanities in medicine and science
In a new opinion piece published in USA Today, AAMC President and CEO David J. Skorton, MD, and AAMC Senior Director of Strategic Initiatives and Partnerships Lisa Howley, PhD, examine the importance of integrating arts and humanities in science and medical education. A recent AAMC report further examines the fundamental role of arts and humanities in medical education and recommends ways to better integrate these disciplines throughout curricula and course work.
Read More
Physician Mental Health: My Personal Journey and Professional Plea
The author uses the narrative of his personal journey to make a plea to colleagues to share their own stories of mental illness and successful treatment to destigmatize these issues for the profession of medicine.
Darrell G. Kirch, MD
Read More
The Physician-Investigator Workforce: Looking Ahead
The authors of this commentary examine selected literature along with Association of American Medical Colleges data to offer observations about programs that train physician-investigators.
Dorothy A. Andriole, MD, and Rachel K. Wolfson, MD
Read More
Everyday Heroism: Maintaining Organizational Cultures of Wellness and Inclusive Excellence Amid Simultaneous Pandemics
Alongside COVID-19, entrenched systemic racial injustice and oppression are taxing health care professionals and institutions. Renewed investment and leadership promoting respect, wellness, diversity, and inclusion will support and sustain the health care workforce.
Magali Fassiotto, PhD, Hannah Valantine, MD, Tait Shanafelt, MD, and Yvonne Maldonado, MD
Read More
Developing Academic Leadership From A Distance: A Health Professions Education Practicum Course
The authors outline a distance learning-based practicum designed for health professions education learners at the Uniformed Services University of the Health Sciences, as well as provide initial outcomes and describe next steps.
Anita Samuel, PhD, Steven J. Durning, MD, PhD, and Kelsey L. Larsen, PhD
Read More
Full-Time Faculty in Clinical and Basic Science Departments by Sex and Underrepresented in Medicine Status: A 40-Year Review
An analysis of faculty at U.S. medical schools from 1979 to 2018 indicates that faculty diversity has increased, but mostly among females who are not underrepresented in medicine (URM). The rise of URM male and URM female faculty has been minimal.
Imam M. Xierali, PhD, Marc A. Nivet, EdD, MBA, and William F. Rayburn, MD, MBA
Read More
AAMCNews: COVID-19 vaccines will be critical to ending the pandemic. In the meantime, we can't afford to slow our search for treatments
A researcher is poring over every possible treatment for COVID-19. Some may be hiding in existing medications, he argues. Here's why the quest for him is so personal — and what he believes must happen next.
Read More
Making Doctors Effective Managers and Leaders: A Matter of Health and Well-Being
The COVID-19 pandemic has revealed the need for physicians who have leadership and management skills. Training all physicians in these skills will improve patient care, the well-being of the health care workforce, and health nationwide.
Lisa S. Rotenstein, MD, MBA, Robert S. Huckman, PhD, and Christine K. Cassel, MD
Read More
Recognizing Cross-Institutional Fiscal and Administrative Barriers and Facilitators to Conducting Community-Engaged Clinical and Translational Research
Findings highlight the importance of equitable processes, triangulated communication, transparency, and recognizing and respecting different financial management cultures within community-engaged research.
Lori Carter-Edwards, PhD, MPH, Mary E. Grewe, MPH, Alecia M. Fair, DrPH, Carolyn Jenkins, DrPH, MSN, RN, RD, Natasha J. Ray, MS, Alicia Bilheimer, MPH, Gaurav Dave, MD, DrPH, Marcella Nunez-Smith, MD, MHS, Alan Richmond, MSW, and Consuelo H. Wilkins, MD, MSCI
Read More
Welcome New Members
(January 2021)
Janine DeWitte    
Oakland University William Beaumont School of Medicine    
Alex Nosnik    
University of Michigan Medical School    
Eduardo Rivera-Juanatey    
University of Puerto Rico School of Medicine
    
Shavonna Ross    
University of Kentucky College of Medicine
    
Bradley Smetanko    
University of Kentucky College of Medicine