Strategic Planning: The Journey to Organizational Excellence
Strategic planning, the driving force behind organizational achievement, can empower your organization to navigate a complex landscape and chart a course toward a successful future. This process allows you to define your organization's direction, align goals to ensure cohesive progress, identify areas for improvement, enable competitiveness, and cultivate areas of excellence.
Benefits of Strategic Planning Include:
Unified Direction: 

Defining an overarching vision to align individual efforts will propel you towards achievement.

Resource Optimization

: Acquiring and aligning resources for new initiatives allows you to seize opportunities and overcome challenges.

Prioritization of Critical Issues

: Focusing the approach will ensure resources are directed towards the critical factors that shape your success.

Motivation & Collaboration

: Igniting a sense of purpose and fostering motivation, commitment, and collaboration amongst your teams will cultivate an environment of shared success. 

Agility in a Changing Landscape

: Adapting more effectively to changing circumstances leads to the foresight and flexibility to navigate dynamic environments.

Competitive Positioning

: Carving out a distinct identity, capitalizing on unique strengths, and differentiating from competitors bolsters your chances of sustained success.

Meaningful Performance Metrics

: Using meaningful metrics empowers you to assess progress, track milestones, and refine strategies, thereby ensuring continual improvement.
Fundamental Questions
The strategic planning process seeks to answer four fundamental questions. These questions can be answered for your whole organization, individual departments, or even certain service lines.
1. Where is your organization today?
The initial planning phase starts by identifying the scope of your strategic planning and relevant stakeholders that will provide input.

A

current state assessment

 evaluates your organization's current position through data collection and analysis, focus groups, surveys, stakeholder interviews, and benchmarking.
2. Where should your organization be in the future?
Use the assessment data to review or create mission, vision, and value statements that articulate a desired future state and inform decision-making and consensus when developing a strategy.

Develop

goals, strategies, actions, and intended outcomes

and metrics

to define the changes necessary to realize the vision.
3. How should your organization get there?
Develop an implementation plan to prioritize the goals and strategies.

Assign

transparent milestones

to demonstrate success and motivate people.

Include the strategic priorities as a part of the

budgeting process

and allocate resources based on alignment with the plan.

Assign a

dedicated team

responsible for managing the ongoing strategic plan and reporting process.

Develop a tailored

communication plan

that reaches individuals and teams across the organization.
4. How will your organization measure and monitor its success?
Leading to Foster Accountability - A strategic plan is more likely to succeed if your organization's leaders visibly and consistently commit the organization to strategic priorities. Leaders should clearly assign and communicate responsibilities for the execution and implementation of each goal and strategy.

Operational Integration - To be effective, strategy cannot stand alone or apart from operations. While strategy defines the desired future state and the means to that end, "operations" defines, allocates, and manages the necessary resources, including:

Alignment with annual forecasts and budgets - Strategic plans involve change requiring the investment of resources. To succeed, resource estimates and priorities must become part of the institution's long-range resource forecasts and annual budgets.

Change management - The strategic planning process must anticipate and involve participants from affected units. A change management plan should be in place with regular communication occurring across the organization.

Scorecards & Dashboards

- Visually track your plan's progress using metrics to align strategic goals, quantify performance, and drive success.

Ongoing Review

- Implement a process of ongoing review with key stakeholders.
Creating and Implementing Strategic Plans
While there is no "one way" to engage in strategic planning, there are some general principles to the planning cycle that will maximize efforts and lead to a more inspiring and useful end result. All robust strategic planning and implementation processes include four phases:
Assess: Collect and analyze internal and external data to understand your organization's current state.
Develop: Formulate a strategy to achieve your organization's envisioned future state.
Implement: Put your strategic plan into action to achieve desired outcomes.
Monitor: Continually evaluate your plan to address obstacles, identify opportunities, and make adjustments.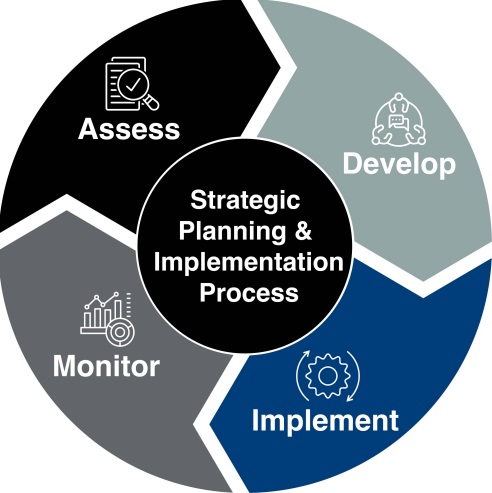 GIP Toolkit
For further detail on the strategic planning and implementation process, check out the Group on Institutional Planning (GIP) Toolkit.
Core Competencies of a Strategic Planner
Although strategic planners can have a wide variety of skill sets, the GIP Strategic Planning and Management Subcommittee has identified the following core competencies for successful planning in academic medicine:
Collaboration and leadership
Process development and implementation
Project and change management
Analysis including quantitative and qualitative deduction, metric development, and data management

Communication, including verbal, written, and presentation skills

Group facilitation and mediation
Check with your institution for training and resources to build core competencies.
Resources
Access key resources, webinars, and recommended reading.
Review examples of institutional strategic plans from academic medical centers.
GIP Strategic Planning and Management Subcommittee
Learn more about the GIP Strategic Planning and Management Subcommittee.
Learn more about the subcommittee's recent hot topic discussions.