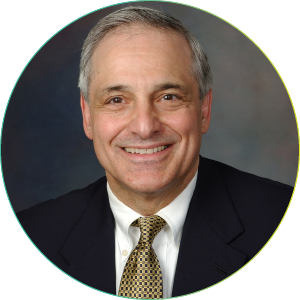 Thomas R. Viggiano, MD, MEd
Barbara Woodward Lips Professor
Professor of Medical Education and Medicine
Mayo Clinic College of Medicine and Science
As a gastroenterologist, professor, and dean at Mayo Clinic, Dr. Viggiano has made a significant impact in academic medicine through his contributions in faculty affairs, education scholarship, curriculum quality improvement, and medical and interprofessional education. In multiple leadership positions, he has advocated for vital changes to address important issues and advance the causes, communities, and organizations he served.
For decades, he has taught in interprofessional education (IPE) programs at Mayo Clinic and in several international IPE leadership programs. He has served on expert panels and as the physician representative to the Interprofessional Education Collaborative that formulated interprofessional education competencies.
Dr. Viggiano designed a medical school curriculum that improved clinical reasoning skills and understanding of public health and care delivery issues. He co-authored principles for applying the neurobiology of learning to curriculum design, and he was a leading proponent for integrating basic and social sciences into the curriculum. He helped found the International Association of Medical Science Educators (IAMSE).
With the Harvard Macy Institute, he pioneered the application of quality improvement methodology to curriculum evaluation and planning. Many schools adopted this strategy, and the Liaison Committee on Medical Education has implemented an accreditation standard recommending that schools use quality improvement methodology in curriculum planning.
Dr. Viggiano instituted education research at Mayo Clinic, and for over 20 years Mayo's scholars have contributed many publications. Mayo's program was published as a model for institutional support of education scholarship and was adopted by numerous institutions. He has mentored educators from many institutions and has been a leading advocate for funding and mentoring in education research. He helped define and publish criteria for rewarding education scholarship with academic promotion.
As dean for faculty affairs, he conceived a lifecycle model to anticipate diverse faculty needs in various career stages. His model became the AAMC's template for designing faculty affairs offices, and the lifecycle served as the framework for collaboratively developing and sharing institutional policies and best practices and for fostering wellness and providing effective and equitable support to faculty. Dr. Viggiano served as the founding chair of the AAMC Group on Faculty Affairs (GFA), and he received the inaugural GFA Carole J. Bland Phronesis Award.
Dr. Viggiano earned his MD at Temple University and completed his internal medicine residency at the University of Pittsburgh. After completing a fellowship in gastroenterology at Mayo Clinic, he earned a master of education at the University of Minnesota. He has received numerous awards for teaching, humanism, and professionalism; and his education contributions were recognized with Mayo Clinic's highest honor, a named professorship. He has served on the Boards of Directors of both the AAMC and IAMSE and now serves on the editorial board of MedEdPORTAL and on the Best Evidence Medical Education Collaborative.
Learn more about the Award for Excellence in Medical Education