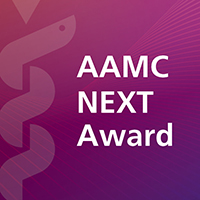 Health and health care inequities remain national concerns. Medical schools and teaching hospitals frequently see them in their patients and local communities. With the implementation of health care reform and the challenges associated with rising health care expenditures and lagging population health outcomes, our member institutions are increasingly engaging with community partners to address local health issues.
Opportunities to further educate and train the next generation of health professions leaders in how best to work with community and multidisciplinary partners are essential as medical schools and teaching hospitals develop programs and activities to improve population health. Health care providers must have the knowledge and skills to provide high-quality, equitable health care in their communities and know how to engage in collaborative environments.
The AAMC Nurturing Experiences for Tomorrow's Community Leaders (NEXT) Award provides funding to institutions to develop or enhance a learning opportunity that seeks to improve community health and eliminate health disparities while applying population health leadership principles and promoting collaboration among diverse stakeholders. 
2020-2021 Awardees
The AAMC recently awarded five new recipients $10,000 each to address COVID-19 and systemic racism in their communities.
| Institution | Project Description |
| --- | --- |
| George Washington University School of Medicine and Health Sciences (GW SMHS) | GW SMHS seeks to expand their COVID-19 testing and support services in partnership with Bread for the City, a community-based non-profit that operates a Federally Qualified Health Center (FQHC) in Northwest DC. Medical students and residents will further develop and manage DC COVID Connect, an open-access, up-to-date, peer-reviewed online information resource. Learners will also participate in training and student volunteer activities to increase access to low barrier COVID-19 testing in DC and address health care and social service access barriers. |
| University of Miami (UM) Leonard M. Miller School of Medicine | "COVID-19: Evaluating Fault Lines in the Health of Our Communities and Developing Community-Centered Solutions" is a collaboration between the UM Miller School of Medicine, the UM School of Law Center for Ethics and Public Service, Grove Rights and Community Equity (GRACE), Inc., and Coconut Grove Ministerial Alliance (CGMA) to train MD-MPH students with identifying and developing data-driven solutions and policies that address the long-term impact of COVID-19 on the mental, financial, and physical health of the West Grove community of Miami. |
| University of New Mexico Health Sciences Center (UNM HSC) | UNM HSC aims to adapt and pilot the existing "Tools for Community Empowerment and Social Change" community-based participatory research (CBPR) curriculum to a COVID-19 health equity context with medical students and Family & Community Medicine residents. Learners will also participate in an experiential learning opportunity that addresses COVID-19 inequities and access to care for people experiencing homelessness through a partnership with the "Corona Crushers", a multi-sectoral group with members from academia, government, health care, and the community. |
| University of Texas Rio Grande Valley School of Medicine (UTRGV SOM) | Medical students, masters of social work students, and resident physicians at the UTRGV SOM, a Hispanic-Serving Institution, will partner with El Milagro Clinic and the HOPE Family Health Center to develop a culturally competent public service announcement evaluation rubric and execute "¡Si se puede!," an interdisciplinary public health education campaign to address COVID-19 inequities, systemic racism, and mistrust of health systems in south Texas. The campaign aims to connect Spanish speakers and the deaf and hard of hearing individuals in the Rio Grande Valley to information on COVID-19 prevention, treatment, and clinical trials while also increasing access to influenza vaccination. |
| Wayne State University School of Medicine | Healing Between the Lines (HBL) seeks to enhance the Health Equity and Justice in Medicine (HEJiM) longitudinal curriculum that currently trains Wayne State University School of Medicine and Detroit Medical Center residents on social determinants of health, advocacy, and cultural humility. HBL's sub-curriculum will expand HEJiM to include medical students and educate learners along the medical education continuum about the historical intersection of systemic racism and health by exploring and untangling the impact of redlining on the health outcomes of Detroit Black Indigenous People of Color (BIPOC) communities. By critically interrogating upstream structural determinants of health, respecting historical context, and centering the BIPOC perspective and experiences, HBL will also deepen existing partnerships and advocacy efforts with local government, health, religious, and service organizations. HBL learners will learn how to effectively and sustainably collaborate with Detroit BIPOC communities to advocate for health justice. |

2019-2020 Awardees
| Institution | Project Description |
| --- | --- |
| Keck School of Medicine of the University of Southern California | The Trojan Trainer patient navigator program invites medical and physician assistant students to collaborate with KSOM Street Medicine, USC health system leadership, and community partners to address medical and psychosocial needs by bringing care directly to patients experiencing homelessness. |
| Northwell Health | The Engaging in Health Advocacy through Neighborhood Collaboratives and Education (ENHANCE) community health track provides internal medicine, pediatric, and family medicine residents and nurse practitioner students the opportunity to develop interprofessional community-based projects that assess the impact of the social determinants of health on primary care outcomes. |
| University of Iowa Roy J. and Lucille A. Carver College of Medicine | The Working with Interpreters as a Team in Healthcare (WITH Care) simulation curriculum seeks to develop collaboration skills between providers and medical interpreters to enhance population health leadership skills while improving patient experiences and outcomes in an immigrant-refugee outpatient clinic setting. |
| University of South Carolina School of Medicine Greenville | ROOT CAUSE: Advancing Community Health and Active Citizenship is a monthly health and public services fair that aims to address the root causes of disease by increasing access to healthcare and promoting healthy lifestyle choices while simultaneously affecting students' and residents' perceptions on diversity and inclusivity, empathy, and burnout. |
| Weill Cornell Medicine | The Weill Cornell Medicine Wellness Qlinic is a student-run clinic that seeks to train medical students and residents to address the existing mental health disparities seen in LGBTQ+ populations and improve the LGBTQ+ community's access to culturally competent and financially accessible mental healthcare. |
Contact
Please address all questions to CDC@aamc.org.
The AAMC NEXT Award is supported by Cooperative Agreement Number 5 NU36OE000007 from the Centers for Disease Control and Prevention.