Susan M. Cox, MD, Executive Vice Dean for Academics, University of Texas at Austin Dell Medical School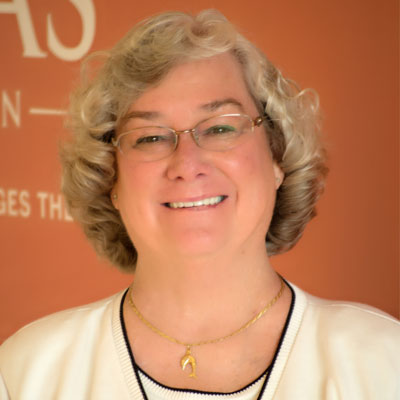 For more than three decades, Dr. Susan Cox, an obstetrician-gynecologist by training, has been at the forefront of shaping medical education for learners and faculty in Texas and beyond.
In 2012, the new University of Texas at Austin Dell Medical School turned to Dr. Cox to be the primary architect of a curriculum to address the changing needs of the next generation of clinicians and medical educators. The Leading EDGE curriculum Dr. Cox designed emphasizes leadership skills, collaboration, and cross-disciplinary teamwork. Students teach each other through case studies and focus on value-based health care and health systems science so they are equipped with the skills they need to help their communities get and stay healthy.
As executive vice dean for academics and chair of medical education at Dell Med, Dr. Cox employs a "very special style of leadership that emanates from an exceptional ability to translate service to medicine and medical education into innovation and useful outcomes, and further translate that innovation and problem solving into scholarship and improved training," says S. Claiborne Johnston, MD, PhD, dean of Dell Medical School and vice president for medical affairs at UT Austin.
Before joining Dell Med, Dr. Cox spearheaded innovative medical education at the University of Kentucky, where she developed a new American Board of Obstetrics and Gynecology Maternal Fetal Medicine Fellowship program, and at the University of Texas Southwestern Medical Center, where she served in many leadership roles, including as dean for professional education, associate dean for medical education and ACGME Designated Institutional Official, and regional dean for Austin programs.
Dr. Cox has earned many awards including the Lifetime Achievement Award from the Association of Professors of Gynecology and Obstetrics and the University of Texas System Regents Outstanding Teaching Award. She serves on the board of directors for the National Board of Medical Examiners.
Dr. Cox discovered her own innate love for teaching early in her medical career: "During my residency training in obstetrics and gynecology you could find me teaching the medical students all hours of the day and night both on the wards and in the call room."
Dr. Cox attended West Texas State University on a bowling scholarship and earned an MA in cell biology and human genetics from the University of Texas Medical Branch at Galveston. She earned her medical degree from Baylor College of Medicine and completed her residency in obstetrics and gynecology at Baylor Medical Center in Houston and a two-year fellowship in maternal-fetal medicine at UT Southwestern Medical Center.
Learn more about the Alpha Omega Alpha Robert J. Glaser Distinguished Teacher Award