New section
Learn Serve Lead: The AAMC Annual Meeting
New section
Learn Serve Lead brings together diverse communities within medical education, patient care, and research so that academic medicine professionals may learn from one another, find common ground, and build organizational capacity.
As the AAMC's signature learning and networking event, Learn Serve Lead unites professionals from across the country to discover new ideas, discuss emerging innovations, and share in an incredibly meaningful experience.
With the health and safety of our constituents and staff as our top priority, the AAMC has canceled all planned in-person meetings through June 30, 2021, including Learn Serve Lead 2020: The AAMC Annual Meeting. Learn more here.
2019 Highlights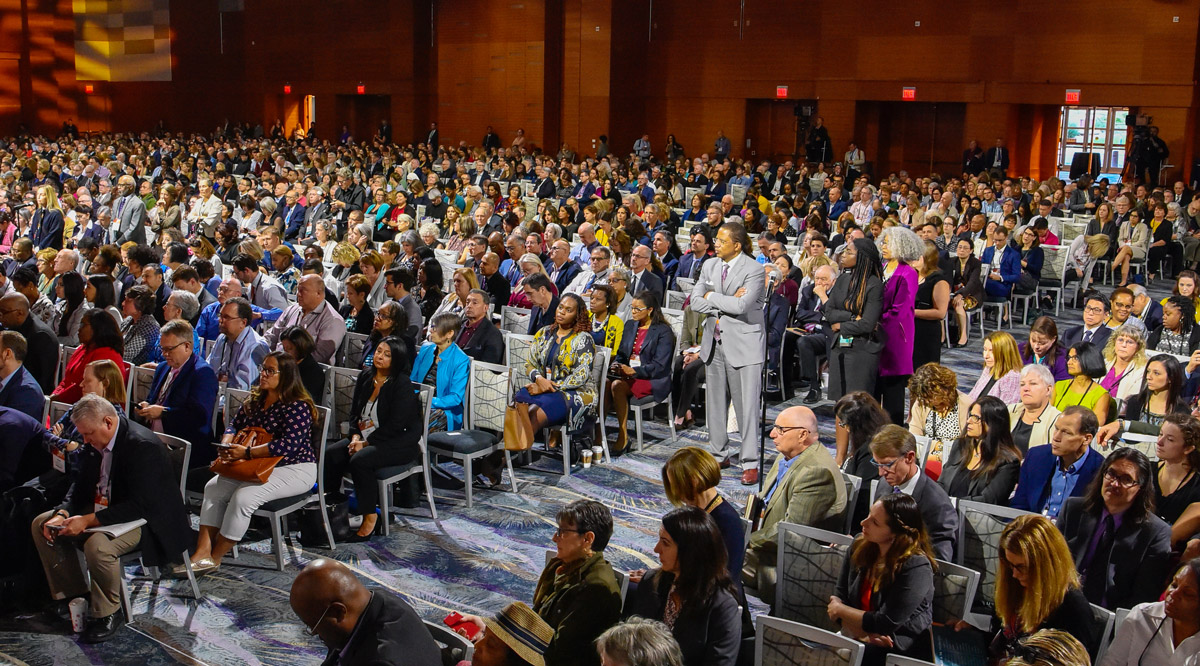 In Phoenix, we tackled some of the biggest challenges medical education, patient care, and biomedical research face in the ever-changing landscape of academic medicine. We were joined by not only leaders in medical education but also experts in social justice, American history, learning, and innovation. Our attendees left the annual meeting not only feeling enlightened and energized but also ready to challenge the status quo and improve the health of all.
New section
Who should attend?
Sessions are designed for professionals of varying career levels at medical schools and teaching hospitals. Attendees regularly include:
CEOs and deans
Researchers and scientists
Faculty physicians
Medical students
Resident physicians
University and hospital administrators
Institutional advancement, government relations, and student affairs staff
New section
6 reasons to attend
Network with peers to forge new collaborations
Deepen commitment and new thinking
Understand the impact of current and future issues in health care
Create practical solutions for complex issues
Integrate and align academic missions
Make connections that lead to greater opportunities at home institutions
What Attendees Say
90%
gained valuable skills and knowledge
87%
would recommend Learn Serve Lead to a colleague
87%
enjoyed networking with like-minded peers
Help Shape the Future of Academic Medicine
Thought Leadership
Confront societal and health care challenges and examine new approaches to complex problems.
Professional Development
Participate in experiences that will help you make positive change and improve the culture of your institution.
Interdisciplinary Collaboration
Meet other driven, inquisitive colleagues with a passion for improving academic medicine.
Medical Education
Examine what works in teaching and training the next generation of physicians.
Learn Serve Lead 2019 By the Numbers
60+
sessions within medical education and research
80+
networking opportunities
9
Voices of Medicine and Society series speakers
Learn and Explore With AAMC Professional Development
The AAMC is your premier resource for professional development within academic medicine providing insight, innovative training, tools, and networking opportunities to advance your career.
New section