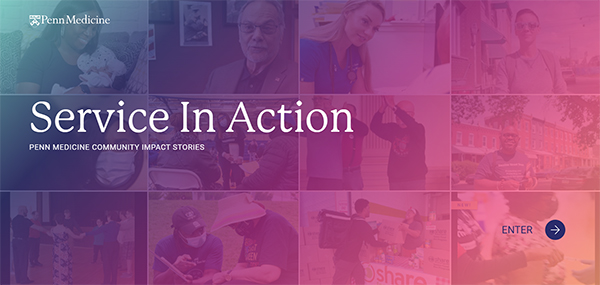 Electronic Communications: Websites - Gold  
Best in Show Finalist
Service in Action: From Community Benefit Report to Community Health Equity Website
Perelman School of Medicine at the University of Pennsylvania  
Service to community is deeply integrated into Penn Medicine's medical education, clinical care, and biomedical research missions. For more than 10 years, we communicated this ethos through an annual photo-driven print publication that documents the experiences of patients and clients served by our community programs and by volunteer efforts of physicians, nurses, staff, and students. For the edition launched in June 2020, we sought to expand our storytelling into multimedia formats, measure our impact, and be responsive to our audience's interests by completely relaunching the report in a digital format. The all-new Service in Action website offers visitors an array of storytelling and data that convey the impact of Penn Medicine's service mission. In 2021, we shifted Service in Action to become the centerpiece of all our institution's timely health equity storytelling, rather than an annual report with separate editions, and we reframed the site's content to more explicitly reflect the major health needs in our communities. 
What was the most impactful part of your award-winning entry?
Breaking up one long report into a collection of individual stories made it possible to target dissemination of stories to interested audiences and showcase a growing range of individuals and programs. 
What is one thing you learned from this experience?
We were already telling many of these stories elsewhere — across our own institutional sites and social platforms and in the news media. We found value in aggregating those stories in a shared hub with our report's original storytelling. 
Contact: Rachel Ewing