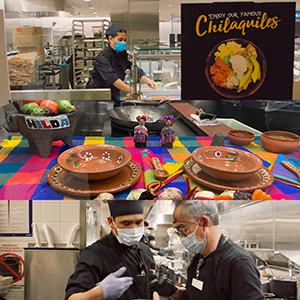 Electronic Communications: Audio and Video - Bronze
Healing Through Food
Stanford University School of Medicine
During the COVID-19 pandemic, everything changed in an instant for our doctors and staff, including Stanford Medicine's 300-plus member hospital food services team. Healing Through Food set out to spotlight a group of unsung heroes on the front lines during the pandemic and how they came together to support patients, health care workers, and staff, while drawing strength from each other in a time shrouded in fear and uncertainty. The video tells the story of how the food services team put a cook's beloved family recipe — chilaquiles — on the menu and helped people connect with each other. COVID-19 might have taken away their ability to sit and share a meal, but hospital employees still connected with one another while standing in a socially distanced line.
What was the most impactful part of your award-winning entry?
Food is our common ground — it nourishes, comforts, and brings people together. This was true not only for patients but also for the people providing care and the food services team, who leaned on each other during the pandemic.
What is one thing you learned from this experience?
Even at the level of mass production, there was so much thoughtfulness, kindness, and pride at every step: from menu planning to food preparation, presentation, and service. 
Contact: Alison Peterson