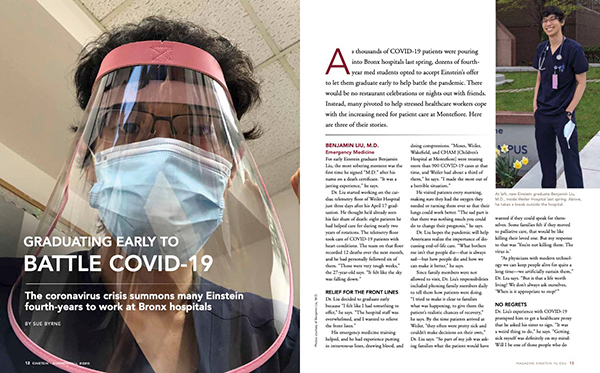 The Robert G. Fenley Writing Awards: General Staff Writing - Silver
"Graduating Early to Battle COVID-19" by Sue Byrne
Einstein Magazine, Summer/Fall 2020
Albert Einstein College of Medicine
In the spring of 2020, thousands of COVID-19 patients were pouring into Bronx, New York, hospitals. Einstein offered its fourth-year medical students the option to graduate early to allow them to help battle the pandemic, and dozens of those students accepted the opportunity. The stories of how three of them signed up to help stressed health care workers — each in a unique way — are told in the magazine article "Graduating Early to Battle COVID-19." An accompanying sidebar, "Graduate Students Create Antibody Test," focuses on research. The story describes the collaboration of three Einstein PhD students working across the street from each other in two labs and how they switched gears from tackling the Ebola virus and mosquito- and tick-borne diseases to devise a valuable antibody test for the novel coronavirus. A second sidebar, "Einstein Students Volunteer," lists the work of more than 400 Einstein students who contributed more than 10,000 volunteer hours from March through May 2020, from constructing face masks to testing nasal swabs to delivering food to Bronx residents in need.
"Before starting her first shift as a physician last April, Dr. Morales Allende was terrified. COVID-19 was a mysterious illness that kept filling intensive care beds in the Bronx. 'I knew I was taking a risk,' she says. 'It was pretty scary. Some healthcare workers had gotten sick, and I didn't know what to expect.' But the newly minted Einstein graduate — born in Argentina, raised in Queens — felt compelled to be there. 'We have a large immigrant and minority population in the Bronx,' she says. 'I feel a great connection to them — I speak their language, I understand their culture, and I knew that people of color were being disproportionately affected by COVID-19. I wanted to advocate for them.'"
What was the most impactful part of your award-winning entry?
The article approaches the pandemic not only from the perspective of the medical school graduates but also from the lens of the graduate students who worked behind the scenes. We show how the clinical and research sides are critically intertwined.
What was the biggest challenge in writing this topic?
Our biggest challenge was reaching the students so that we could talk to them and photograph them. They worked long hours, so interviews were conducted late in the evening or very early in the morning after an overnight shift.
Contact: Susan Byrne