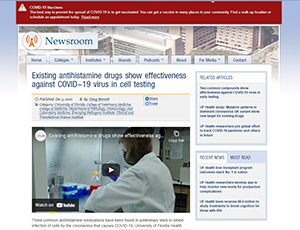 The Robert G. Fenley Writing Awards: News Releases - Bronze
"Existing Antihistamine Drugs Show Effectiveness Against COVID-19 Virus in Cell Testing" by Doug Bennett
UF Health and University of Florida 
It was a noteworthy discovery: a trio of common antihistamine medications were able to inhibit infection of cells by the coronavirus that causes COVID-19. Beyond the immediate headline were some intriguing questions: How did the researchers get to that discovery? What kinds of obstacles did they face during their research? To answer those questions in a way that nonscientists would understand and appreciate, Doug Bennett broke down the findings in a simple, straightforward, and understandable way. Just as important to the story were its caveats: That the testing had so far only been done in cells, not human subjects, and that dosing levels to produce a protective effect were yet to be determined. What resulted was a thorough and contextual report on a potential breakthrough development in the fight against COVID-19. Working on a tight deadline, Bennett was able to provide compelling details about the scientific discovery process while also working within the space and time constraints usually associated with a news release. Ultimately, the news release was among the most widely read stories produced by UF Health during the pandemic. It was shared many thousands of times with readers throughout the world.
"Three common antihistamine medications have been found in preliminary tests to inhibit infection of cells by the coronavirus that causes COVID-19, University of Florida Health researchers have found. Their findings, based on laboratory tests of cells and a detailed analysis of nearly a quarter-million California patients' medical records, are published today in the journal Biochemical and Biophysical Research Communications. The data may support the launch of a randomized, controlled clinical trial to determine whether the specific antihistamines can treat or even prevent COVID-19 in humans, the researchers said."
What is one thing you learned from this experience?
I got a better understanding of the process that occurs when the SARS-CoV-2 virus binds to cells and managed to explain that process in a way nonscientists could appreciate.
What challenge did you overcome?
Without diminishing the significance of the findings, we emphasized to nonscientist readers that the research was still in its early stages and wasn't yet tested in a clinical trial. The story also cautioned readers not to self-medicate with antihistamines.
Contact: Mickie Anderson