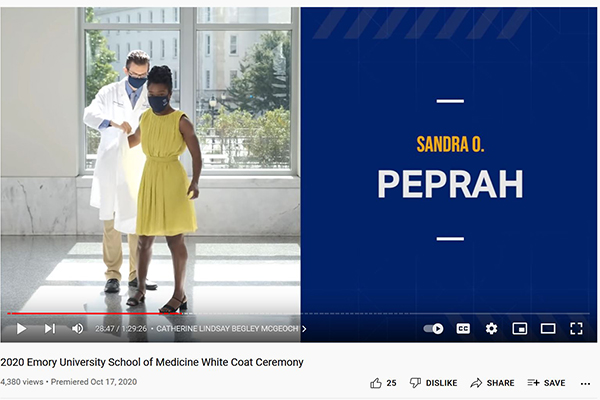 Special Events, Projects, Programs, or Campaigns - Bronze
Emory University School of Medicine Virtual White Coat Ceremony 2020: The White Coats Are Coming
Emory University School of Medicine
The White Coat Ceremony is a rite of passage for medical students and emphasizes humanism in medicine. During the traditional ceremony, a white coat is placed on each student's shoulders by their society small group advisor to signify their entrance into the medical profession. The White Coat Ceremony allows loved ones to witness the first symbolic step for first-year medical students (M1s) in the practice of medicine and learn more about the daily life of their medical students. Due to the COVID-19 pandemic, Emory's White Coat Ceremony was moved online using a beautifully produced ceremony video, prerecorded and socially distanced coat presentation, and social media. Some parts of the White Coat tradition stayed the same — as the clock struck 1 p.m. on Saturday, Oct. 17, 2020, Emory M1s, loved ones, and faculty and staff watched virtually as white coats were placed safely on 138 students' shoulders, signifying their entrance into the medical profession during a time when the world needed doctors the most.
What was the most impactful part of your award-winning entry?
The beautifully produced video was the most impactful part of the entry and helped to retain the feeling of a rite of passage while sharing experiences and daily life of Emory medical students in a safe environment for students, staff, presenters, and guests.
What is one thing you learned from this experience?
Use of new tools like the social media aggregator Wakelet was new for us. As quickly converted virtual events have become the norm, members of the Emory community reference vendors, platforms, and assets used for this event as the model for event engagement.
Contact: Elizabeth Thompson