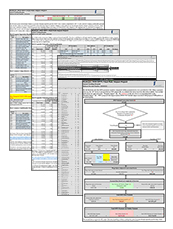 This report, generated uniquely for each COTH member institution, shows changes to hospital-specific Medicare outpatient revenue paid under the Outpatient Prospective Payment System for the upcoming year to reflect rate updates and policy changes proposed and/or finalized in the annual regulatory process.
The hospital-specific reports are prepared for each COTH member twice annually: first in August/September following the release of the OPPS proposed rule, and again in November/December after publication of the final rule.

COTH members can use this report to:
Estimate budget impacts for the upcoming year
Unpack overall impacts into individual payment factors
Benchmark against different hospital cohorts
Examine the impact of policy changes on key outpatient service areas
AAMC's Medicare Outpatient Prospective Payment System (OPPS) Rule Impact Report Overview (PDF)
AAMC's CY2020 OPPS Proposed Rule Impact Report (Sept. 2019 webinar recording)
AAMC's CY2020 Medicare OPPS Final Rule Impact Report: Changes from the Proposed Rule
For more information about this report, contact COTH@aamc.org.