For the first time ever, the majority of U.S. medical school students are women, marking another milestone in the gradual diversification of those studying to become America's next generation of physicians, according to 2019 data released by the AAMC.
Women constitute 50.5% of today's medical students, building on steady increases in recent years that saw women account for the majority of first-year students in 2017 and most of medical school applicants in 2018. Women reached the cusp of the majority in total enrollment last year, when they constituted 49.5% of all medical students, up from 46.9% in 2015.
"The steady gains in the medical school enrollment of women are a very positive trend. We are delighted to see this progress," said AAMC president and CEO David J. Skorton, MD.
At the same time, while medical school classes continued to include more racially and ethnically diverse students, those groups remain significantly underrepresented in the overall physician workforce when compared with the general population and the patients they serve.  
Among 2019 applicants and matriculants:
Applicants who identified as Hispanic, Latino, or of Spanish origin increased 5.1%, to 5,858; matriculants grew 6.3%, to 2,466.
The number of black or African American applicants rose 0.6%, to 5,193; and matriculants increased by 3.2%, to 1,916.
American Indian or Alaska Native applicants grew by 4.8%, to 586; while matriculants rose 5.5%, to 230.

"The modest increases in enrollment among underrepresented groups are encouraging, but not enough," Skorton said. "We must do more to educate and train a more diverse physician workforce to care for a more diverse America."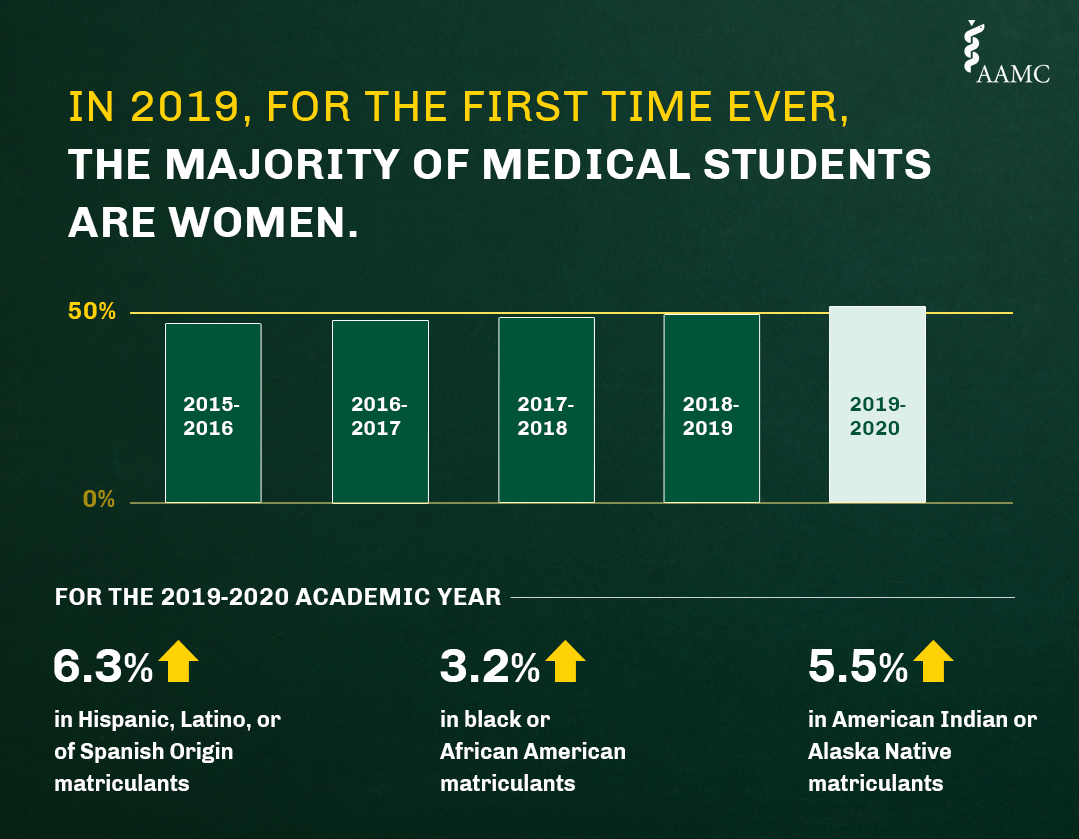 Also among the findings:
Interest in medical careers remains high, which is critical at a time when the nation faces a projected shortage of up to 122,000 physicians by 2032. The total number of applicants to medical schools rose by 1.1%, to a record 53,371, and the number of matriculants grew by 1.1%, to 21,869.
Those numbers, too, continue a trend: Since 2002 medical schools have seen significant growth in applicants (by 58%), matriculants (by 32%), and enrollment (by 33%). Those increases have been credited in part to the opening of 20 new medical schools in the past decade and increases in class sizes.
Although the numbers of applicants and matriculants grew among women in 2019, the number of male applicants and matriculants declined.
Those enrolling in medical school in 2019 showed commitment to academic achievement and community service. The average undergraduate GPA stood at 3.78 in 2019, compared with 3.72 last year. Matriculants also logged more than 14 million community service hours, more than the 12.5 million collective hours reported last year.