GIR News and Business

Listening Session Invitation: GEA/GSA/GIR Project on Adjusting to Step 1 Reporting Changes
Thanks to those of you who attended the 'Next Step1' Webinar in February. If you were not able to attend or watch the recording, your participation in this continuing effort is very much welcome!

We have collated the survey responses as well as comments collected during the webinar and would like to begin the next phase in planning. We would like to host listening sessions (each 1.5 hours) regarding 3 main topics that came out of the webinar:

1.    Curriculum Changes to Curricular Content and Structure
2.    Student Advising and Guidance
3.    Residency Application and Selection

Each topic will have 2 listening sessions. Questions will be posed to the audience and the discussion that follows and comments in the chat will be collected. Questions for discussion can be submitted by participants before each listening session.

Three Workgroups will emerge from these listening sessions to examine all responses and develop consensus recommendations.

Please register for any of the listening sessions here. Thank you!

Listening Session Registration:

Note each session has its own unique registration link. You will need to register for each individual session you plan to attend. Please attend up to 1 session for each topic of interest.

Curriculum - Changes to Curricular Content and Structure
Student Advising and Guidance
Session 1: Tuesday, August 16: 4:30 - 6:00 pm ET (1:30 - 3:00 pm PT): Registration link.
Session 2: Thursday, August 18: 3:00 - 4:30 pm ET (noon - 1:30 pm PT): Registration link.
Residency Application and Selection
Session 1: Tuesday, August 16: 3:00 - 4:30 pm ET (Noon - 1:30 pm PT): Registration link.
Session 2: Tuesday, August 23: 4:00 - 5:30 pm ET (1 - 2:30 pm PT): Registration link.
2022 IT in Academic Medicine: Digital Demonstration Virtual Conference

December 8 - 9 | Virtual
Showcase your innovative projects, tools, dashboards, state-of-the-art education spaces, and technology solutions.
Registration information will be available in Fall 2022.
Register now for Learn Serve Lead 2022: The AAMC Annual Meeting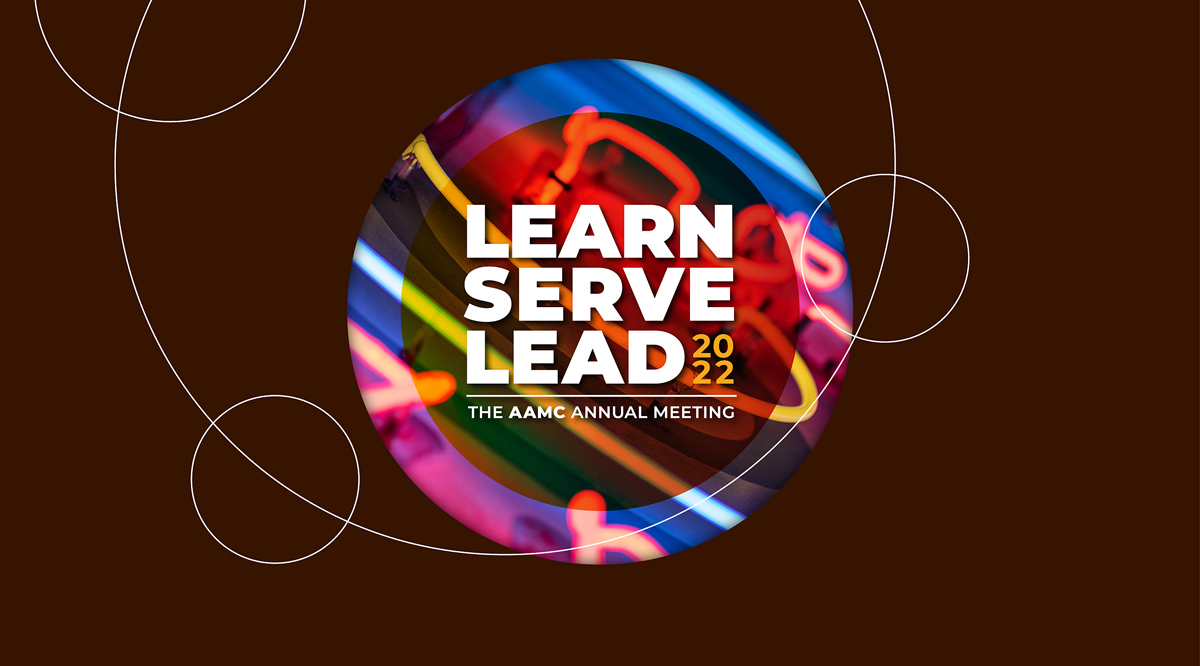 Registration is now open for Learn Serve Lead 2022: The AAMC Annual Meeting, taking place in Nashville, Tennessee, Nov. 11-15. This annual event draws thousands of attendees from across the academic medicine community to connect with thought leaders, spark conversation on critical issues impacting medical education and patient care, and encourage collaborations that influence the future of health. Register early to save on access to all programming, including plenary sessions, Voices of Medicine and Society Series sessions, and more than 100 breakout sessions.
Register Now
Save the Date: Leading Information Technology in Academic Medicine (LIT) Leadership Development Seminar

Meeting Dates: March 7-9, 2023
Location: AAMC Learning Center
More information to come in the Fall 2022
GIR Listserv Archives
The following topics were posted on the GIR Listserv in July 2022:
GIR Listserv: Dell Boomi; VDI institutional policies and lessons learned
To access the GIR Listserv archives: lists.aamc.org/read/?forum=gir
To post a question: gir@lists.aamc.org
Join the Information Technology in Academic Medicine Virtual Community
Join the Information Technology in Academic Medicine Virtual Community to gain access to a library, which contains resources such as presentations, videos, webinars, articles, and more. If you don't have an account already, please request one here.
AAMC News

AAMC leads amicus brief in support of consideration of race in higher education admissions
The AAMC, along with 45 health professional and educational organizations, has submitted an amicus curiae brief to the U.S. Supreme Court in support of the limited consideration of an applicant's racial or ethnic background or experiences in higher education admissions. The amicus brief focuses on the particular importance of racial and ethnic diversity in the health professions in classrooms, labs, and clinical settings to improve the overall health of our nation. "Numerous studies have consistently demonstrated health inequities along racial and ethnic lines in nearly every index of human health, and evidence shows that increased racial diversity in the health professions can help close that gap," said David J. Skorton, MD, AAMC president and CEO. "The AAMC has long supported the limited consideration of race and ethnicity in admissions where necessary and in support of a medical school's mission, with deference to each school's individualized admissions process and expertise."
Read More
AAMC statement on House passage of Advancing Telehealth Beyond COVID-19 Act of 2022
AAMC President and CEO David J. Skorton, MD, issued a statement regarding House passage of the Advancing Telehealth Beyond COVID-19 Act of 2022. "The AAMC applauds the House for passing the Advancing Telehealth Beyond COVID-19 Act of 2022, which will extend coverage of telehealth services under Medicare until at least December 31, 2024. Throughout the COVID-19 pandemic, patients nationwide have benefited from increased access to telehealth services, and this bill will ensure that this crucial point of access continues."
Read More
AAMC announces recipients of 2022 Telehealth Equity Catalyst Awards and Pilot Grants
The AAMC has named the recipients of its 2022 Telehealth Equity Catalyst Awards and Pilot Grants. Ten programs were selected to receive $15,000 each to fund existing programs or begin development of pilot proposals. The recipients have demonstrated their ability to address barriers associated with telehealth and health technology in their communities through clinical delivery or medical education programs. The AAMC looks forward to partnering with these programs to learn more and share strategies for improving access and equity via telehealth.
Read More
AAMC names awardees for Health Professions Education Curricular Innovations Grant Program
The AAMC has awarded curricular innovations grants to five project teams from AAMC-member medical schools. The grants will support the initial development of competency-based, interprofessional strategies for preparing learners to address health misinformation and the integration of these strategies into new or existing curricula. These awards are supported through a cooperative agreement with the Centers for Disease Control and Prevention to build confidence in the COVID-19 vaccines.
Read More
Winners of 2022 Lasker Foundation student essay contest announced
The Lasker Foundation has announced the 2022 winners of its annual essay contest, which recognizes the next generation of science communicators. This year, applicants were challenged to "describe how multidisciplinary collaborations and approaches, or future opportunities for them, have impacted or will impact their training, research, or career." Several of the winners are trainees at AAMC-member institutions.
Read More
AAMC Supports Bipartisan Legislation to Protect 340B Hospitals
On July 13, the AAMC sent a letter to Reps. Abigail Spanberger (D-Va.) and David McKinley (R-W.Va.) in support of the Preserving Rules Ordered for the Entities Covered Through (PROTECT) 340B Act of 2021, legislation that would protect safety-net hospitals that participate in the 340B programs from discrimination by commercial insurers and pharmacy benefit managers.
Read More
Information: Sinead Hunt, AAMC Government Relations.
AAMC, Hospital Groups Urge Extension of Premium Tax Credits
The AAMC joined other hospital and health system groups in a July 11 letter to Senate Majority Leader Chuck Schumer (D-N.Y.) and House Speaker Nancy Pelosi (D-Calif.) urging their support of extending enhanced premium tax credits beyond 2022. Other signers included the American Hospital Association, the Federation of American Hospitals, and America's Essential Hospitals.
Read More
Information: Allyson Perleoni, AAMC Government Relations.
Health sector climate pledge webinar series begins
The AAMC has joined the Health Sector Climate Pledge, which was developed by part of the Department of Health and Human Services under the assistant secretary for health in conjunction with the White House. A webinar series launching this week and continuing through November will explore government supports to assist health care stakeholders in climate-related work. The first webinar, "Resilience, Emissions Reduction, and Health Equity," took place July 14 at noon ET. A full schedule and list of future topics is available online.
Read More
AAMC Joins Letter Supporting Preservation of Military Medical Workforce
The AAMC joined over 20 health care and medical specialty organizations in a July 1 letter to Defense Secretary Lloyd Austin regarding future medical staffing and Department of Defense (DOD) medical education and training.
Read More
Information: Christa Wagner, AAMC Government Relations.
AAMC announces 2022-2023 Board of Directors
The AAMC has announced its 2022-2023 Board of Directors. The incoming board's term begins Nov. 15 and will end at the conclusion of Learn Serve Lead: The AAMC Annual Meeting in November 2023. LouAnn Woodward, MD, vice chancellor for health affairs at the University of Mississippi Medical Center and dean of the University of Mississippi Medical Center School of Medicine, has been elected to serve as chair of the AAMC Board of Directors. She will succeed Kirk A. Calhoun, MD, president of the University of Texas at Tyler, who will become immediate past chair. Leon "Lee" Jones, MD, dean for medical education and professor of psychiatry at Georgetown University School of Medicine, has been named chair-elect and will succeed Woodward next year.
Read More
Learning Opportunities

Call for Nominations: AAMC Medical Education Planning Committee
We invite you to submit self-nominations for service on the AAMC's Medical Education Planning Committee for November 2022 - November 2025.

The AAMC's Medical Education Planning Committee seeks self-nominations of medical educators from across the continuum of medical education and with a variety of backgrounds. The Medical Education Planning Committee members are responsible for reviewing the abstract and session submissions and peer review comments submitted through the call for submissions for AAMC's Annual Meeting: Learn Serve Lead (LSL). Most of the work of the committee happens during the submission reading period in January and February (done independently) and at the 2-day in-person meeting in Washington, DC in late February/early March (done as a group). Newly elected members begin their term at the conclusion of LSL this year (2022). For more information, please click here.
Nominations
Self-nominations are due no later than Monday, August 15, 11:59pm EST. You can access the Areas of Expertise Inventory here.
Please submit your nomination packet to the Educational Affairs team at educationalaffairs@aamc.org.
Register for the MedBiquitous Community Connection Webinar: Cost Feasibility & Ed Tech Interoperability
August 16th
12 - 1 P.M. (ET)
Register Now
In April 2021, MedBiquitous published the white paper "MedBiquitous 2030: Building the Digital Ecosystem for Health Professions Education" and called for the community to gather and develop the necessary technology and data standards to reduce costs and make data integrations more efficient and effective.

At our Aug. 16 webinar, "Cost Feasibility & Ed Tech Interoperability," we will be joined by a panel of education, technology, and credentialing colleagues to discuss the cost feasibility of moving towards an integrated digital ecosystem. The discussion will explore concepts proposed in the MedBiquitous 2030 white paper and compare them with current practices and costs. The audience will be invited to participate in the conversation.
Using Inclusive Language in Scholarly Writing Webinar
August 18th, 2022
12:00 – 1:00 PM ET
Registration is required.
Medical professionals communicate about their work each day and, in doing so, help shape the language of their profession. As professionals seeking to support increased diversity and inclusion across the medical community, understanding and employing inclusive language can help you support your colleagues and improve the field of medicine. At this IDEAS webinar, speakers will discuss the principles of using inclusive language across your roles as educators, clinicians, health professions education scholars, and journal reviewers and editors. Speakers will also share available resources and practical strategies that scholars can adopt to align their writing with current best practices around the intentional use of words and descriptors that welcome the diversity of all people and their identities. This webinar will conclude with interactive case studies for attendees to practice what they have learned.
Webinar: Understanding and Addressing Sexual Harassment in Academic Medicine: A New AAMC Report (IDEAS)
August 24, 2022
12:00 PM (ET)
Register here.
Join us for an in-depth look at the results from the AAMC's recent publication, Understanding and Addressing Sexual Harassment in Academic Medicine. This webinar will include never-before-seen rates of harassment among faculty across multiple institutions, connections between harassment and engagement and retention, as well as innovative practices to address and prevent harassment from nine qualitative institutional interviews. This report and webinar focuses on gender harassment, the most prevalent but often overlooked, among faculty and explores institutional interventions to prevent these behaviors before they even begin.
Register now for AAMC virtual event on addressing and eradicating racism in health care
The AAMC is hosting a free virtual event on Sept. 7 at 12 p.m. ET to explore how the academic medicine community is addressing and eradicating systemic racism in health care. The discussion will be moderated by Malika Fair, MD, MPH, AAMC senior director of equity and social accountability, and will include Nahae Kim, MPH, a medical student at Chicago Medical School, as well as individuals featured in the documentary The Color of Care, including Ala Stanford, MD, Hetty Cunningham, MD, and Keith Gambrell. The film chronicles how people of color suffer from systemically substandard health care in the United States, and participants will have access to the film for two weeks prior to the event (further details will be provided upon registration). The discussion will focus on lessons learned from the film, how medical education is changing and continuing to improve, and the AAMC's new medical education competencies on diversity, equity, and inclusion. Advance registration is required (space is limited).
Register Now
Health care researchers launch DocsWithDisabilities to support the inclusion of disabled individuals in medicine
A new initiative, DocsWithDisabilities, has launched as a first-of-its-kind coordinated effort to systematically improve the inclusion of disabled individuals in health professions education. DocsWithDisabilities works to increase the number of healthcare providers with disabilities, address the disability access gaps in health care education and practice for people with disabilities, and expand education and awareness about disability inclusion. "The AAMC is committed to fostering a diverse, equitable, and inclusive physician workforce, and that includes people with disabilities. We are pleased to support the DocsWithDisabilities Initiative in its efforts to address and remove common barriers in training and to provide a platform for improving disability inclusion," said David J. Skorton, MD, AAMC president and CEO, in a press release announcing the launch.
Read More
Apply for Josiah Macy Jr. Foundation GME awards
Through its Catalyst Award for Transformation in Graduate Medical Education, the Josiah Macy Jr. Foundation seeks to improve the clinical learning environment and experience for learners in graduate medical education. The Foundation will make six awards of $50,000 to fund innovations designed to support civility and psychological safety in GME, with the development of tools and skills resident learners can employ to improve their learning experience. The application deadline is September 15.
Read More
Publications & Resources

Addressing sexual harassment in academic medicine report
A new report highlights the extent of sexual harassment among faculty, as well as promising practices that might prevent and address it. The AAMC will host an informational webinar to further explore the report findings on Aug. 24.
Read More
AAMC publishes medical education competencies for diversity, equity, and inclusion
The AAMC has developed the New and Emerging Areas in Medicine Series as a guide for everyone who develops curricula within the field of medicine and for people learning to practice or continuing their professional development. This third report in the series focuses on competencies for diversity, equity, and inclusion (DEI). The competencies are organized into three domains — diversity, equity, and inclusion — and three tiers that represent developmental stages in physician development: entry to residency or recent medical school graduate, entry to independent practice or recent residency graduate, and experienced faculty physician responsible for educating students or residents. These cross-continuum competencies help educators design or adapt curricula and help educators and learners in their individual professional development and DEI journeys. The competencies are also the focus of a new op-ed published in STAT that was co-authored by David J. Skorton, MD, AAMC president and CEO, and Henri R. Ford, MD, MHA, dean and chief academic officer of the University of Miami Leonard M. Miller School of Medicine and chair of the AAMC Council of Deans.
Read More
New AAMC data snapshot Sponsored Research Program Direct Cost Expenditures by Funding Source: A 10-Year Review of Research Funding Trends at Fully Accredited U.S. Medical Schools
A new data snapshot published by the AAMC provides a 10-year review of research expenditures by funding source at fully accredited U.S. medical schools. The direct cost expenditures include National Institutes of Health (NIH) awards, federal government sponsors other than the NIH, industrial and corporate sponsors, other nongovernmental organizations (e.g., philanthropy, associations, societies), and state-sponsored awards. The snapshot is intended to provide a clearer understanding of the quantity and stability of research expenditures by funding source to help inform medical school decisions such as strategic mission alignment and general funds-flow questions.
Read More
New AAMC data snapshot details transgender and genderqueer adults' health care access and satisfaction
The AAMC has published an interactive data snapshot that details health care access and satisfaction for transgender and genderqueer people. Results show that a disproportionate percentage of transgender or genderqueer adults in the United States report adverse experiences when trying to access health care and when interacting with their providers. Questions should be addressed to Rebecca Onyango (ronyango@aamc.org) or Michael Dill (mdill@aamc.org).
Read More
AAMC establishes monkeypox resource webpage
The AAMC has developed a webpage with a collection of monkeypox resources and related materials. The resources include a letter co-authored by AAMC President and CEO David J. Skorton, MD, and Centers for Disease Control and Prevention Director Rochelle Walensky, MD, MPH, to AAMC-member institutions and clinicians with the latest information and resources to prepare for and treat monkeypox, as well as a checklist for clinicians.
Read More
AAMC launches new MedBiquitous website
The AAMC has launched a redesigned MedBiquitous website to provide the health professions education and credentialing community with easier access to resources and information about the program. The website, along with related virtual communities, will allow the community to engage with the MedBiquitous 2030 initiative, which was established to support the digital transformation of medical education. Through the new website, faculty and staff from AAMC member organizations can sign up to join MedBiquitous working groups that develop technology standards, such as new data standards to support competency based medical education.
Read More
Recommended Reading

AAMCNews: Widespread distrust in science: Is the way we communicate to blame?
Researchers increasingly find their work misunderstood and misused, as the iterative nature of scientific discovery clashes with an explosion in public access to and interpretation of their work.
Read More
AAMCNews: Hospitals take creative steps to reduce carbon footprint
As medical organizations increase commitments to reduce greenhouse gases, hospitals report progress through quiet methods like changing anesthesia, fixing valves, and re-sterilizing devices.
Read More
VaccineVoices: How academic medicine and community organizers are creating trustworthy COVID-19 messaging
Innovative educational materials delivered by community partners of academic medicine can encourage individuals who haven't yet to get the shot.
Read More
VaccineVoices: Why improving telehealth access is key to health equity
Many U.S. adults can't access digital health tools and technology and are being left behind. Here's how to change that.
Read More
Lasting Solutions for Advancement of Women of Color
In this commentary, the authors examine the effects of institutional bias in academic medicine and highlight strategies for advancing leadership equity for women of color.
Monica Verduzco-Gutierrez, MD, Siobhan Wescott, MD, MPH, Juan Amador, Andrea Hayes, MD, Mary Owen, MD, and Archana Chatterjee, MD, PhD
Read More
Welcome New Members
(July 2022)

Bill Hill
University of Washington School of Medicine

Jason Reep
University of Washington School of Medicine

Marie Rivera
New York Medical College

Matthew Taylor
Virginia Commonwealth University School of Medicine

Gregory Wagner
University of Pittsburgh School of Medicine