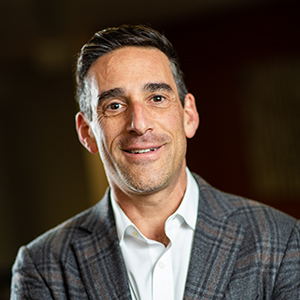 Joe Borgenicht
Director, Strategic Communications
University of Utah Health
We caught up with Joe Borgenicht to discover more about him, what he's up to, and what we can learn from him. 
Briefly describe your current role.
As Director of Strategic Communications, I land somewhere between a chief of staff and communications director for the health system and its leadership. U of U Health is unique in that clinical care, research, education, and community engagement missions all report to a single leader—the CEO, executive dean, and senior vice president of the health system. My team and I are essentially responsible for communications from that office to internal and external audiences. We produce campaigns to multiple stakeholders that market strategic initiatives designed to move all four of our missions forward. In a nutshell, we help advance health by helping our leaders figure out when and how to say what to whom. One of the most enjoyable parts of my job is to serve as an advisor to the SVP on communications strategies. And another of the most enjoyable parts of my job is helping my team and colleagues achieve their own successes.
Briefly describe your career journey and what led you to institutional advancement in academic medicine.
Long and short, I'm a bit out of the box for a career in academic medicine, mostly because someone once told me to follow my heart. With a bachelor's degree in Asian Studies from Bowdoin College in hand, and after a year at Oxford University in England, I took a job as an auto mechanic at Quality Tire Truck and Auto Center in Salt Lake City, Utah. That didn't last long, but I did learn how to fix things. I took that knowledge to India for three months where I rode a motorcycle around the Eastern half of the subcontinent and the Southern half of Nepal. On my return to the states, I spent several years transporting celebrities in Salt Lake, New York, and Los Angeles as a driver for film and television productions (favorite production: The Stand, least favorite production: Money Plays). After that, I got married, co-created two children, wrote 16 books, produced a couple TV pilots, broke a chair over Al Roker's back on the Today Show, and started a golf company. When I began working at University of Utah Health in 2013, I'm not sure they knew what they were getting into—but neither did I. There I discovered that I am mission-driven, enjoy working on projects with impact, and can actually work with people. Who knew?
What achievement in your current job are you proud of?
I'm proud of putting together the One in a Million film project, which, in addition to helping pass a law in Utah and premiering at the National Institutes of Health and dozens of other film festivals, was recently awarded a 2021 GIA Awards for Excellence Best in Show. The project was a reminder to me that when I put my heart and soul into my work, I can have a greater impact. It's easy to forget that. The people who came together and brought their expertise, resources, knowledge, emotion, experience, and compassion created real magic. With the instrumental help of our associate director of science communications, Julie Kiefer, we were able to marry science and art to broadly share advances in knowledge. And we are currently in pre-production for our second film in the series.
What success have you achieved with limited resources? What is a challenge that you/your unit/your institution is facing and how are you addressing it?
Our institution, like most around the country, is challenged as we emerge from the pandemic into a world that demands equity in health, among other critical rights. In Utah, we experienced an additional cascade of collective trauma in 2020, including a series of earthquakes, wildfires, and hurricane force winds. While we need to move on and focus on rebuilding our organizations, the people who are critical to this work are tired, traumatized, and burned out. In partnership with our Resiliency Center leaders, I recently presented a strategy to our senior leaders to participate in a town hall that would help the faculty, staff, and students at U of U Health acknowledge their emotional states as a key component of moving forward. At this town hall, our leaders vulnerably answered the question, "How are you doing, really?" They were followed by a number of other faculty, students, and staff who answered the same question. It was a moving, connected, and cathartic experience and is now being replicated at the department and school level. Nearly 1,000 people attended this town hall, and the only expense was a little time and a lot of vulnerability.
What was a mistake you made and how did you learn from it?
For a long time, I made the mistake of believing that my ego was in charge. I think it led me to be pretty defensive and insecure. After some significant introspection and a lot of hard work, I'm working from a much healthier and more collaborative space—if I do say so myself.
What innovation or trend in the field inspires or motivates you?
Authenticity inspires and motivates (and scares) me. I think there is a trend toward vulnerability in the professional world that is long overdue—likely because we are not very good at it yet. Academic medicine isn't always the first to the party when it comes to taking risks and innovating, but I think this is actually a place where we can lead a professional and cultural evolution. We have some of the brightest minds working on the most complex problems, so why not this? The more truth we see in the world, the better.
What is the best career advice you were given and how have you used it?
Phil Goldfarb, a producer on my second least-favorite film production, Truth or Consequences, New Mexico, once told me to ask for what I want. Several times in my career I've mustered the courage to ask for what I want. I think I'm batting 3 for 4. The actress Ruby Dee once told me, "Wherever you are, embrace it. It is exactly where you are supposed to be." That's just good advice for life.
What advice do you have for other institutional advancement professionals in academic medicine?
Follow your heart. Ask for what you want. Get involved in projects that excite you. Your passion is contagious. Use it to the benefit of your institutions and the people in them who are working to change the world.
---

We want to shine the light on you! Please submit information about yourself or share this with another GIA member to help you connect, share stories, and highlight best practices. Learn more here.