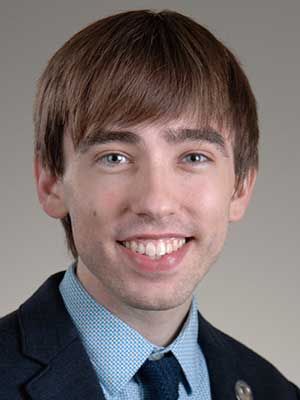 James A. Molnar, MBA
Web and Digital Media Specialist
The University of Toledo College of Medicine and Life Sciences
We caught up with James Molnar to discover more about him, what he's up to, and what we can learn from him. 
Briefly describe your current role.
When I started at UToledo nearly five years ago, I was tasked with overseeing all things digital for our college. This included more than 2,000 pages across more than 20 different offices and departments. It was also part of my responsibilities to manage and grow our social media presence. As the college did not have a designated web and digital media specialist before me, the small phrase at the bottom of my job description, "other duties as assigned," continued to grow. However, I've come to embrace this phrase with another: "I'm happy to help." I work with our medical admissions and student affairs offices on special projects and events. I also collaborate with leadership on communications and marketing strategy and implementation. I'm very thankful for all the opportunities for growth and professional development afforded to me by this position.
Briefly describe your career journey and what led you to institutional advancement in academic medicine.
Many of us in higher education advancement fields could describe ourselves as "recovering journalists," and I fit perfectly into that description. I worked for five years out of college at Toledo Free Press, a weekly newspaper that eventually closed its doors in April 2015. During my time there, I was design editor, managing the design desk and overseeing all visual elements for the company. I put in long hours each week for little pay and minimal benefits. I really enjoyed my work helping tell the stories of our community; however, after closing down the newspaper, I ultimately decided to pivot away from the news industry. One of our writers started a new position at the UToledo College of Medicine and Life Sciences and told me about the position I'm currently in. While I had absolutely no idea about the medical school world, she assured me I could learn about that, bringing along my background of telling stories and utilizing technology to do so.
What achievement in your current job are you proud of?
In September 2017, I helped launch a weekly newsletter sent from our dean to everyone within our college. Called "Dean's Update," the first edition was created in Microsoft Word with a few tables and some rudimentary graphics. It was a fairly brief communication. Over the last three years, we've grown and adapted this email into a robust communications channel (utilizing Mailchimp for design template help). We typically can't fit in all the content we receive each week, thanks to submissions by faculty, staff, residents, and students from within our college. This brings me back to my newspaper days of putting together a weekly publication and managing all the content, visuals, and strategy. The newsletter is also a pipeline for information, which I can use to deliver content to our social media channels and website. Other areas across our institution have used this newsletter as a model for launching their own. I'm also proud to have recently been recognized with our college's Dean's Rising Star Staff Award.
What success have you achieved with limited resources?
Coming from a community newspaper, I have become highly skilled with working within a limited budget and with limited resources. While I do have a number of resources available to me at The University of Toledo (and a little more money), I still operate mostly as a "one-man band" and try to conserve money as much as possible. One area of success I've enjoyed is with social media projects surrounding some of our hallmark events at the college. This includes orientation, where I created an orientation BINGO activity for our new medical students. If they complete the BINGO card, which features tasks, finding places on campus and networking, they are entered to win prizes. This activity was recognized by a GIA Award for Excellence in 2019: The "Shoestring" Award.
What is a challenge that you/your unit/your institution is facing and how are you addressing it?One challenge we've faced is creating special moments for our students in a virtual way during COVID. We planned multiple versions of Match Day, one of which involved using our football stadium to separate everyone, only to move the event entirely online because of a limit on gatherings indoors and outdoors in the state of Ohio. Being the digital go-to person for our college, I've worked with many across our college on planning and implementing virtual ceremonies, such as Match Day, Commencement, Orientation, and a number of White Coat and Lab Coat Ceremonies. We work tirelessly to create value and memories for our students and their families.
What was a mistake you made and how did you learn from it?
While I typically complete tasks as a "one-man band," I've learned, especially during COVID times, that it's okay to not try to take on everything on my own and ask for help and outsource some work and responsibilities. Moving some tasks off my desk has been extremely helpful, and I'm grateful for the support of my office and college.
What is the best career advice you were given and how have you used it?
Early in my career at UToledo, I attended a conference where I learned that when you are developing content, you should have a plan to utilize it six different ways. If you can't find six ways to use this content, it might not be worth your time and effort developing it. One of the ways I've put this advice into action is when I am working with a student on a specific project. It is possible that text, photos, or videos from this project could be used on social media or our website or tweaked for additional projects. It's important to keep this in mind to work smarter, not harder.
---

We want to shine the light on you! Please submit information about yourself or share this with another GIA member to help you connect, share stories, and highlight best practices. Learn more here.