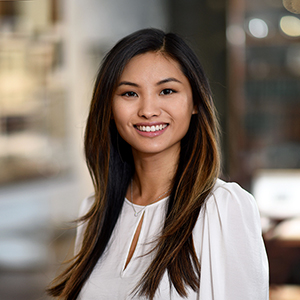 Annie Song Torres
Senior Director of Alumni Affairs
Baylor College of Medicine
We caught up with Annie Song Torres to discover more about her, what she's up to, and what we can learn from her.
Briefly describe your current role.
As the Senior Director of Alumni Affairs, I am responsible for creating and implementing a comprehensive alumni engagement strategy that fosters alumni connections and giving to Baylor College of Medicine.
Briefly describe your career journey and what led you to institutional advancement in academic medicine.
I started my career working in public affairs and transitioned to managing strategic partnerships for the largest school district in Texas. Working for a public school district, I learned a lot about building and developing programs on a tight budget that yielded an impact. Baylor College of Medicine is a historic institution in the largest medical center in the world. In fact, 50% of the physicians at Texas Medical Center were trained at Baylor. My passion has always been education and health equity, and Baylor was the perfect fit.
What achievement in your current job are you proud of? 
Recently, we hosted our first virtual reunion and had the biggest turnout in the institution's history. The 2020 reunion was canceled, so the whole team was eager for the 2021 reunion to be successful. Planning a two-day, jammed-packed virtual reunion was a challenge in itself. I am really proud of what our team was able to accomplish with less than 10 months of planning, a change in leadership, a new team, all amidst a global pandemic. 
What is a challenge that you/your unit/your institution is facing and how are you addressing it?
I feel like this is our office's signature phrase this year: building a bike while riding it. It has been a challenge to lay the foundation for all of our programs while also executing it. We have spent a lot of time homing in on our five-year strategic goal. I'm looking forward to engaging our alumni and rallying everyone together to really make an impact on the institution in the long run.
What is the best career advice you were given and how have you used it?
The best career advice I have received is always be curious. In every job I have had, I try to be curious by asking the right questions, learning the most that I can about the institution/organization, and keeping up with the latest industry best practices. Curiosity always leads into unexpected connections and discoveries. 
---

We want to shine the light on you! Please submit information about yourself or share this with another GIA member to help you connect, share stories, and highlight best practices. Learn more here.