Stephen J. Lopez

, PhD, MBA
Chief Information Officer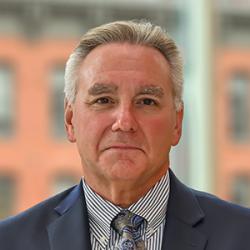 Stephen J. Lopez, PhD, MBA, leads the AAMC's Information Technology team and guides strategic plans to improve the association's technological capabilities.
Stephen J. Lopez, PhD, MBA, leads the AAMC's Information Technology (IT) unit in executing long-term strategic plans in support of the AAMC and its member institutions. In this role, he enhances and implements IT governance processes to ensure timely, cost-effective delivery of high-quality applications and infrastructure.
Dr. Lopez joined the AAMC in 2015 as a senior director overseeing information security, technology infrastructure operations, and enterprise architecture. He was appointed interim chief information officer (CIO) in 2021 and named CIO in 2022.
Previously, Dr. Lopez held several roles at the National Board of Medical Examiners, including vice president of support services from 2002-2011 and associate vice president of technology services from 1999-2002. He has also served as an adjunct faculty member at DeVry University, Strayer University, Philadelphia University, and Drexel University.
Dr. Lopez earned his bachelor of science in applied science and technology from Thomas Edison State University, his master of business administration in finance and operations management from the University of Phoenix, and his doctorate in information systems from Nova Southeastern University.