Pierre Joanis

, MBA
Chief Human Resources Officer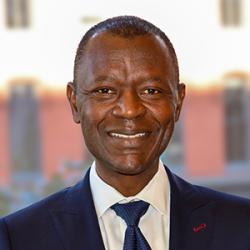 Pierre Joanis, MBA, leads the AAMC's overall human resources function, which includes people, leaders, and culture.
As chief human resources officer, Pierre Joanis, MBA, is responsible for designing and executing strategies that attract, develop, engage, and retain the best people needed to help the AAMC achieve its mission to improve the health of people everywhere. In this role, he leads and advances the association's commitment to becoming a diverse, equitable, inclusive, and anti-racist organization.
Joanis has served in HR leadership roles for two decades at renowned institutions of higher education. He joined the AAMC from Johns Hopkins University where he served as vice president for human resources, and previously, he served Bucknell University as its first vice president for human resources. Prior to Bucknell, Joanis was executive director for human resources at Princeton University. He has served as a national board member to the College and University Professional Association for Human Resources and as a commissioner for the State of New Jersey Public Employment Relations Commission.
Joanis holds a bachelor of arts degree in labor studies from the National Labor College and a master of business administration from Arcadia University.