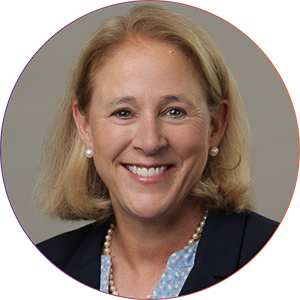 Denise Jamieson, MD, MPH
University of Iowa Roy J. and Lucille A. Carver College of Medicine
Denise Jamieson, MD, MPH, vice president for medical affairs and dean at the University of Iowa Roy J. and Lucille A. Carver College of Medicine, is an internationally recognized public health leader dedicated to advancing women's health.
Dr. Jamieson joined the U.S. Public Health Service as an epidemic intelligence service officer in 1997 and served a continuous assignment to the Centers for Disease Control and Prevention (CDC) through 2017. In that role, Dr. Jamieson aimed to improve public health in the face of infectious diseases that threaten the health of pregnant people and newborns.
Dr. Jamieson is a former James Robert McCord Professor and Chair in the Department of Gynecology and Obstetrics at Emory University School of Medicine. Her background in infectious diseases and women's health was especially helpful during several disease outbreaks including those caused by the H1N1 influenza and the Zika, Ebola, mpox, and SARS-CoV-2 viruses.
During the recent COVID-19 pandemic, Dr. Jamieson leveraged her knowledge and experience of how both infections and vaccines impact the health of pregnant people to assuage fears among that population regarding accepting COVID-19 vaccines along with advising how to prevent transmission of the virus.
From 2003 to 2015, Dr. Jamieson helped lead the development and implementation of the Breastfeeding, Antiretroviral and Nutrition Study, a randomized clinical trial in Malawi, which led to more than 40 peer-reviewed publications. Two of those papers – published in the Journal of the American Medical Association in 2004 and the New England Journal of Medicine in 2010 – received the Charles C. Shepard Science Award in 2005 and 2011, respectively. The 2011-awarded paper provided critical evidence to support revisions to the World Health Organization's published guidance for HIV and infant feeding, which helped shape global antiviral prophylaxis for perinatal HIV transmission that continues to impact an untold number of lives.
Another important contribution came from the Mother-Infant Rapid Intervention at Delivery study, which documented the crucial role of rapid HIV-testing in labor and delivery settings to reduce HIV transmission. Hospitals around the world quickly adopted rapid HIV-testing protocols based on the study's findings, and in 2018, the resulting paper earned another Shepard Award.
Dr. Jamieson's leadership in the obstetrics and gynecology field, particularly within the context of improving public health in the face of infectious diseases that threaten the health of pregnant people and their newborns, "has made extraordinary contributions leading complex emergency responses, conducting landmark research, and developing international guidelines," says Carlos del Rio, MD, interim dean and Leon L. Haley, Jr. MD Distinguished Professor of Medicine in the Division of Infectious Diseases at Emory University School of Medicine.
Dr. Jamieson earned a BA from the University of Pennsylvania in 1987 and an MD from the Duke University School of Medicine in 1992. She completed her MPH degree at the University of North Carolina at Chapel Hill in 1991. Her postgraduate training included a residency in obstetrics and gynecology at the University of California, San Francisco.