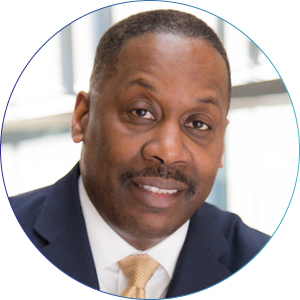 Thomas A. LaVeist, PhD
Tulane University School of Public Health and Tropical Medicine
Thomas A. LaVeist, PhD, dean and Weatherhead Presidential Chair in Health Equity at the School of Public Health and Tropical Medicine at Tulane University in New Orleans, Louisiana, has devoted his extraordinary 30-year career to dismantling racism, promoting social justice, and fighting for equity in health care.
Dr. LaVeist arrived at Tulane in 2018 after having served as professor and chair of the Department of Health Policy and Management at the Milken Institute School of Public Health at the George Washington University in Washington, D.C. He had previously served as the William C. and Nancy F. Richardson Professor in Health Policy at the Bloomberg School of Public Health at Johns Hopkins University in Baltimore, Maryland. Across these roles, Dr. LaVeist has become a tireless voice for social justice in the practice of medicine and education of clinicians.
A prolific scholar, Dr. LaVeist has published more than 150 scientific articles and six books. In 2005, he published Minority Populations and Health: An Introduction to Health Disparities in the United States, a formative reference for instructors of medical, nursing, and public health students.
In 2009, Dr. LaVeist joined the founding national advisory board of Meharry Medical College in Nashville, Tennessee, as the inaugural chair of the most significant health policy initiative in the history of the college, the Center for Health Policy. Dexter Samuels, PhD, executive director of the center, said Dr. LaVeist has remained a devoted board member ever since. "His efforts go beyond leadership and guidance and extend to active engagement, teaching, advocacy, and creating opportunities that will have generational impact."
During the COVID-19 pandemic, Dr. LaVeist leveraged his connections in academic medicine to encourage vaccination in Black communities. Highlighting testimonials from Black members of the National Academy of Medicine, Dr. LaVeist led the charge to develop a video addressing vaccine hesitancy and penned opinion pieces in the national media to support vaccination efforts.
Qiana L. Brown, PhD, MPH, LCSW, assistant professor at the Rutgers University School of Social Work, studied with Dr. LaVeist and said he "is the ideal health equity scholar and leader in the field. He seamlessly combines his passion and expertise to improve population health. I am glad to call him my mentor."
Dr. LaVeist's accolades include the Innovation Award from the National Institutes of Health and the Knowledge Award from the U.S. Department of Health and Human Services. He was elected to the National Academy of Medicine in 2013.
Dr. LaVeist earned his BA in sociology from the University of Maryland Eastern Shore in 1984 and an MA in sociology and a PhD in medical sociology from the University of Michigan in 1988. He completed postdoctoral studies at the University of Michigan School of Public Health in 1990.