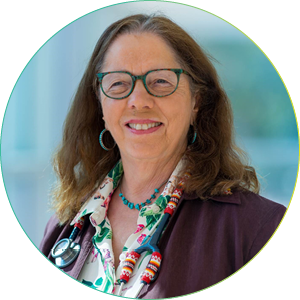 Judith Salmon Kaur, MD
Professor of Oncology
Mayo Clinic College of Medicine and Science
As one of the only practicing Native American medical oncologists in the United States, Dr. Kaur leads a national conversation to recognize cancer as a major unaddressed health disparity in Indigenous communities in the United States and internationally.
Her leadership of the Spirit of Eagles project, one of her more than 150 National Institutes of Health-funded projects, engaged native populations in culturally specific research, provided scholarships for students in medicine or biological sciences training, and advocated for improved cancer prevention and control. She also leads the Native CIRCLE, which provides culturally appropriate cancer education materials.
Dr. Kaur significantly expanded tribal access to palliative care by developing the course Case-Based Palliative Care Training for Indian Health Service Providers, which trained more than 50 Indian Health Service providers in partnership with the National Cancer Institute and the Indian Health Service. Dr. Kaur is board-certified by the American Board of Hospice and Palliative Medicine.
Over the past 25 years, she has mentored hundreds of minority medical students. The Hampton Scholars and Hampton Faculty Fellows programs she developed have mentored over 100 Indigenous students across the United States. One mentee said, "Her never give-up attitude for the health and equity of all people, especially indigenous people, gives her unwavering vision and effort towards the betterment of future generations."
Dr. Kaur has received certificates of appreciation from the Indian Health Service and works closely with the National Cancer Institute, Centers for Disease Control and Prevention, and American Cancer Society. She has been named the Physician of the Year by the Association of American Indian Physicians and received the Richard A. Swanson Humanitarian Award in recognition of her distinguished contributions to national research and outreach to American Indians and Alaska Natives. Her research focuses on women's cancers — particularly breast and cervical cancers.
Dr. Kaur's path to a career in medicine started at age 5, when her grandmother told her she was meant to be a healer and began to instruct her on the principles of traditional Choctaw and Cherokee medicine. She went on to become the first in her family to graduate from high school — as valedictorian, no less. Her subsequent educational background is diverse: she obtained a bachelor's degree in elementary education and a master's degree in counseling before pivoting to a career in medicine.
She was one of the first candidates accepted to the Indians Into Medicine Program at the University of North Dakota School of Medicine and Health Sciences. She then transferred to the University of Colorado Health Sciences Center, where she received her MD with honors and later completed her residency, an internship, and a hematology/medical oncology fellowship.