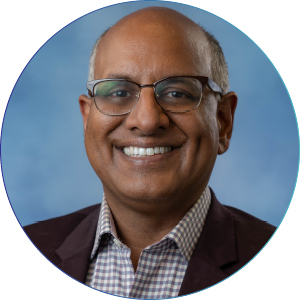 Rajesh S. Mangrulkar, MD
University of Michigan Medical School
Rajesh S. Mangrulkar, MD, the Marguerite S. Roll professor of medical education and director of the Michigan Center for Interprofessional Education at the University of Michigan (U-M) Medical School, started his journey toward medical education as a computer science major in the late 1980s. At the time, it was unusual for a would-be physician to hail from any background other than the biological sciences, but Dr. Mangrulkar was determined to marry his passion for computers with his interest in medicine.
That forward-looking, ahead-of-its-time perspective has guided Dr. Mangrulkar throughout his career and infused his work in medical education. In turn, his affinity for innovation has influenced many other educators.
Case in point: Dr. Mangrulkar led the largest redesign of the U-M Medical School curriculum in more than 50 years as associate dean. This curriculum, which he has referred to as an "impact accelerator," pushes students to develop and lead experiential initiatives that address real-world health issues while they are in medical school. This disruptive transformation earned an American Medical Association (AMA) Accelerating Change in Medical Education grant award, and via a consortium of 11 medical schools organized by the AMA, Dr. Mangrulkar's innovations have helped shape medical education across the country.
A pioneer in the field of web-based simulation tools for improved clinical skills training, Dr. Mangrulkar is the founder and executive director of RISE (Research. Innovation. Scholarship. Education.), a strategic initiative to bring more innovation into health science education by investing in faculty and student fellows and their ideas. This program helps budding innovators develop skills as leaders, problem solvers, and collaborators while having an immediate impact on the world around them. In addition, Dr. Mangrulkar helped launch the Michigan Center for Interprofessional Education, an effort that involves the 10 health professions schools across U-M's three campuses. He now serves as its second director.
For his teaching efforts, Dr. Mangrulkar was awarded the Thomas G. Varbedian Award for Excellence in Service to Students in 2013 by the U-M Medical School Student Council. He has also received the Token of Appreciation from Medical Students award eight times. The Galens Medical Society honored him with the Bronze Beeper Award for Outstanding Medical Student Teaching and the Silver Shovel Award for Outstanding Clinical Teaching. He and his team were also awarded the Provost's Teaching Innovation prize for his work on patient safety education, and in 2010, he received the Kaiser Permanente Excellence in Teaching Award, the most prestigious teaching honor awarded by the medical school.
Dr. Mangrulkar earned a BS in computer science from the University of Michigan in 1989 and his MD from Harvard Medical School in 1994. He completed his internal medicine residency training at the University of Michigan in 1998.
LEARN MORE ABOUT THE ALPHA OMEGA ALPHA ROBERT J. GLASER DISTINGUISHED TEACHER AWARD