Maria L. Soto-Greene, MD, MS-HPEd, FACP, Executive Vice Dean and Professor of Medicine, Director, Hispanic Center of Excellence, Rutgers New Jersey Medical School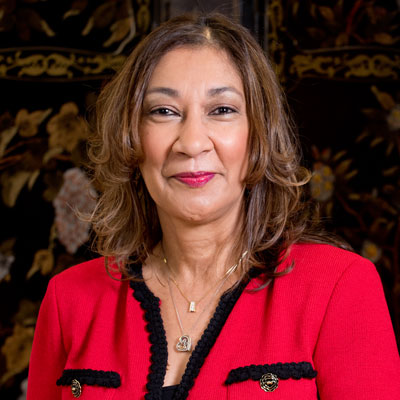 For nearly 30 years, Dr. Maria L. Soto-Greene has tirelessly supported underrepresented students and faculty throughout their careers in medicine. Today, as executive vice dean of Rutgers New Jersey Medical School (RNJMS), she ensures that diversity, inclusion, and equity are foundational for all aspects related to academic affairs, faculty affairs, and student services.
"Diversity is the very fabric of our institution. … Everything that we do is focused on how can we achieve it knowing that to us, diversity and excellence have always been intertwined," said Dr. Soto-Greene.
In 1991, she received a grant from the Health Resources and Service Administration to establish the Hispanic Center of Excellence (HCOE) at RNJMS, serving as director ever since. The HCOE improves health for the Latinx community by enhancing Latinx representation and success in the health professions and ensuring all graduates provide culturally competent care. She was also instrumental in establishing the Centers of Excellence Consortium on Minority Faculty Development, which brings together six medical schools across the country to increase collective success in supporting underrepresented faculty.
Recognizing that the foundation for a more diverse health care workforce happens long before students enter medical school, Dr. Soto-Greene has also been instrumental in developing and supporting pre-college enrichment programs encouraging underrepresented students to select health-related professions, including the Northeast Regional Alliance MedPrep Scholars programs and Robert Wood Johnson Foundation/AAMC Summer Health Professions Education Program.
Dr. Soto-Greene has also advanced national medical education training and diversity as chair of the AAMC Group on Student Affairs Minority Affairs Section from 2005 to 2007 and chair of the AAMC Group on Diversity and Inclusion from 2009 to 2011. Most recently, she participated as a constituent stakeholder for the AAMC Faculty Salary Equity Project.
In addition to praise from numerous mentees, Dr. Soto-Greene has been honored for her commitment to diversity and inclusion. The National Association of Hispanic Healthcare Executives awarded her with the Academic Leader of the Year Award in 2012, and she has received the Alliance for Academic Internal Medicine Diversity Award and the Edward J. Ill Physician's Award, presented annually to an outstanding New Jersey health care professional.
Dr. Soto-Greene earned her undergraduate degree from Douglas College and her MD from the UMDNJ–New Jersey Medical School, where she also completed her residency in internal medicine.
She has been an AAMC Council of Deans fellow and fellow at the Hedwig van Ameringen Executive Leadership in Academic Medicine Program for women at MCP Hahnemann University in Philadelphia. She earned an MS in health professions education from the MGH Institute of Health Professions in Boston.