Rafi Ahmed, PhD, Georgia Research Alliance Eminent Scholar, Director, Emory Vaccine Center, Emory University School of Medicine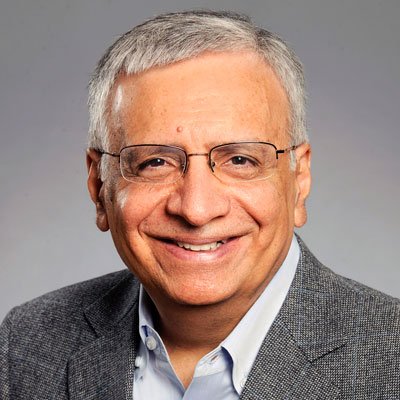 One of the world's foremost immunology researchers, Dr. Rafi Ahmed is credited with answering some of the most pressing questions regarding the crucial roles of T-cells and B-cells.
"Dr. Ahmed's basic findings have revolutionized our understanding of the immune system and paved the way for novel therapeutic approaches," says Vikas P. Sukhatme, MD, ScD, dean, Emory School of Medicine.
Since 1977, Dr. Ahmed has been an extraordinarily prolific scientist, publishing more than 410 papers — many of which set science on a new course. In 1988 and 1994, Dr. Ahmed published two seminal papers demonstrating that T cells have lengthy memories once exposed to a particular antigen, challenging the working theory at the time that these cells required continuous exposure to the antigen. In a paper published in 1998, Dr. Ahmed identified long-lived plasma cells and showed that these cells were critical for maintaining antibody responses and humoral immunity. These findings opened up new directions for investigators in immunology, charting a new course for more effective vaccine development and treatment of various diseases.
Dr. Ahmed's laboratory was also the first to demonstrate T-cell exhaustion due to chronic viral exposure and show that this dysfunction was due to the inhibitory receptor programmed cell death -1 (PD-1). In 2006, Dr. Ahmed published findings in Nature demonstrating that T-cell function could be restored via antibodies that block PD-1. The paper was ranked as the top immunology paper of the year and the science laid the foundation for FDA-approved immunotherapy drugs that treat various types of cancer.
Fueled by an interest in understanding how to prevent illness from infectious agents to begin with, Dr. Ahmed founded the Emory Vaccine Center (EVC) in 1995, which he continues to direct. Today, EVC is one of the largest academic vaccine research centers in the world with a team of more than 250 scientists. Collectively, researchers at the EVC are working on developing vaccines and treatment strategies for some of the world's most vexing diseases — HIV/AIDS, malaria, hepatitis, tuberculosis, influenza, and Ebola.
Dr. Ahmed has mentored many trainees and collaborators at Emory and beyond, and, in 2015, he was recognized with the American Association of Immunologists Excellence in Mentoring Award. He is an active participant in many scientific advisory and editorial boards. Dr. Ahmed is also an elected member of the National Academy of Sciences, the National Academy of Medicine, the National Academy of Inventors, and the Indian National Academy of Sciences.
Dr. Ahmed earned his PhD in microbiology and molecular genetics at Harvard University and completed a post-doctoral fellowship at the Scripps Clinic and Research Foundation. Before joining Emory in 1995, he was on faculty at the UCLA School of Medicine.
Learn more about the Award for Distinguished Research in the Biomedical Sciences