New section
Women in Medicine Month: Women as Medical Educators
New section
Women as Medical Educators
The AAMC Group on Women in Medicine and Science (GWIMS) is proud to celebrate Women in Medicine Month! Each week in the month of September we will feature spotlights, articles, journals and leadership lessons from women in physician, scientist, educator, and leadership roles. This week's theme is women as medical educators.
Women as Medical Educators Spotlight
"Women in general and minority women specifically, continue to face barriers to academic and leadership advancement. In my case, my career has been shaped by overcoming these barriers, against all odds."

Denice Cora-Bramble, MD, MBA
Chief Medical Officer & Executive Vice President
Ambulatory & Community Health Services
Children's National Health System
"Equity must serve as the guiding principle for our institutions. Breaking down structural barriers and building transformative approaches that welcome, support and advance women in science and medicine are critical imperatives for our future."

Reena Karani, MD, MHPE
Senior Associate Dean for Undergraduate Medical Education & Curricular Affairs
Director, Institute for Medical Education
Department of Medical Education
Professor of Medicine, Medical Education and Geriatrics & Palliative Medicine
Icahn School of Medicine at Mount Sinai
"Everything in medicine — the height of the OR table, the design of the EHR, the clinical rotation schedule, the best practices for diabetes management — results from a history of knowledge and choices. I expect that that knowledge and all those choices were developed with the best of intentions. But, medicine needs new perspectives to identify the consequences of our how we built that knowledge and how we made those choices. Medicine needs to constantly improve. To do that, we must critique our knowledge and our choices from all possible perspectives, including those from a diversity of genders, races, ethnicities, socio-economic statuses, genders, etc.. Women are an essential part of that diversity. Until our ways of building knowledge and of making choices are informed by women, we are actively restraining the extent to which medicine can advance."

Lara Varpio, PhD
Professor, Department of Medicine
Associate Director of Research, Division of Health Professions Education
Uniformed Services University of the Health Sciences (USUHS)
"As we walk through life we need to take note of how culture frames our views. As an educator, I have sought to understand the intersection of my proud identity as a woman, minority, Latina, mother and physician. By having students and colleagues engage in this reflective process we have championed culturally tailored interventions that can impact the care of diverse communities."

Maria L. Soto-Greene, MD, MS-HPEd, FACP
Executive Vice Dean and Professor of Medicine
Director, Hispanic Center of Excellence
Rutgers New Jersey Medical School
2019 GWIMS Leadership Award Winner Spotlight
Leadership Award for an Organization
The Offices of Faculty Affairs and Mentoring Programs at Rush University Medical Center began its first structured program in 2010 and most recently implemented the Rush Women Mentoring Program to help women faculty pursue their career goals in a supportive environment. Under the leadership of Giselle Sandi, PhD, and Susan Chubinskaya, PhD, the Rush University Faculty Affairs Mentoring Program provides a comprehensive approach to supporting women faculty career successes; rather than centralizing these efforts in one program, the entire office builds initiatives to reach this goal. The programs are unique in being university-wide initiatives, and all types of women faculty benefit from the office's mentoring programs.
Emerging Leadership Award for an Organization
The University of Mississippi Medical Center's Group on Women in Medicine and Science (UMMC GWIMS) was established in 2013 and has created significant programming and networking opportunities, including a professional development series of seminars and workshops, biannual membership drives, and recognitions of women's achievements. Over the last six years, the center has been committed to the four GWIMS goals of addressing gender equity, recruitment and retention, awards and recognition, and career advancement. They also have recognized UMMC faculty, students, and trainees annually for their significant accomplishments in leadership, mentorship, education, research, and service and have implemented and sustained monthly educational seminars for students and trainees to provide guidance on mentoring, interview preparation, burnout prevention, and other topics.
Articles of Interest
Women are now a majority of entering medical students nationwide
Gifty Dominah cannot remember a time growing up that she did not think about becoming a doctor. "When I was 5 years old and my dad would ask me what I wanted to be, I would say, 'A doctor,' " she said. "It was one of the only careers that I knew about, but I knew that I liked it."
Read more
2019 Alpha Omega Alpha Robert J. Glaser Distinguished Teacher Award
For more than three decades, Dr. Susan Cox, an obstetrician-gynecologist by training, has been at the forefront of shaping medical education for learners and faculty in Texas and beyond.
Read More
10 must-read articles if you want to be a medical educator
Pursuing a career in medical education? Whether you're a resident, fellow or an established physician considering your career options, this must-read list of articles is for you. See which resources one expert in the medical education field recommends to boost your med-ed abilities.
Read more
Female academic EM doctors less likely than male doctors to hold rank of full professor
In what is likely the largest published evidence on the association between physician gender and faculty rank among academic emergency medicine physicians, researchers have found that female academic emergency medicine physicians are less likely to hold the rank of full professor, compared to male counterparts.
Read more
Women in Medicine: 6 Pioneering Activists
It was once a great struggle for a woman to even be considered for a medical education in the United States—or anywhere, for that matter. Only the strongest, most dedicated women managed to achieve a degree, and they deserve to be remembered for their efforts. These early pioneers in the medical field opened the doors for the many woman doctors who followed.
Read more
Factors that predict for representation of women in physician graduate medical education
Women are underrepresented as physicians in many specialties. Because emerging evidence shows that the quality of female physician-led patient care is as good, and sometimes better than that of male physicians, the underrepresentation of women suggests that specialties are missing out on talent.
Read more
Women in Medicine: Trailblazers, Advocates and Leaders - Martha Gulati, MD, MS
In honor of this year's Women in Medicine and Science theme, "Women in Medicine: Trailblazers, Advocates and Leaders," the College of Medicine – Phoenix has asked a few faculty to share their inspiring stories about female physicians or scientists who helped advance their career.
Read more
Silent Bias: Challenges, Obstacles, and Strategies for Leadership Development in Academic Medicine—Lessons From Oral Histories of Women Professors at the University of Kansas
Despite dramatic increases in female learners and junior faculty, a significant gap remains in female leadership in academic medicine. To assess challenges and obstacles encountered, strategies for academic success, and lessons learned for leadership development, the authors conducted an in-depth study of women full professors.
Read more
Women in White: A Retrospective Look at Medical Education at One School Before Title IX
The Women in White generation of women physicians who graduated from American medical schools between World War II and the enactment of Title IX were trailblazers. They successfully pursued and achieved physician careers during a time when doctoring was still considered "man's work." They helped to clear a path to a modern medical student culture where women and men had more choices.
Read more
Resources for Clinicians Becoming Clinician Educator
Early in my career I was lucky to work with terrific mentors and mentees. I am not always sure they were fortunate to work with me. With no formal training in education—other than as a learn-as-you-go piano and ballet teacher and teaching assistant in my youth—I might have benefited greatly from a crash course in educational theory and basic teaching skills.
Read more
New section
Applications for the AAMC's 2020 LEAD Certificate Program will open November 19
The Leadership Education and Development (LEAD) Certificate Program is a one-year, cohort-based, leadership development program that provides a unique opportunity to strengthen your educational leadership skills, participate in a professional learning community, and ultimately, advance into meaningful leadership roles. The program is designed for early to mid-career professionals who are aspiring to, or are already in, leadership roles in medical education. The workshop dates for LEAD 2020 are May 6-7 and Sept 10-11, 2020 (participants must attend both workshops).
Save the Date
2020 AAMC Joint Professional Development Conference
Group on Graduate Research, Education, and Training (GREAT) and the Group on Women in Medicine and Science (GWIMS)
Sept. 10-12, 2020 Swissotel Chicago Chicago, Illinois
See you in Chicago!
New section
Join us on Social Media
To show your support for women in medicine month (#WiMmonth), please consider sharing the suggested tweet below (or RT from @AAMCtoday's account):
I support women in medicine. RT if you do, too. #WIMmonth #GWIMS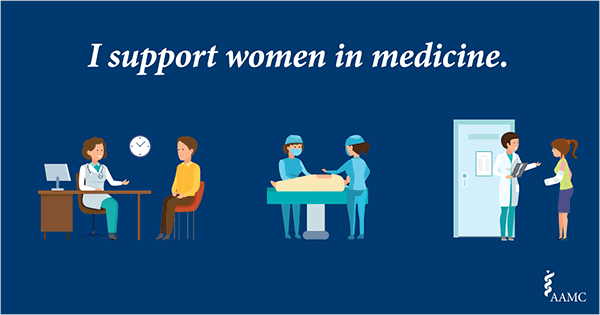 GWIM Resources
The GWIMS Toolkit is a series of presentations designed to provide practical guidance on a variety of topics relevant to women faculty in academic medicine. Each presentation provides an overview of the topic, relevant best practices, tips on implementation, and useful references for more information.
GWIMS Toolkits are useful resources that will help advance women in leadership roles.