GIR News and Business

Registration Now Open
Information Technology in Academic Medicine Conference, Sponsored by the GIR (Virtual)
June 2-4, 2021
Afternoon hours on each day (ET)
Join us for an opportunity to engage, network and learn from your GIR colleagues.
For more information, including registration information, please visit here.
Register Now
GIR Community Celebration
Monday, May 24, 2021
12:00–1:00 p.m. (ET)
Register Now
Join your colleagues in the GIR for this Celebration of our Community. This Celebration will kick off with some insights and perspectives from Anne Browning, PhD, Assistant Dean for Well-Being, University of Washington School of Medicine, and Founding Director, UW Resilience Lab.  
During the COVID-19 crisis, Dr. Browning supported and continues to support the well-being of her health care team members at UW and their families through a holistic approach to crisis response. As the founding Director of the UW Resilience Lab, Dr. Browning is leveraging resilience and compassion training to help develop healthy coping mechanisms in our community in response to the increased stressors we are all facing. Dr. Browning is a Senior Atlantic Fellow for Equity in Brain Health with the Global Brain Health Institute at the University of California, San Francisco and the Atlantic Institute in Oxford, England.
Following this discussion, we will recognize our outgoing leaders and welcome our incoming Steering Committee members. The GIR Excellence and Service Award winners will be announced and we will hear some brief remarks from the awardees. Finally, we will get to hear about some of the great work that our Work Groups have contributed to our GIR Community.
Thank you to everyone who contributed to our most recent GIR SnippIT
The GIR SnippIT was distributed in two separate surveys: Tablet Use in UME Pre-Clinical Settings and Tablet Use in Clinical Settings. The results of this SnippIT are summarized in the White Paper that can be accessed on the AAMC website here: https://www.aamc.org/media/51431/download (sign in required).
A special thank you to the following GIR Education Technology Work Group members who created the surveys, contributed to the findings and created the White Paper.  
Max C. Anderson, PhD, Director of Instructional Design and Learning Innovation, University of Illinois College of Medicine
Jennifer A. Calzada MA, MPH, Director, Advanced Medical Simulation, Tulane University School of Medicine
Amy Cole, MS, Technology Analyst, University of North Carolina School of Medicine
Adam Hain, DET, MA Ed, Associate Director for Instructional Development, Office of Medical Education, Stanford School of Medicine
Lina Lander, ScD, Associate Dean, Education Technology, Innovation and Assessment, University of California San Diego School of Medicine
Julie Youm, PhD, Executive Director for Health Affairs Education, University of California, Irvine School of Medicine
2020 GIR Medical School IT Survey Data – Now Available
Thank you to the 124 schools that participated in the 2020 Medical School IT Survey. The Excel data file was emailed to the Medical School Representatives and Survey Contacts at the participating schools in late April. If you have any questions about the GIR data file, please contact survey staff at GIRSurvey@aamc.org.

New: Join the Information Technology in Academic Medicine Virtual Community
If you're eager to connect with colleagues about the latest technology in academic medicine, share best practices, and explore resources, the newly established Information Technology in Academic Medicine Virtual Community is for you.
This online Community drives dialogue and connections around technology in academic medicine. Members also have access to a library, which contains resources such as presentations, videos, webinars, articles, and more. If you are a member of the GIR or one of its Work Groups, this is also a great place to connect with peers and share resources. If you don't have an account already, please request one here.
AAMC News

AAMC statement on House reintroduction of GME Expansion Bill
AAMC President and CEO David J. Skorton, MD, issued a statement on the reintroduction of the Resident Physician Shortage Reduction Act of 2021, which aims to increase federal support for physicians' graduate medical education (GME) program. "The AAMC commends U.S. Representatives Terri Sewell (D-Ala.), John Katko (R-N.Y.), Tom Suozzi (D-N.Y.), and Rodney Davis (R-Ill.) for reintroducing legislation that would help expand the physician workforce and address the estimated shortage of 54,100-139,000 doctors by the year 2033. The bipartisan bill, along with companion legislation introduced in the Senate, aims to expand the number of federally-supported medical residency positions by 2,000 annually for seven years, which would directly address the growing physician shortage and improve health care access for all."
Read More
AAMCNews: Healing a toxic brew of hate, racism, and gun violence in America
Recent mass shootings in Atlanta and Boulder illustrate how far we have to go in addressing these ills afflicting our country. In a new opinion piece, AAMC President and CEO David J. Skorton, MD, and AAMC Chief Diversity and Inclusion Officer David A. Acosta, MD, argue that academic medicine can and must speak out against the hate that divides all of us.
Read More
AAMC receives CDC award to build confidence in COVID-19 vaccines and move the nation forward
With President Biden's recent announcement that all adults in the United States will be eligible to receive a coronavirus vaccine by May 1, the AAMC is pleased to announce a $2 million cooperative agreement from the Centers for Disease Control and Prevention (CDC), Improving Clinical and Public Health Outcomes through National Partnerships to Prevent and Control Emerging and Re-Emerging Infectious Disease Threats. Through this CDC-funded initiative, the AAMC will engage its member medical schools and teaching hospitals in outreach efforts to collaborate with their communities to communicate transparently and dispel myths around the COVID-19 vaccines with the goal of increasing vaccination rates in the U.S.
Read More
AAMC statement on House passage of the American Rescue Plan Act of 2021
AAMC President and CEO David J. Skorton, MD, issued a statement on the U.S. House of Representatives' passage of the American Rescue Plan Act of 2021, which includes important provisions to fight the COVID-19 pandemic and its impact on our country. "The AAMC appreciates the swift efforts of the U.S. House of Representatives in advancing important priorities to support the nation's continuing COVID-19 response. The provisions included in the American Rescue Plan Act of 2021 would benefit patients, communities, and front-line health care workers and public health professionals involved in the pandemic, and prepare the country to rebound economically from this national crisis."
Read More
Learning Opportunities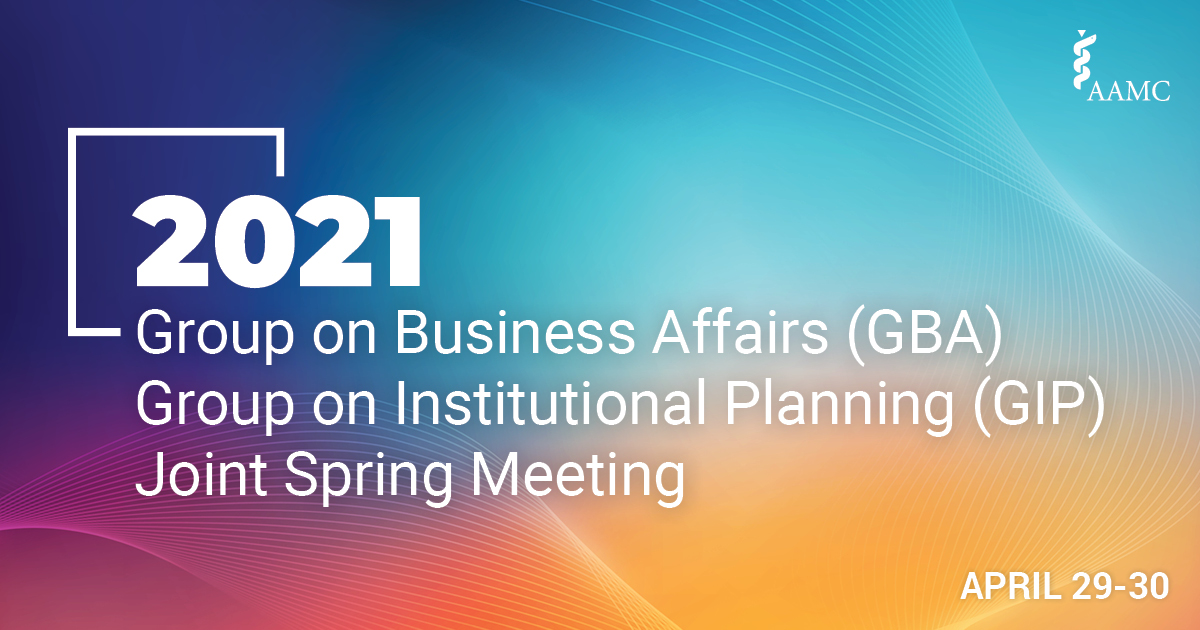 Registration Now Open:
GBA/GIP 2021 Joint Spring Meeting (Virtual)
April 29-30, 2021
1:00–5:00 p.m. ET on each day
Theme: Addressing Monumental Change
Register Now
As institutions move forward in a time of change, it is essential to connect with other leaders in finance, administration, strategic planning, and facilities management to create a shared vision of your team's future and understand the broader challenges that lie ahead. Register today to connect with a community of peers who can advise on best practices, mitigation strategies, and proven models for success in leading change at medical schools and academic medical centers.
Update on Learn Serve Lead 2021: The AAMC Annual Meeting
On March 10, AAMC President and CEO David J. Skorton, MD, announced that the AAMC has decided not to hold the in-person Learn Serve Lead 2021: The AAMC Annual Meeting, scheduled for Nov. 5-9 in San Antonio, Texas. Instead, the association will offer a virtual meeting again this year. Tentative virtual event dates are Nov. 8-10, and additional details of the plenary speakers and planned agenda will be provided in the weeks and months to come, with registration opening over the summer. This difficult decision is based primarily on continued concern for protecting the health and safety of AAMC constituents, speakers, and staff, as well as sensitivity to the financial effects that the pandemic continues to have on member institutions and their travel budgets. Making this decision now, at the beginning of the intensive design of the meeting, will help ensure that the AAMC can provide another high-quality, enriching experience.
Read More
Publications & Resources
 
AAMCNews: What every doctor needs to know about telemedicine
Telemedicine skyrocketed during the pandemic, and experts say remote care is here to stay. How can current providers and future physicians prepare to provide high-quality care from afar? To ensure that both new doctors and experienced clinicians are properly trained, the AAMC has published a set of competencies every medical student, resident, and physician should have when practicing telemedicine.
Read More
Updated AAMC FACTS Table on URiM Enrollment in Medical Schools
The AAMC has updated a few of its FACTS tables, including FACTS table B-5.2 which now includes a column labeled "Unduplicated Total URiM Enrollment," an expanded table explanation in the header of the table, and a link to the AAMC definition of Underrepresented in Medicine (URiM). This AAMC definition allows for a variety of ways to conceptualize URiM, depending on whether, for example, one is looking at the national perspective, regional perspective, or local perspective. The AAMC hopes that this updated FACTS table will help medical schools review and evaluate the applicability of the USNWR diversity index to their specific contexts. In addition, the AAMC has updated FACTS Table B-5.1 and the FACTS Glossary to provide additional context about the AAMC definition of URiM.
On March 30, U.S. News and World Report (USNWR) is expected to publish a new diversity index for law schools and medical schools as part of their 2022 Best Graduate School rankings. A number of our medical schools have contacted us to better understand and confirm the diversity index for their school. The AAMC did not provide any data to USNWR, and we did not participate with them in any way to develop their rankings. If your school has received information from USNWR or has been asked to verify data, your staff can use this updated table as part of your review and evaluation process. Your medical school should feel free to respond to USNWR as you think appropriate. The AAMC Data Operations and Services team can also help with questions that you may have. Please reach out to the team via the Data Request Form.
Final report published from CEO Summit on Clinician Well-Being
The AAMC, the Accreditation Council for Graduate Medical Education, and the National Academy of Medicine convened a CEO Summit on Clinician Well-Being in December 2019, and the initial findings have now been published. Summit participants focused on the urgent need for a long-term, enterprise-level strategic commitment to clinician well-being, "local-level" barriers to elevating clinician well-being as a strategic priority, systemic opportunities for policy interventions that could improve well-being, and impactful and successful interventions underway at academic medical organizations.
Read More
Telehealth Competencies Across the Learning Continuum
This report focuses on competencies for telehealth -- the use of technology to deliver health care at a distance. The competencies provide a foundation of support to ensure medical schools and teaching hospitals are providing excellent training to physicians and other clinicians in all forms of telehealth.
Read More
Recommended Reading

AAMCNews: Is it ever okay to jump to the front of the vaccine line? An ethics expert weighs in
When a good is scarce, people sometimes behave badly to get it. Renowned bioethicist Arthur Caplan, PhD, offers advice on how to make the COVID-19 vaccine rollout more equitable, ethical, and trustworthy.
Read More
AAMCNews: Finding my community on #GayMedTwitter
A physician-in-training argues that social media can help marginalized groups in medicine find needed support and validation and that academic medicine should help trainees navigate these platforms rather than discourage their use.
Read More
McLeod, Megan E.; Oladeru, Oluwadamilola T.; Hao, Jinxuan; Malhotra, Sameeksha H.; Chang, Betty T.; Li, Benjamin C.
Academic Medicine. 96(3):390-394, March 2021.
Lee, Moon O.; Schertzer, Kimberly; Khanna, Kajal; Wang, N. Ewen; Camargo, Carlos A. Jr; Sebok-Syer, Stefanie S.
Academic Medicine. 96(3):395-398, March 2021.
Telehealth and Medical Student Education in the Time of COVID-19—and Beyond
During the pandemic, medical students have had few direct interactions with patients. Including students in the widespread use of telehealth activities would improve patients' health, extend health care teams' capabilities, and foster students' professional development.
Martin D. Muntz, MD, Jose Franco, MD, Cassie Craun Ferguson, MD, Tavinder K. Ark, PhD, and Adina Kalet, MD, MPH
Read More
Welcome New Members
(March 2021)
Jacquie Bernard    
University of Nevada, Reno School of Medicine
Roman Feygin    
University of Chicago Division of the Biological Sciences The Pritzker School of Medicine
Catherine Grimsted    
University of Illinois College of Medicine
George Hickman    
Albany Medical Center
Ryan Jerz    
University of Nevada, Reno School of Medicine
Sarah Ries    
University of Nevada, Reno School of Medicine
Roxanne Vrees    
The Warren Alpert Medical School of Brown University