GIR News and Business
 
Transforming Medical Education Through Hybrid Teaching Technology: Lessons Learned and Future Directions
January 8, 2021
12:00pm (ET)
Register Now

In 2020, hybrid teaching became the new normal. What we experienced during the past months will impact how we teach medical curriculum for the next generation of medical students. In this session, our interdisciplinary group of a physician, medical simulation educator, instructional designer, Virtual Reality (VR) producer, and Medical Center Information Technology (MCIT) leader at NYU Grossman School of Medicine will share how they addressed new needs, adapted to changes, and planned the future of medical education with technology. Please join us to hear our perspective and share lessons learned about hybrid teaching technologies and digital learning strategies.
Speakers:
So-Young Oh, MS, MA
Assistant Director, Program for Digital Learning
Institute for Innovations in Medical Education
NYU Grossman School of Medicine, NYU Langone Health

Sondra R. Zabar, MD
Professor, Department of Medicine
Director, Division of General Internal Medicine and Clinical Innovation
Director, Standardized Patient Program
NYU Grossman School of Medicine, NYU Langone Health

Gregory Dorsainville, MPS
Manager, VR/AR
NYU Grossman School of Medicine, NYU Langone Health

Additional Speakers

Violetta Kraja, MA
Senior Designer 3D, interactive videos, Program for Digital Learning
Institute for Innovations in Medical Education
NYU Grossman School of Medicine, NYU Langone Health

Jillian Lieber, MA
Instructional Designer, Program for Digital Learning
Institute for Innovations in Medical Education
NYU Grossman School of Medicine, NYU Langone Health

Matt Polaniecki, MS
Assistant Director, Educational Informatics
Institute for Innovations in Medical Education
NYU Grossman School of Medicine, NYU Langone Health
From Clinic to Computation: Supporting Researchers with Electronic Patient Data
Monday, January 11, 2021
2:00–3:00 p.m. (ET)
Register Now
To support investigators using electronic patient data, in compliance with regulations, Weill Cornell Medicine has deployed Architecture for Research Computing in Health (ARCH) and Data Core. ARCH matches investigators with tools and services—including custom research data repositories—based on study design, data integration needs, and cost. ARCH provides both technical infrastructure for secondary use of electronic health record (EHR) data along with training and compliance for investigators. Data Core provides a secure, flexible, collaborative environment for analysis of sensitive data from ARCH, Medicare, and other sources. We maximize value of acquired data with staffing to address data governance requirements and a data catalog that makes datasets FAIR and compliant.
Speakers:
Peter Oxley, PhD
Associate Director of Research Services
Weill Cornell Medicine

Thomas Campion, PhD
Associate Professor
Weill Cornell Medicine
Questions? Contact gir@aamc.org
ReCiter Machine Learning Author Disambiguation System Used to Track Publication Output at a CTSA
Monday, February 8, 2021
1:00–2:00 p.m. (ET)
Register Now

ReCiter is a highly accurate system for intelligently scoring which publications in PubMed a given person has authored. It accurately identifies articles, including those at previous affiliations, by a given person, by leveraging institutionally maintained identity data (e.g., departments, relationships, email addresses, etc.). ReCiter serves as a compliment to ORCID, which despite strong marketing and mandates from funders is only used by a small fraction of researchers. It was produced by developers at Weill Cornell Medicine with support from the Clinical and Translational Science Center (CTSC) and is freely available and open source under the Apache 2.0 license. https://github.com/wcmc-its/ReCiter.
The CTSC serves thousands of researchers at more than seven institutions. Establishing and maintaining full bibliographies on all CTSC members requires an automated process, as it is not feasible to collect this information manually from each investigator. WebCAMP is the CTSC's primary research administrative system, and supports multiple CTSA (Clinical and Translational Science Awards) functions including researcher surveys and annual reporting. WebCAMP is a shared system, developed at Weill Cornell and used by nearly half of all CTSA sites. By leveraging data already collected in WebCAMP about known research protocols, publications and investigator-investigator as well as trainee-mentor relationships, ReCiter was able to surface thousands of candidate publications that were missed using traditional approaches. This has allowed the CTSC to demonstrate greater scholarly impact, and do so without the need for direct input from investigators.
Speakers:
Paul Albert
Associate Professor
Weill Cornell Medicine

Elizabeth Wood
Director Clinical Research Information
Clinical and Translational Science Center

Sarbajit Dutta
Senior Web Application Developer
Weill Cornell Medicine

Terrie Wheeler
Director of Library
Weill Cornell Medicine
Questions? Contact gir@aamc.org

2021 Information Technology in Academic Medicine Conference
Sponsored by the Group on Information Resources
June 2-4, 2021
Add to Calendar
IT in academic medicine faces unique challenges. In 2021, we're excited to offer you an entirely virtual conference experience. Save the date and join us as we connect with peers and thought-leaders working to bridge the education, research, and clinical missions of your institution through improved IT infrastructure and strategy. The call for proposals is forthcoming in mid-January.
This year's program will feature a mix of sessions on topics including:
Education Technology
Research Technology
Clinical Technology
IT Infrastructure and Operations
Security & Privacy
IT Leadership
GIR Listserve Archives
The following topics were posted on the GIR Listserv in December 2020:
GIR: Research image data aggregation and management; student rounding; Mobile Device Program
To access the archives: https://lists.aamc.org/read/?forum=gir
To post a question: gir@lists.aamc.org
AAMC News
 
Health care organizations call for action to implement crisis standards of care during COVID-19 surge
The AAMC and several national health care organizations issued a statement calling for immediate action to implement crisis standards of care (CSC) during the current COVID-19 surge. "The crisis is now: governors, health departments, hospitals, and other health care sector partners must take immediate action to save lives and fairly allocate limited resources. Every action possible should be taken now to mitigate the need to operate under crisis conditions. Failure to act will inevitably mean more lives lost, lasting damage to our fragile health care system, and deepened scars of health inequity."
Read More
Get Involved in the AAMC's new Strategic Plan
 
To learn more about the AAMC's new strategic plan and these two opportunities to contribute, please check out the following:  
AAMC Strategic Plan website
AAMC Strategic Plan document (PDF)
Video webinar on Action Plans 1-5 
Video webinar on Action Plans 6-10
If you have questions, please contact strategicplanning@aamc.org.
Action Plan #6, Enhance the Skills and Capacity of People in Academic Medicine and
Action Plan #10, Adapt the AAMC to the Changing Needs of Academic Medicine
Thursday, January 7, 2021
3-4:30 pm ET
Register  

Action Plan #9, Launch the AAMC as a National Leader in Health Equity and Health Justice
Thursday, January 14, 2021
2-3 pm ET
Register  

Action Plan #1, Strengthen the Medical Education Continuum for Transformed Health Care and Learning Environments
Thursday, January 21, 2021
3-4 pm ET
Register  

Action Plan #8, Advance Knowledge Through the AAMC Research and Action Institute
Thursday, January 28, 2021
2-3 pm ET
Register  

Action Plan #2, Extend the AAMC's Leadership Role in Helping Students Progress Through Their Medical Professional Journey
Thursday, February 4, 2021
2-3 pm ET
Register
 
Action Plan #7, Improve Access to Health Care for All
Thursday, February 11, 2021
2-3 pm ET
Register 
AAMC statement on CMS Physician Fee Schedule final rule
AAMC Chief Health Care Officer Janis M. Orlowski, MD, issued a statement on the Centers for Medicare and Medicaid Services' (CMS) annual Physician Fee Schedule (PFS) final rule. "While the AAMC appreciates CMS' commitment to restructuring and increasing payment for office-based evaluation and management (E/M) codes by implementing significant changes for 2021, we are dismayed to see that the final rule continues to include sizable cuts in payment for other services due to budget neutrality requirements. We are deeply concerned that these devastating cuts to physicians, physician practices, and other health care professionals are coming at a time when they are serving on the front lines of the COVID-19 pandemic and caring for patients. Cuts to emergency room and intensive care unit physician payments during this pandemic is especially concerning. The AAMC will continue to work with other stakeholders and policymakers to find a responsible solution that maintains the E/M increases while also responsibly addressing these problematic cuts.
Read More
Nomination deadline approaching for 2021 AAMC Awards
The deadline for submitting nominations for several of the AAMC's annual awards is Jan. 22, 2021. Through its prestigious awards program, the AAMC recognizes and celebrates the members of our community who are making significant advances in medical education, cutting-edge patient care, groundbreaking research, and outstanding community engagement. The AAMC continually strives to attract a diverse pool of nominees for its awards. In this context, we are mindful of all aspects of human differences such as socioeconomic status, race, ethnicity, language, nationality, sex, gender identity, sexual orientation, religion, geography, disability, and age.
Read More
AAMC statement on nomination of Xavier Becerra as HHS secretary and key members of health leadership team
The AAMC issued a statement on the nomination of California Attorney General Xavier Becerra for secretary of the U.S. Department of Health and Human Services (HHS) and the naming of other key members of the Biden administration's health care team. "The AAMC congratulates Xavier Becerra on his nomination as HHS secretary as well as the other members of the Biden administration's health care leadership team. We are confident that this team's familiarity with the unique role of academic medicine will be an asset when it comes to improving the health of people everywhere through patient care, research, education, and community collaboration."
Read More
AAMC regulatory and executive recommendations for the Biden administration
The AAMC has compiled a new resource for the Biden transition team and new administration with suggested actions to address executive orders, rules, regulations, proclamations, and sub-regulatory guidance issued by previous administrations. The document and other related resources, including the AAMC's 2021 Policy Priorities to Improve the Nation's Health for All, are available at aamc.org/transition2020.
Read More
AAMC statement on the FDA authorization of the first COVID-19 vaccine
The AAMC issued a statement on the U.S. Food and Drug Administration's (FDA) authorization of a vaccine to prevent COVID-19. "The FDA's authorization of the first vaccine to prevent COVID-19 represents a promising step toward ending the coronavirus pandemic. As our country and frontline health care workers confront the dramatic surge in COVID-19 cases, hospitalizations, and deaths, today's approval is an important milestone in the fight against the pandemic, made possible by decades of biomedical research within the academic medicine community," said David Skorton, AAMC president and CEO.
Read More
Learning Opportunities
 
Mark Your Calendars - Registration Opens in Mid-January!
Virtual Leadership Development Seminar for Associate Deans and Department Chairs in Medicine and Science
March 2-4, 2021
12:00–4:00 PM EST / 9:00–1:00 PM PST Daily
Add to Calendar
Notify Me When Registration Opens  
GBA Webinar:  Real-World Uses of the AAMC Faculty Salary Survey
Thursday, January 14, 2021
3:30–4:45 p.m. (ET)
Register Now
The AAMC Faculty Salary Survey (FSS) collects data on the total compensation of full-time medical school faculty broken out by rank, degree, department/specialty, school ownership, and region. In addition, the most recent iterations of the survey collect work RVU and clinical fund data for the second year in a row and race/ethnicity data for the first time this year. This 75-minute webinar will feature an overview of the FSS by AAMC staff on how to access the data, how to use the data, and other operational considerations. Following this overview, two institutions – the University of Minnesota Medical School and Wake Forest Baptist Medical School – will offer real-world examples of how they utilize the FSS data, including the creation of special reports that meet the specific needs of their institutions and their institutional leadership.
Speakers:
Dave Rickelton, Jr., MBA
Director, Clinical and Faculty Compensation
Wake Forest Baptist Health
Angie Simonson
Finance Director, Department of Medicine
University of Minnesota
 
Sarah Rogers, MS
Senior Research and Data Analyst
Association of American Medical Colleges
Stefanie Wisniewski, MPH, MSW
Manager, Faculty and Compensation Data
Data Operations and Services
Association of American Medical Colleges
Questions? Contact gba@aamc.org.
Learn Steps You Can Take to Ensure You and Your Teams Feel Safe and Supported - On-Demand!
Under ordinary circumstances, it is challenging for members of the academic medicine community to prioritize their health and well-being, but the significant amount of stress these individuals face as they lead the response against COVID-19 has quickly become its own crisis. As part of the AAMC's commitment to providing you with resources to support you as you navigate these challenging times, we wanted to make you aware that a recording of Leading and Supporting the Emotional and Physical Well-Being of Our Academic Medicine Community, has been added to the AAMC Leading in Difficult Times Virtual Resource Library, and is now available on-demand.
In this one-hour discussion, our panelists share approaches you can take to ensure your teams feel safe and supported, and how attending to and supporting your own mental health can have a profound impact on others by:
Describing the strategies they are using to maintain their own health and wellness during this time
Addressing how other crises in addition to the global pandemic, such as health disparities and inequities, racism and police brutality, recession and job loss are impacting well-being
Identifying the most challenging aspects of supporting the emotional and physical well-being of our community and provide actionable steps you can take to support the well-being of others during this difficult time
Discussing the importance of engaging your institution's leadership other wellness champions in this endeavor
To be kept up-to-date about new crisis leadership content like this as it becomes available, please sign up to receive updates.
Listen to Leading and Supporting the Emotional and Physical Well-Being of Our Academic Medicine Community  

Questions? Please email us.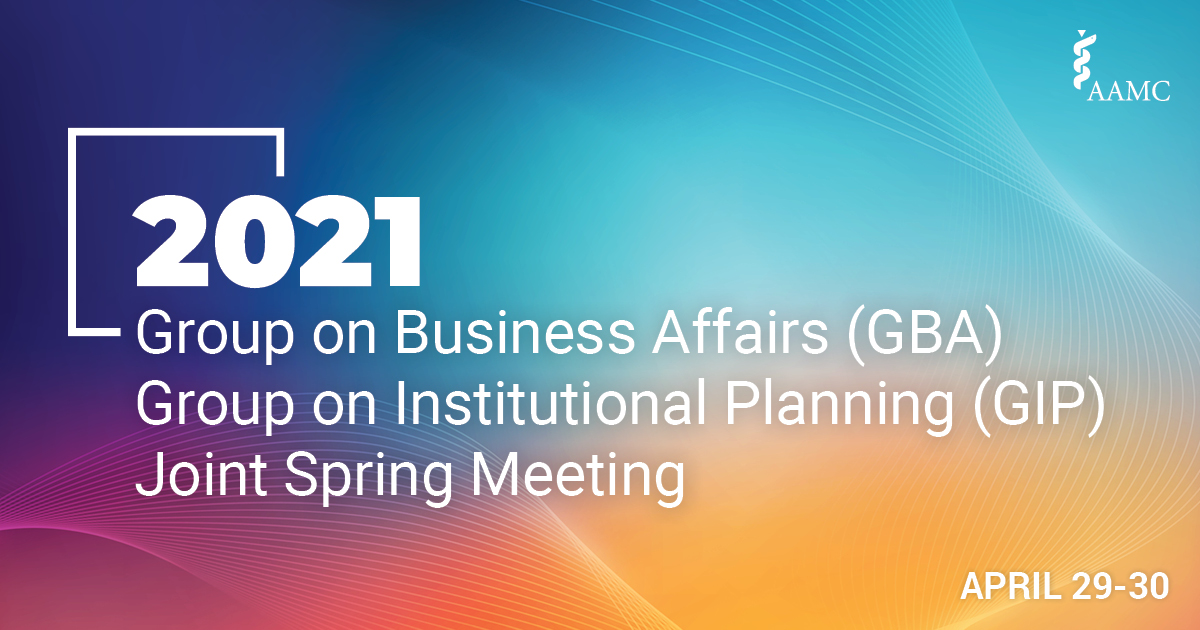 Group on Business Affairs (GBA)
Group on Institutional Planning (GIP)
2021 Joint Spring Meeting Virtual Conference
April 29-30, 2021
Submit a Proposal
Submission Deadline: January 12, 2021, 11:59 p.m. (Pacific)
Submit Here
Questions?
Program: Heather Sacks, Shawn Rosen-Holtzman
Logistics: Amy Beers 
Community Conversation Between GIP & GDI: Understanding a Shared Commitment When Creating Anti-Racist Institutions
Thursday, January 21, 2021
1:30 – 2:30 p.m. (ET)
Register Now

The purpose of this community conversation is to continue a dialogue between the Group on Diversity and Inclusion (GDI) and the Group on Institutional Planning (GIP) colleagues from academic medical centers. We will convene in real-time and discuss challenges and opportunities that arise when creating an anti-racist institution. The goal of this forum is to share approaches and best practices. In addition, we hope to enhance institutional collaborations, therefore, we encourage you to invite your colleagues in planning and Diversity Equity and Inclusion to participate on this call with you.
Moderators:
Carolyn Brayko, PhD
Director, Organizational Development & Strategic Planning
Office of the Dean
University of Nevada, Reno School of Medicine
Jaime Cerilli, PhD, MPM
Assistant Vice Chancellor for Strategic Space Planning and Management, Health Sciences
University of Pittsburgh
Yolanda C. Haywood, MD
Senior Associate Dean for Diversity and Inclusion and Faculty Affairs (Interim)
George Washington University School of Medicine and Health Sciences
Rene Salazar, MD
Assistant Dean for Diversity; Professor of Medical Education and Internal Medicine
University of Texas at Austin Dell Medical School
Questions? Contact Juan Amador or Shawn Rosen-Holtzman.
New episode of "Beyond the White Coat: Making the Rounds" focuses on challenges in hospice care
Providing hospice and respite care for the homeless is tough in the best of times, and it's especially difficult during a pandemic. Staff members at Joseph's House, a nonprofit organization that provides a respite and hospice care for people experiencing homelessness, are constantly figuring out new and creative ways to help the population they serve with limited resources or resources that are not designed to truly serve marginalized and vulnerable people. In this episode of "Beyond the White Coat: Making the Rounds," AAMC Director of Community Engagement Clarence Fluker and Liz Fehrenbach, program director at Joseph's House, talk about what it means to persevere as the organization attempts to serve its community during the COVID-19 pandemic.
Listen Now
Learn Serve Lead 2021: The AAMC Annual Meeting Call for Submissions in Medical Education
Learn Serve Lead 2021: The AAMC Annual Meeting
November 5-9, 2021, San Antonio, TX (Conditions Permitting)
Abstract and session submissions are due January 8, 2021.
RIME submissions are due January 18, 2021.
The AAMC is accepting submissions for Learn Serve Lead 2021: The AAMC Annual Meeting. Learn Serve Lead (LSL) is open to all those engaged in advancing academic medicine and brings together our medical school and teaching hospital community from across campuses, across disciplines, and across missions.
The call for medical education submissions consists of three types:
Sessions on Medical Education
Medical Education Abstracts  Innovation and Research
Research in Medical Education (RIME) Research and Review Papers

Work focused on a wide variety of themes incorporating a broad representation of topics, institutions, and presenters will be selected for presentation.
Sessions on Medical Education
Sessions on Medical Education represent an opportunity to examine broad medical education topics from a variety of perspectives, engender discussion, and engage diverse voices. Sessions may consist of multiple presentations on a single theme, or a single facilitated activity. The submission format requires a detailed plan for the session including learning objectives, a description of the session, speakers, and a facilitator. Sessions on Medical Education submissions should describe in detail how the session will generate rich dialogue from multiple perspectives and involve both presenters and attendees.
Click here to submit your Session proposal.
 
Medical Education Abstracts (formerly highlights in medical education)
Medical Education Abstracts are reports on important work worth sharing with the medical education community. Abstracts will be presented in one of two formats: oral or poster. The presentation format will be determined by the program planning committee based on thematic content of the abstracts.
Click here to submit your Abstract.
 
Research in Medical Education (RIME) Research and Review Papers
(RIME submissions are due Monday, January 18, 2021.)
Research in Medical Education (RIME) is a forum promoting the transformation of health care through medical education innovation and research.  RIME consists of research papers describing completed medical education research and review papers synthesizing existing research. Click here to submit your RIME proposal.
For 2021, please see the complete RIME Submission Instructions for more details. Most articles for the journal are between 3,000 and 4,000 words long; for qualitative studies, longer manuscripts may be acceptable, and authors are welcome to provide rationale for the length.
For questions regarding the submission process, please contact educationalaffairs@aamc.org.

Publications & Resources
 
AAMCNews: More students are entering medical school
The ranks of first-year medical students grew in 2020, according to new AAMC data. Women continue to outnumber men among future physicians while underrepresented groups are making modest gains.
Read More
MedBiquitous December 2020 Newsletter
You may access the December newsletter here.
New AAMC resources explore how medical schools weave arts and humanities into education
A new report published as part of the AAMC FRAHME (Fundamental Role of the Arts and Humanities in Medical Education) initiative explores the importance of advancing arts and humanities integration into medical education to improve the education, practice, and well-being of physicians and learners across the continuum. The report reviews the historic and current state of arts and humanities in medical education, provides recommendations for integration, and more. Additionally, the AAMC has produced a digital Getting Started Guide designed for educators who are new to incorporating arts and humanities into their programs, courses, or curricula and seek to integrate practical activities as they teach the core competencies of medicine. The guide is broken into two parts: Part 1: Select Activities provides ideas and examples for integrating the arts and humanities into medical education; Part 2: Nuts and Bolts provides general guidance on how to integrate the arts and humanities into teaching).
Read the Report
Read More on AAMCNews

Recommended Reading
 
AAMCNews: COVID-19 vaccines: Here's what health care workers need to know
Are the vaccines safe? Can vaccinated people spread the virus? Can hospitals mandate inoculation? Amid hope and anxiety, workers seek these answers and more.
Read More
AAMCNews: How the telemedicine boom threatens to increase inequities
The recent explosion in telemedicine is great for those with the technology and skills to use it, but what about people with limited English, income, and digital access? An expert describes steps to protect some of the nation's most vulnerable patients.
Read More
Dismantling Structural Racism in Academic Medicine: A Skeptical Optimism
Shim, Ruth S.
Academic Medicine. 95(12):1793-1795, December 2020.
Changing How Race Is Portrayed in Medical Education: Recommendations From Medical Students
Nieblas-Bedolla, Edwin; Christophers, Briana; Nkinsi, Naomi T.; Schumann, Paul D.; Stein, Elizabeth
Academic Medicine. 95(12):1802-1806, December 2020
Telemedicine and Medical Education in the Age of COVID-19
Jumreornvong, Oranicha; Yang, Emmy; Race, Jasmine; Appel, Jacob
Academic Medicine. 95(12):1838-1843, December 2020.
Cultivating Empathy Through Virtual Reality: Advancing Conversations About Racism, Inequity, and Climate in Medicine
Roswell, Robert O.; Cogburn, Courtney D.; Tocco, Jack; Martinez, Johanna; Bangeranye, Catherine; Bailenson, Jeremy N.; Wright, Michael; Mieres, Jennifer H.; Smith, Lawrence
Academic Medicine. 95(12):1882-1886, December 2020.

Improving Medical Students' OSCE Performance in Telehealth: The Effects of a Telephone Medicine Curriculum
Hindman, Daniel J.; Kochis, Suzanne R.; Apfel, Ariella; Prudent, Joshua; Kumra, Tina; Golden, W. Christopher; Jung, Julianna; Pahwa, Amit K.
Academic Medicine. 95(12):1908-1912, December 2020.
Welcome New Members
(December 2020)

Minerva Lee
University of California, San Francisco, School of Medicine
Gaurav Vinayaka    
Texas Tech University Health Sciences Center School of Medicine