GIR News and Business
 
2022 Information Technology in Academic Medicine Conference
June 1-3, in New York City
Register Now
It's not too late to register to learn best practices, develop new strategies for excellence, and connect with your peers at the 2022 Information Technology in Academic Medicine Conference, June 1-3, in New York City. You'll hear from plenary speakers, choose from concurrent sessions such as small group discussions and breakouts, learn from poster authors, and share your experiences with your peers during networking events.

We look forward to seeing you in The Big Apple!
2022-2023 AAMC GIR Slate of Officers and Elections
The candidates for the open positions of one (1) Chair Elect and three (3) Steering Committee members will be voted on by electronic ballot by the voting members of the GIR – the three institutional representatives who are formally appointed to the membership of the Group by a medical school dean or teaching hospital chief executive officer. Institutional Representatives will receive an online ballot on May 19, 2022 and will have until May 26, 2022 to submit their vote on the slate.

The 2022-2023 slate of Steering Committee candidates includes:
National Chair-Elect: Michael Campion, MEd, Director of Academic and Learning Technologies, University of Washington School of Medicine
Member (term ending 2023): Courtney Terry, IT Manager, Academic Systems, Rutgers New Jersey Medical School, Rutgers School of Graduate Studies
Member (term ending 2025): Laurie Gelles, PhD, Educational Technology Team Lead, University of Vermont, Larner School of Medicine
Member (term ending 2025): John Morgan, Information Technology Associate Director, Southern Illinois University School of Medicine
Remaining on the Committee:
National Chair: Julie H. Youm, PhD, Associate Dean, Education Compliance & Quality, UCI School of Medicine; Director, Educational Technology, Office of Medical Education, University of California Irvine
Immediate Past-Chair: Jessica Chen, MBA, CPHIMS, SHIMSS, Senior Manager, Clinical Research Information Services, Perelman School of Medicine at the University of Pennsylvania
Member (term ending 2023): Lina Lander, Sc.D., Associate Dean, Education Technology, Innovation and Assessment, University of California San Diego School of Medicine
Member (term ending 2024): Monica Crubezy, PhD, Director, Research Solutions, Office of Information Technology, Emory University
Member (term ending 2024): Marina Marin, MSc, Director, Education Analytics and Information Management, Institute for Innovations in Medical Education, NYU Langone Health

Reminder: Call for Proposals Open
2022 Information Technology in Academic Medicine Digital Demonstrations Virtual Conference, Sponsored by the Group on Information Resources (GIR) Inaugural Conference
December 8 - 9, 2022
This is a virtual meeting.
Submit your Proposal
Submission Deadline: June 15, 2022, 11:59 pm PST
Watch: Seventh Episode of "The Power of Our Stories"
The Diversity and Inclusion Work Group (GIRDI) is continuing its flagship interview series called, "The Power of Our Stories." The purpose is to provide a platform for all individuals to share their experiences and their very personal perspectives on topics related to diversity and inclusion.

This seventh episode features Kelly Terry, sister of GIRDI Co-Chair Courtney Terry. Kelly reflects on living with a disability.
Speaker:
Kelly Terry
Sister of Courtney Terry, GIRDI Co-Chair

Interviewer:
Courtney Terry
GIRDI Co-Chair
IT Manager of Academic Systems, Rutgers School of Graduate Studies
Rutgers New Jersey Medical School
Join the Information Technology in Academic Medicine Virtual Community
If you're eager to connect with colleagues about the latest technology in academic medicine, share best practices, and explore resources, the Information Technology in Academic Medicine Virtual Community is for you.
This online Community drives dialogue and connections around technology in academic medicine. Members also have access to a library, which contains resources such as presentations, videos, webinars, articles, and more. If you are a member of the GIR or one of its Work Groups, this is also a great place to connect with peers and share resources. If you don't have an account already, please request one here.

Save the Date: Leading Information Technology in Academic Medicine (LIT) Leadership Development Seminar
Meeting Dates: March 7-9, 2023
Location: AAMC Learning Center
More information to come in the fall 2022
GIR Listserv Archives
The following topics were posted on the GIR Listserv in April 2022:

GIR Listserv: OCR Releases RFI on Considerations for Implementing Provisions of HITECH Act

To access the GIR Listserv archives: https://lists.aamc.org/read/?forum=gir
To post a question: gir@lists.aamc.org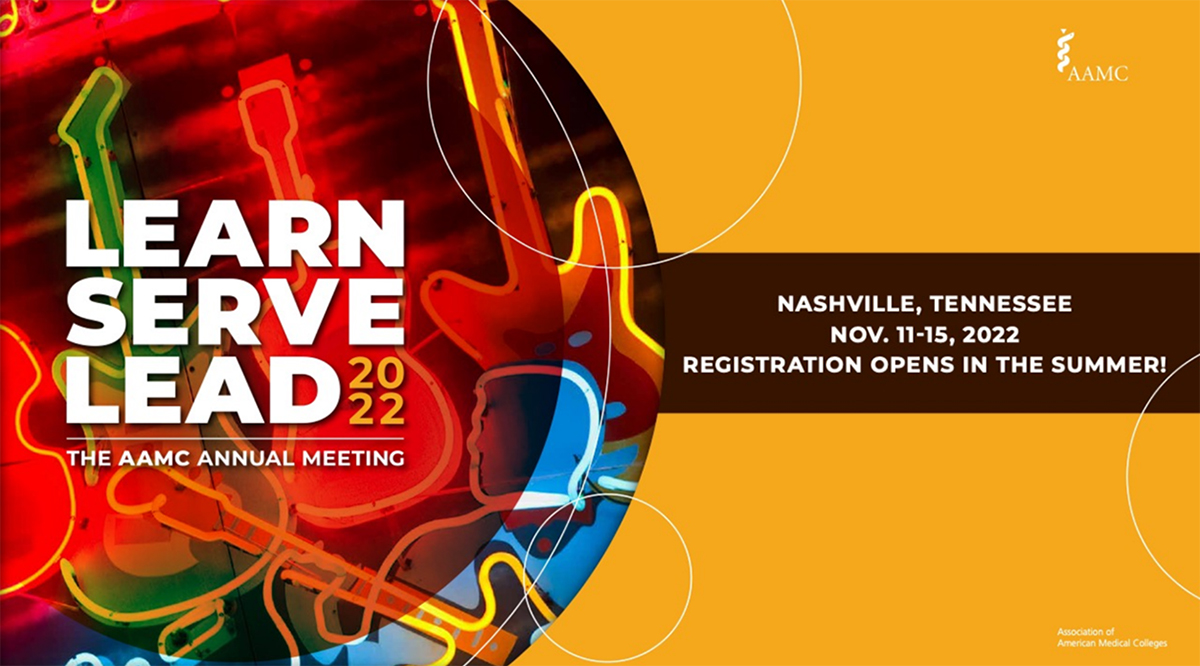 Save the Date
Learn Serve Lead
November 11-15, 2022
Nashville, TN
AAMC News

AAMC reaffirms statement on the patient-physician relationship and reproductive health care
AAMC President and CEO David J. Skorton, MD, issued a statement to reaffirm the AAMC's commitment to the physician-patient relationship and access to safe and effective reproductive health care regarding the pending case, Dobbs v. Jackson Women's Health Organization, before the U.S. Supreme Court. "The AAMC reaffirms its commitment to the critical relationship between patient and physician as the basis of safe, effective, and evidence-based health care. As we indicated in our September 2021 statement, policies that interfere in that relationship by limiting access to legal abortion care put the patient at risk and will exacerbate existing health inequities.
Read More
AAMC joins amicus brief opposing Alabama criminalization of gender-affirming care
On May 4, the AAMC joined the American Academy of Pediatrics, the American Medical Association, the American Psychiatric Association, and others in an amicus brief supporting a challenge to an Alabama law imposing criminal sanctions for health care professionals who provide (or facilitate through referral) gender-affirming care to adolescents. The brief reviews the rigorous and evidence-based gender-affirming medical treatment guidelines which are supported by all mainstream pediatric organizations, representing thousands of physicians across multiple disciplines, and explains how the law will irreparably harm adolescents with gender dysphoria by denying care to those who need it. On March 10, the AAMC joined the same groups in an amicus brief supporting a similar challenge to the Texas governor and attorney general. These efforts reaffirm the AAMC's commitment to ensuring access to high-quality care that treats all people, including transgender individuals, equally and with respect.
Read More
NAM developing national plan to strengthen health workforce well-being
The National Academy of Medicine (NAM) Action Collaborative on Clinician Well-Being and Resilience, of which the AAMC is a member, is working urgently to develop a National Plan for health workforce well-being. The draft plan will be released in May 2022 for public input and builds on almost six years of collective work among 200 Clinician Well-Being Collaborative members and network organizations.
Read More
AAMC Calls on OSHA to Align COVID-19 Requirements with CDC
The AAMC submitted comments on April 20 in response to the Occupational Safety and Health Administration's notice of reopening of the comment period for the Emergency Temporary Standard Occupational Exposure to COVID-19 in Healthcare Settings.
Read More
Information: Mary Mullaney, AAMC Health Care Affairs.
National Academy of Medicine joined by more than 110 organizations to address climate change
More than 110 organizations around the world have committed to addressing climate change and ensuring a sustainable and resilient health sector by becoming Network Organizations of the National Academy of Medicine's Action Collaborative on Decarbonizing the U.S. Health Sector. These organizations have demonstrated their commitment to working together on solutions to mitigate and adapt to climate change while centering and maximizing human health and equity. The AAMC is a member of the Climate Collaborative, and David J. Skorton, MD, AAMC president and CEO, serves on the steering committee.
Read More
AAMC names Stephen J. Lopez, PhD, MBA, as chief information officer
The AAMC has named Stephen J. Lopez, PhD, MBA, as chief information officer (CIO) after an extensive national search. As CIO, Lopez leads the AAMC's Information Technology (IT) team and guides immediate and long-term strategic approaches to support the association and its member institutions. In this role, he enhances and implements IT governance processes to ensure timely, cost-effective delivery of high-quality applications and infrastructure.
Read More
AAMC Addresses OSTP Request on Strengthening Community Health Through Technology
The AAMC and the AAMC Center for Health Justice submitted a letter to the White House Office of Science and Technology Policy on March 30 in response to a Jan. 5 Request for Information on how digital technologies are used to transform community health, individual wellness, and health equity.
Read More
Information: Daria Grayer; Heather Pierce, AAMC Scientific Affairs; Ki Stewart, AAMC Health Care Affairs.
HHS Seeks Information on Cybersecurity Best Practices
The Department of Health and Human Services Office for Civil Rights released a request for information on April 6 seeking input on implementing certain provisions of the Health Information Technology for Economic and Clinical Health Act relating to cybersecurity practices and distribution of a portion of civil monetary penalties or monetary settlements to individuals harmed by a privacy or security breach.
Read More
Information: Phoebe Ramsey, JD, AAMC Health Care Affairs.
Learning Opportunities

3 Drawbridges: How to Cross Your Customers' Moat of Attention
with customer experience and digital marketing expert, author, and entrepreneur Jay Baer
June 9, 2022
2:00-3:00 pm ET

Sponsored by the AAMC Group on Institutional Advancement, and open to anyone working at an AAMC member institution.
Register Now
Today's consumers are a wary bunch. After all, they've been through a lot. And approximately zero percent of customers are sitting quietly, secretly hoping for more brand-created content to be thrust upon them.

Your customers constantly have their hands on the levers, deciding when and whether to drop the bridges and let you in to their hearts, minds, and wallets. To win with content in today's world, you have to fundamentally realign your thinking and expectations. Instead of assuming your content will succeed and trying to avoid mistakes that would cause failure, you now must assume your content will fail and make certain you pass the "Three Drawbridges of Content Success."

Objectives:
Understand how "radical relevance" offers the key to customer hearts and minds
Discover why content and communications success aren't found inside a technology platform
Learn how the pandemic has changed Business to Business and Business to Customer expectations and desires
Jay Baer, CSP, CPAE has spent 29 years in customer experience and digital marketing, consulting for more than 700 companies during that period, including 36 of the FORTUNE 500. He's the author of six best-selling books and the founder of Convince & Convert, a consultancy that provides content marketing, social media, and customer experience advice and counsel to some of the world's most important brands.
NLM/AAHSL Leadership Fellows Application Process Open
The National Library of Medicine (NLM) and AAHSL are pleased to announce the opening of applications for the 2022/2023 Leadership Fellows Program. The application deadline is June 15, 2022.

The Program seeks candidates who are emerging leaders in health sciences libraries and who are passionate about the importance of leadership skills and knowledge to the future of academic health sciences libraries. As a leadership fellow, you will join a cohort of like-minded colleagues and become part of a network of fellows and mentors who have gone through the program since 2002. You also belong to the larger community of academic health sciences library directors. The program raises your visibility as an emerging leader within AAHSL and the profession.

SIGN UP for information sessions where you can learn more about the program, hear about experiences from prior fellows and mentors, and ask questions. Register for Zoom sessions on May 25 (2-3 Eastern) or June 8 (2-3 Eastern) here: https://www.surveymonkey.com/r/fellowsInfoSessions
More information on program design, the program schedule, and the application are available here.
Please contact the Program Director if you have any questions or need more information: Patricia (Pat) L. Thibodeau, Program Director, NLM/AASHL Leadership Fellows Program, plthibodeau@gmail.com, 919-619-6906.
New "Academic Medicine Podcast" episode discusses empowering trainees to be leaders and change agents
In a new episode of the "Academic Medicine Podcast," the host and guests discuss Academic Medicine's Trainee Letters to the Editor feature. They highlight selected letters from last year's call for submissions about the role of trainees as agents of change and discuss how medical schools and teaching hospitals can empower trainees to be leaders and how trainees can get started leading change efforts. The guests also introduce this year's call about transformative moments in a trainee's professional journey and describe what the editors are looking for in successful submissions.
Read More
Orlowski discusses physician shortage on "AMA Moving Medicine" podcast
AAMC Chief Health Care Officer Janis Orlowski, MD, recently joined American Medical Association (AMA) President Gerald Harmon, MD, for a new episode of the "AMA Moving Medicine" podcast. In the 45-minute episode, they discuss the projected physician shortage, how the COVID-19 pandemic is exacerbating it, and possible solutions. They also share their own personal experiences practicing in medicine.
Listen Now
Applications now accepted for 2023 Macy Faculty Scholars Program
The Josiah Macy Jr. Foundation invites applications for the 2023 cohort of Macy Faculty Scholars for its program that is designed to identify and nurture the careers of promising educators and future leaders in medicine and nursing. Macy Faculty Scholars receive up to $200,000 of salary support over two years to implement an educational scholarly project in their home institutions and participate in career development activities that help prepare them for leadership roles. Applications are due August 1.
Read More
Publications & Resources

AAMC updates gender data collection categories, prefix options
The AAMC strives to use inclusive language that reflects and speaks to the needs of the people it serves. To align with this objective, the AAMC is taking an iterative approach to updating its data collection forms. Beginning April 21, data collection forms will include the following identification selection options for gender identity (previously listed as sex): man, woman, other, and decline to answer. The inclusion of other provides an option for those who wish to select a non-binary gender category, and the AAMC will continue to receive feedback and consider additional categories in the future. Additionally, new prefixes will be added to OneAAMC, including Mx., which provides a gender inclusive option. This update will be implemented in the OneAAMC system and in all AAMC data collection on April 21, and in all AAMC applications beginning with the 2023 season openings. As part of its overall commitment to equity, diversity, and inclusion, the AAMC will work to continually improve, and update gender language based on community input on this change.
New AAMC data snapshot explores mental and behavioral health care and telehealth
In 2020, the use of telehealth grew rapidly and made up a significant amount of the care delivery mode for mental and behavioral health conditions. Analyzing Clinical Practice Solutions Center all-payer 2020 data, this snapshot demonstrates that audio and video visits are a critical way to support improved access to mental and behavioral health care and the importance of making them available across all patient population groups.
Read More
Recommended Reading

Learning the Language of Medical Device Innovation: A Longitudinal Interdisciplinary Elective for Medical Students
A novel medical student elective in biodesign teaches medical device innovation in 4 stages over 3 years. Features include longitudinal interdisciplinary peer mentorship between undergraduate biomedical engineering students and medical students and development of professional identity in relation to medical device innovation.
Lauren M. Maloney, MD, Mathew Hakimi, MD, Thomas Hays, MD, Joseph Adachi, MD, Annie Chau, MD, Brecken S. Esper, MD, Vasilios Koulouris, MD, Preston Kung, MD, MBA, Karl R. Meier, MD, Ryan S. Schum, MD, Sha Sha, MD, Ada Wong, MD, Ariel Wu, MD, Wei Yin, PhD, and Christopher R. Page, MD
Read More
Reimagining Faculty Development Deployment: A Multipronged, Pragmatic Approach to Improve Engagement
To improve engagement in faculty development, Mayo Clinic designed a multipronged approach including microlearning videos, prepackaged workshops, a newsletter to raise awareness, a web-based catalog to facilitate content retrieval, and an academy to recognize participation.
Liselotte N. Dyrbye, MD, MHPE, Angela L. Bergene, MS, Andrea N. Leep Hunderfund, MD, MHPE, and Heather A. Billings, PhD, MA
Read More
AAMCNews: Crisis in Ukraine: U.S. doctors, hospitals step up to help
As the worst humanitarian disaster in Europe since World War II rages on, U.S. physicians, hospitals, and medical students provide desperately needed expertise, supplies, and hands-on help.
Read More
Authors examine medical misinformation and the impact on public understanding
AAMC Chief Scientific Officer Ross McKinney, MD, co-authored an article published in the Journal of Clinical Pharmacology, "When Off-Label Prescribing Becomes Politicized: Do No Harm." The paper focuses on how medical and scientific misinformation can become distorted to fit political ideologies at the expense of science, research, and current understanding to help patients.
Read More
Managing Difficult Conversations: An Essential Communication Skill for All Professionals and Leaders
The authors discuss their interprofessional course, Managing Difficult Conversations, developed 15 years ago for medical and graduate students at Stanford University. They offer resources from the course that can be applied for effective difficult conversations, including 12 guiding principles and a 3-stage framework for planning, beginning, and conducting the conversation.
Charles G. Prober, MD, H. Irving Grousbeck, MBA, and William F. Meehan III, MBA
Read More
Welcome New Members
(April 2022)

Maribeth Briggs
Pennsylvania State University College of Medicine
Neil Coplan
Harvard Medical School
Nancy Corchado
Albert Einstein College of Medicine
Troy Gleason
Eastern Virginia Medical School
Angel Meza
University of California, Irvine, School of Medicine
Andrew Napier
Mayo Clinic Alix School of Medicine