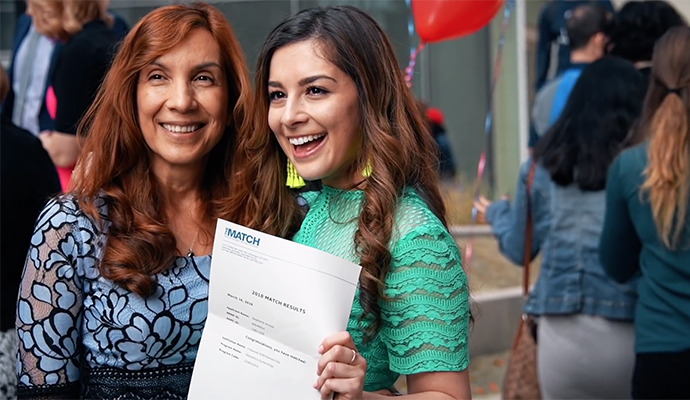 Match Day 2018
University of Arizona College of Medicine - Phoenix
For Match Day 2018, the University of Arizona College of Medicine - Phoenix Marketing and Communications team created a dynamic video for its graduating class. The goal was to capture the student-centered culture of the college by filming students, families, faculty, and staff celebrating the success of Match Day.
Stemming from an engaging tradition, the medical school's underclassmen were charged with developing and executing a festive theme for the event. This year's idea was to produce a music video that would be played at the event on a large theater screen during the countdown to opening the Match Day envelopes. The team worked with a third-year student who had a singing background to record vocals in a professional recording studio and perform the song Burn. The team synced and filmed a choreographed music video with additional volunteering medical students.
The completed music video was played during the countdown, and the students in the video were on hand to pump up the crowd. The team not only created the one-of-a-kind music video, but also captured the energy and emotion of students, family, and friends on this very special day. In a tight time frame of just four hours, a recap video was created by combining all the footage and editing the music video so it could be released to the public and media the same day to best capture the engagement.
View the video at phoenixmed.arizona.edu/about/videos/match-day-class-2018.
What was the most successful part of your video?
Guaranteed goosebumps. Our video captured Match Day and will be something our students will remember and cherish.
What is one thing you learned from this experience?
Thoughtful pre-planning was critical for execution. We had to continually adapt on the fly and communicate, communicate, communicate!
Contact
Allison Otu, allisonotu@email.arizona.edu