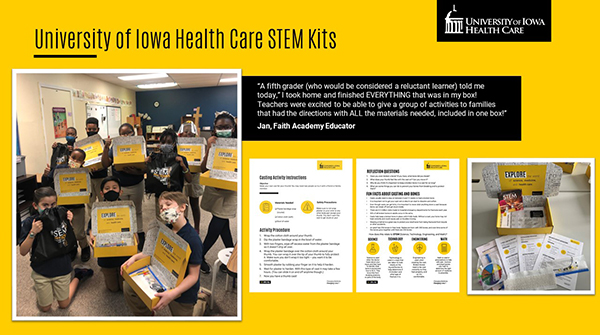 Diversity, Equity, and Inclusion Initiatives - Gold
Pandemic Pivot Winner
University of Iowa Health Care STEM Kits
University of Iowa Roy J. and Lucille A. Carver College of Medicine
The COVID-19 pandemic brought new challenges and exacerbated existing ones faced in supporting and engaging those underserved and underrepresented in our community. Students from these backgrounds had limited access to science, technology, engineering, and mathematics (STEM) education and hands-on learning during the pandemic, while their families faced barriers to accessing COVID-19 resources and information. Our MarCom Outreach and Engagement team, who manages community and STEM programs, leveraged community partnerships to create and distribute STEM kits to address this community need. These kits were created to engage underserved and underrepresented students in hands-on STEM learning during the pandemic, share health literacy knowledge with underserved populations, and strengthen partnerships with local community organizations. Kits included hands-on activities developed by our STEM team — which can be repurposed for future programs and additional kits — and STEM and COVID-19 resources. Kits were safely dropped off to several community organizations to distribute to their community members.
What was the most impactful part of your award-winning entry?
Overcoming access barriers and keeping underserved and underrepresented students in our community engaged in hands-on STEM learning and sharing valuable COVID-19 resources with their families throughout the pandemic. Additionally, we built trust with the community while achieving institutional goals of building the STEM pipeline and strong community partnerships.
What challenge did you overcome?
Successfully engaging a hard-to-reach audience who faced access barriers to interactive STEM education learning and COVID-19 information and resources during the pandemic.
Contact: Emily Hagedorn