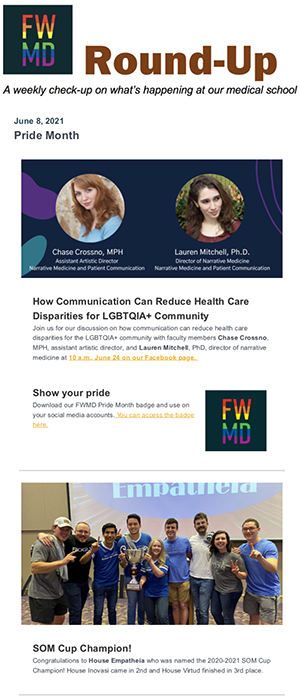 Print and Digital Publishing: Internal Audience - Silver  
TCU and UNTHSC School of Medicine Round-Up Newsletter
TCU School of Medicine
The Fort Worth-based medical school produces an informative and popular weekly newsletter called Round-Up, which spotlights the medical school's programs, people, and events. The content is produced by the strategy and communications team with solicited contributions from faculty, staff, and students. The newsletter has become a tried-and-true way for faculty and staff to get information to our medical students, who have found the direct line of communication extremely useful. On average, the open rate for students is nearly 80%, with an average click-to-open rate of 31% above national standards. The newsletter's success can be attributed to the ongoing testing and measurement of efficacy for audiences, as well as innovative approaches to content including updates to the digital badge (e.g., Black History Month, Pride Month); links to events and videos; photos of groups and individuals; and reminders of School of Medicine brand standards, such as email signatures. During the COVID-19 pandemic, the newsletter provided vital information on remote working and learning, ongoing resources, and updates on returning to in-person work and education.  
What was the most impactful part of your award-winning entry? 
The newsletter has become immensely popular with students with open rates consistently at or above 80% each week. Students have told us that it "keeps everyone connected" with what's going on in the medical school and the stories about our unique and unconventional curriculum "keeps us motivated." As part of a student-centered medical school, this platform has been rewarding in many ways. 
What is one thing you learned from this experience?
Through testing, measurement, and analytics, we were able to shape content to the needs of our target audiences, as well as effectively find the times they would most likely open the newsletters. For example, we assumed early morning would be optimal to send the newsletters but found that early afternoon was better to get a higher open rate. 
Contact: Maricar Estrella