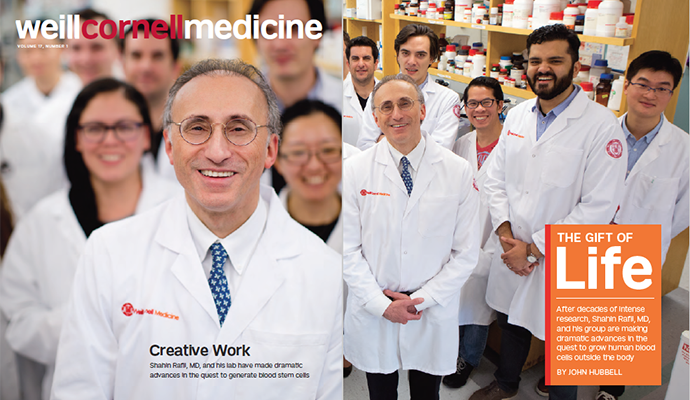 "The Gift of Life" by John Hubbell
Weill Cornell Medicine Magazine
Weill Cornell Medicine
The work of Shahin Rafii, MD, embodies the challenges of writing about science for non-experts. A gifted stem cell researcher focused on understanding how the body's blood-making machinery might one day be used to treat disease, Rafii's science is incredibly complex, painstaking, and years in the making.
To make Rafii's grinding, tentative work real and situate it in its current state of promise, rather than in a potential future, time itself is the main character and unseen arbiter of all things. In seeking to explain the long journey to advance a small but significant corner of cellular research and regenerative medicine, a tick-tock approach was chosen to take the reader backward from the moment of critical discovery inside Rafii's lab to the years it took to come together. The feature focused not just on the incremental scientific advances (and setbacks) in the lab itself, but the career moves of key researchers like Raphael Lis, PhD, as serendipity drew him to Rafii's lab, and his work there took on new and critical focus.
Time also revealed itself as central to what matters most to readers: how Rafii's research might one day be translated into viable therapies. This made the piece not just a backward-looking story but also one that pointed us toward the next vexing dilemma facing Rafii and his colleagues: how to crunch down cellular replication into a time span useful to humans, pernicious to disease, and ultimately, curative of illness.
What was the most successful part of your feature?
Capturing the feel and realities of the scientific research process, and the personality of the lead investigator.
What is one thing you learned from this experience?
That it's indeed possible to weave a broadly accessible and compelling narrative about very technical information.
Contact
Alyssa Sunkin-Strube, als2062@med.cornell.edu