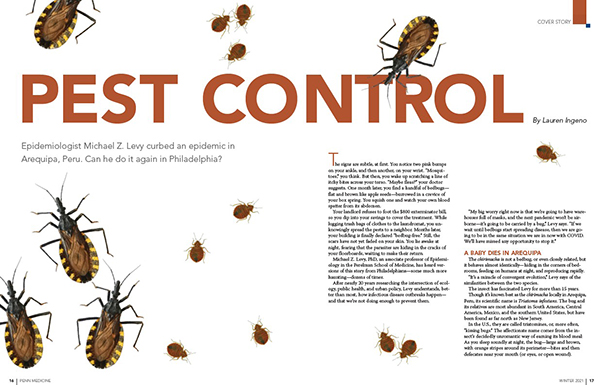 The Robert G. Fenley Writing Awards: General Staff Writing - Gold   
Best in Show Finalist
"Pest Control" by Lauren Ingeno    
Perelman School of Medicine at the University of Pennsylvania
"Pest Control," the cover story of the Winter 2021 issue of Penn Medicine magazine —distributed to 31,000 alumni and friends of the Perelman School of Medicine at the University of Pennsylvania — asks: "What if the next pandemic is carried by a bug?" This tale of two cities highlights the fieldwork of one University of Pennsylvania epidemiologist, who embarked on a decade-long mission to eliminate disease-carrying insects from some of the poorest areas of Arequipa, Peru. The story highlights how his work in Peru led him to fighting for bedbug legislation in Philadelphia and explored how strong housing policies could promote health equity and help prevent future public health crises.
"After nearly 20 years researching the intersection of ecology, public health, and urban policy, Michael Z. Levy understands, better than most, how infectious disease outbreaks happen — and that we're not doing enough to prevent them. 'My big worry right now is that we're going to have warehouses full of masks, and the next pandemic won't be airborne — it's going to be carried by a bug,' Levy says. 'If we wait until bedbugs start spreading disease, then we are going to be in the same situation we are in now with COVID. We'll have missed any opportunity to stop it.'"
What is one thing you learned from this experience?
When it comes to future epidemics, I think that a quote from Dr. Levy says it best: "We need to stop preparing ... and start dealing with the conditions that we are creating, which the pathogens are able to take advantage of."
What was the biggest challenge in writing this topic?
Weaving three distinct stories (kissing bugs in Peru, bedbugs in Philadelphia, and COVID-19 globally) into a single, cohesive narrative was challenging but rewarding.
Contact: Lauren Ingeno