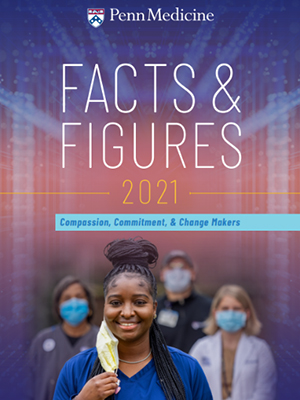 Print and Digital Publishing: Single or Special Issue - Silver
Penn Medicine Facts & Figures 2021
Perelman School of Medicine at the University of Pennsylvania 
Penn Medicine is a vast enterprise, encompassing the University of Pennsylvania Health System and the Perelman School of Medicine. Our employee population of over 44,000 people spans physical therapists in rural Lancaster County, Pennsylvania; community health workers in West Philadelphia neighborhoods; nurses in Princeton, New Jersey; and highly specialized surgeons in Center City Philadelphia. Additionally, our patient populations and the communities we serve reach across the region and around the world — from young adults in Radnor, Pennsylvania, to heart disease patients in Botswana. We train medical students, graduate students, postdoctoral scientists, physician residents, and fellows. All these individual people and places, in their various ways, need to know their parts of the larger whole — and to tell that story to others, including the media, potential donors, and more. Facts & Figures provides basic information on who Penn Medicine is, in a highly accessible format. This annual, comprehensive report summarizes Penn Medicine's fiscal information and exceptional accomplishments, innovative projects, and unique capabilities across the organization. 
What was the most impactful part of your award-winning entry?
Facts & Figures has many audiences and speaks to many constituents. It is versatile in its many uses — information packets for legislative staff briefings, a stand-alone booklet distributed at scientific meetings, and reading material for new employees, among other uses. 
What is one thing you learned from this experience?
Great communication across the team helped ensure efficiency during a time when we were getting comfortable with moving from in-office to digital collaboration. 
Contact: Julie Wood