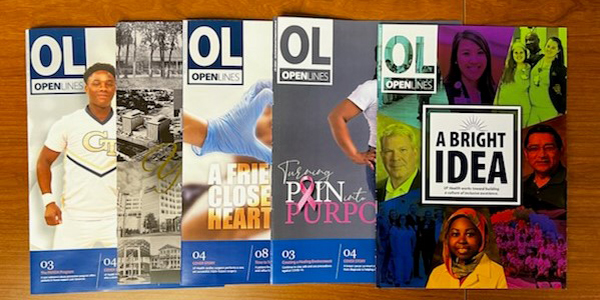 Print and Digital Publishing: Internal Audience - Bronze  
Open Lines by UF Health Jacksonville
UF Health Jacksonville  
UF Health Jacksonville is a leader in the education of health professionals, hub for clinical research, and unique provider of high-quality patient care. Open Lines is produced by UF Health Jacksonville for administrative staff, medical employees, patients, and visitors. The newsletter provides an ongoing, regular platform to inform and educate faculty and staff on the latest strategic initiatives, showcase high-quality patient care through powerful, meaningful patient impact stories, and highlight key service lines, major achievements, initiatives, and more. Open Lines is distributed via print and digital platforms and enables readers to access the publication in a way most convenient for them. 
What was the most impactful part of your award-winning entry?
Open Lines was an outlet with uplifting and positive content when our organization was navigating many challenging situations during the pandemic. It's impactful to see how the publication has helped keep employees engaged and informed so they could be effective ambassadors. 
What is one thing you learned from this experience? 
Collaboration is critical. Producing Open Lines requires collaboration across multiple departments and close work with leaders to identify and showcase compelling stories and timely information. The publication also requires collaboration across the communications department, from photography and design to proofreading and editing.

Contact: Allison Wedekind