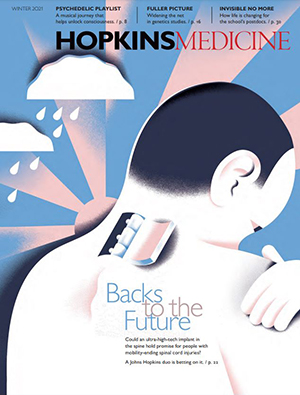 Print and Digital Publishing: External Audience - Bronze
Hopkins Medicine
Johns Hopkins Medicine Marketing and Communications
Editor Sue De Pasquale and Artistic Director Max Boam deliver high-quality journalistic content in each issue of Hopkins Medicine, the Johns Hopkins University School of Medicine alumni magazine. Reader surveys show nearly 70% of respondents agree, or strongly agree, with the statement that Hopkins Medicine magazine "strengthens my personal connection to Johns Hopkins Medicine." The publication provides honest, transparent reporting on issues of importance, including advancement roadblocks for postdoctoral fellows, examining fresh evidence of our founder's possible slaveholding, and more. Published three times each year — winter, spring/summer, and fall — it is distributed to approximately 32,000 alumni, faculty and senior staff members, and friends of Johns Hopkins Medicine. The magazine is available online, and stories are pushed to wider audiences through an e-newsletter and social media outreach. 
What was the most impactful part of your award-winning entry? 
We focus on making each issue relevant to our readers by exemplifying the best that Johns Hopkins Medicine has to offer — through thought-provoking illustrations and photography and compelling articles about clinical breakthroughs and innovations in research and patient care. 
What challenge did you overcome? 
Photography during the COVID-19 pandemic has been very challenging, but we found innovative ways to adapt. 
Contact: Michael Keating