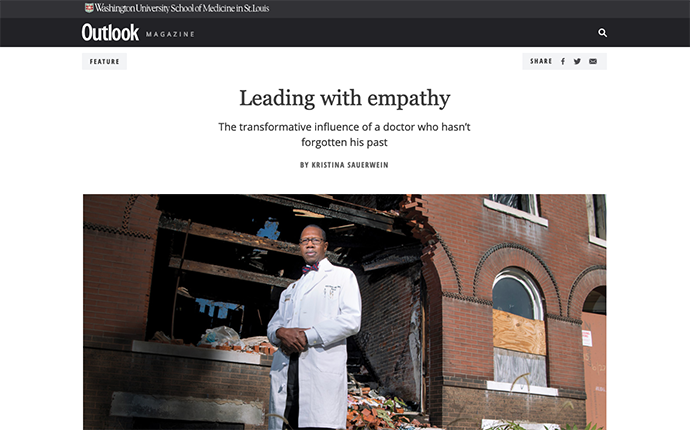 "Leading With Empathy" by Kristina Sauerwein
Outlook Magazine
Washington University School of Medicine in St. Louis
"Leading with Empathy" spotlights the against-all-odds life and career of Will Ross, MD, MPH, the associate dean for diversity programs and a professor of medicine at Washington University School of Medicine in St. Louis. Born into poverty and violence, Ross navigated his childhood in Memphis confronting one traumatic incident after another. Many kids in his neighborhood died young from gunshots and gang violence. Ross knows he could have easily died, too.
However, teachers and school counselors noticed his intelligence, work ethic, and kind personality. Recognizing his potential and helping him find programs to reach it allowed Ross to achieve a full-ride scholarship to Yale University, medical and graduate school, and a prestigious position at Washington University. His accomplishments have distinguished Ross as a national leader in community medicine, teaching medical students about social and economic inequities that can affect an individual's overall health. The mandatory orientation program Ross created for incoming medical students immerses them in underprivileged communities so they can care for these patients with compassion and awareness about health inequities. His footprint in the community extends to other projects such as the Saturday Neighborhood Health Clinic, which offers free health care for the underprivileged and is overseen by medical students and faculty.
Perhaps most important, Ross recruits and encourages students from underserved neighborhoods — not unlike the ones of his own childhood.
What was the most impactful part of your feature?
Emphasizing the need for medical schools to include hands-on and academic lessons on social and economic factors that contribute to public health and inequities.
What is one thing you learned from this experience?
Often, it only takes one person to initiate positive change in a person's life. Ross exemplifies this perfectly. He was fortunate. Far too many talented people are not.
Contact
Kristina Sauerwein, k.sauerwein@wustl.edu