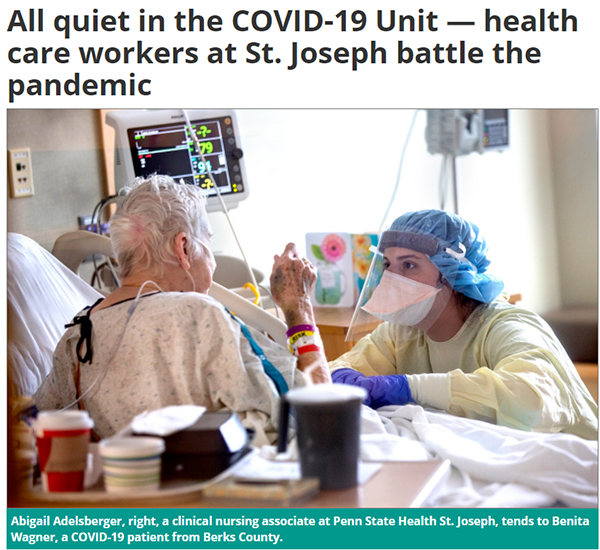 "Penn State Health COVID Units: Two-part feature" by Bill Landauer
Pennsylvania State University College of Medicine
As COVID-19 swept through the nation, Penn State Health St. Joseph Medical Center and Penn State Health Milton S. Hershey Medical Center changed. Tapping into expertise the health system obtained for preventing the spread of special pathogens, Hershey and St. Joseph were well-equipped to make the logistical and organizational shifts necessary to keep pace with the pandemic. But no amount of planning could prepare the health system for the realities of coming face-to-face with the health crisis on the frontlines. In two stories, health care workers at two acute-care hospitals work together bringing their innovative spirits and camaraderie to bear to provide the best possible care for their patients. New ways of communicating with patients and one another were developed. Personnel from other departments became COVID-19 unit staffers. Health care workers learned to protect one another and their families, as the days of isolation stretched to weeks and months. In the end, they became a family.
"But as the hours and weeks have dragged on, much of what the staff at Hershey has learned has been unexpected. Some of the lessons have been simple – what's the safest way to take a patient to the bathroom? Others have been painful – how can you allow a family to say goodbye to a dying loved one when it could mean risking their lives?
And through all the highs and lows, staff members from departments as different as pediatric care and kidney dialysis have transformed into something they never could have foreseen – a family."
What was the most impactful part of your award-winning entry?
In the midst of the pandemic, the work provided readers with a candid perspective of the people working tirelessly to protect them and their community. For the workers themselves, it served as a morale booster.
What is one thing you learned from this experience?
Even faced with what could easily have become a nightmare scenario, health care workers draw support from one another.
What challenges did you overcome?
We weren't sure at first that we should visit the COVID units. In addition to wanting to avoid putting undue stress on our front-line staff, the safety of both the writer and the photographer were concerns.
What was the biggest challenge in writing this topic?
The teams we encountered had pushed themselves hard for months to contend with the pandemic. The biggest challenge was telling the story we wished to tell without adding to their stress unduly. Luckily, our clinical staff handled every request with generosity and grace.
Contact
Megan Manlove, mmanlove@pennstatehealth.psu.edu