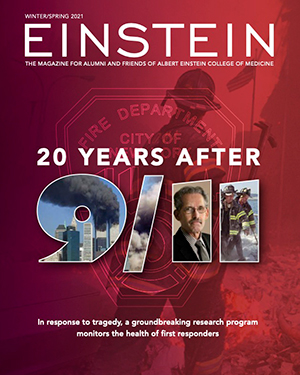 Print and Digital Publishing: External Audience - Bronze
Einstein Magazine Print and Digital Editions
Albert Einstein College of Medicine
Over the past several years, Albert Einstein College of Medicine has been transitioning from its former university parent, Yeshiva University, to its longtime clinical partner, Montefiore Medical Center. We wanted to demonstrate that the Einstein magazine can do more to promote the new relationship. To that end, for the Summer/Fall 2020 and Winter/Spring 2021 issues of the magazine, we selected two cover topics that knit together a narrative of Einstein research and Montefiore clinical care, while underscoring our shared dedication to social justice: the COVID-19 crisis and the 20th anniversary of 9/11. Einstein-Montefiore's researchers and clinicians were at the epicenter of the COVID-19 pandemic, which disproportionately affected people of color, when it arrived in New York City in March of 2020. We show how our two institutions marshaled their forces to deal with an unprecedented influx of COVID-19 patients and were also able to conduct life-saving research. In the 9/11 anniversary cover story, we tell how one man — an Einstein graduate and professor, Montefiore pulmonologist, and Bronx native — went on to create a groundbreaking research program for first responders and has successfully lobbied for lifelong federal support for their care. 
What is one thing you learned from this experience? 
We learned the importance of measuring success: How to devise specific goals, promote the digital and print products, and analyze the results. 
What challenge did you overcome?
We were in the first year of the pandemic, and that affected everything, from the availability of physicians and researchers for article interviews to the production of magazine pages. Our team successfully worked together in a much more digital way. 
Contact: Susan Byrne